SPRING SIPS
Welcome the warmer temperatures with decidedly spring-like sips from some of our favorite places to imbibe. Local bartenders and mixologists shared sample recipes of some light libations that pair perfectly with the season. Try out these recipes at home—or enjoy at one of the establishments listed below.

COCKTAIL: Strawberry Patio Punch


"This is a perfect spring cocktail because the fresh juice, fruit and white wine will make you think of all the fresh, growing things that happen in spring."
--Alex Felland, General Manager & Proprietor, Bassett Street Brunch Club
INGREDIENTS:
2oz strawberry puree
4oz Riesling 
4 mint leaves 
PREP:
Shake all ingredients together and pour over ice.

COCKTAIL: G&T#3


"Winters get long in Wisconsin and even though we usually have beets all year round, there's nothing quite like that fresh beet flavor in the spring. Beets, rye, caraway, lemon, and tonic water mixed to make a crisp and effervescent sipper, signal the start of spring with a splash."
--Estrellon Bar Team
INGREDIENTS:
1.00oz beet-infused St. George Dry Rye gin
0.50oz Linie Aquavit
0.50oz Jack Rudy tonic 
1 squeezed lemon wedge
A pinch of salt
Dill & lemon peel for garnish
PREP:
Stir all ingredients together, pour over ice, and garnish with dill and lemon peel.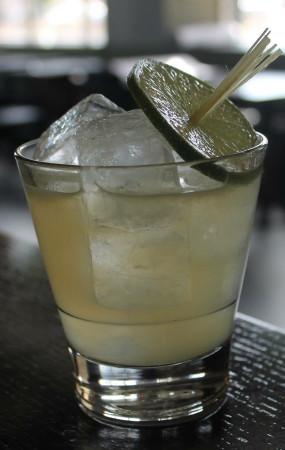 COCKTAIL: Modified Supercalifrangilisticexpal-Altos
LOCATION: Merchant


"I adapted this tasty concoction from the one we make at Merchant for the home mixologist. A similar version can be found on our current cocktail menu."
--Tommy Parker, Bartender, Merchant
INGREDIENTS:
1.75oz Lemongrass Altos Blanco Tequila
.75oz Cucumber Honey Syrup
.75oz Fresh Lime Juice
PREP:
To make Lemongrass Tequila:
Add 100g of roughly chopped lemongrass to 1L of Altos Blanco Tequila.  Be sure to only use the center of the lemongrass stalks removing the stem and the tips.  Let sit together at room temperature for two days and then strain out lemongrass.  Yields 900mL
To make Cucumber Honey Syrup:
Finely slice one large cucumber and put into a shallow dish. Add 500g of white sugar to the cucumber and incorporate together by hand for several minutes until most of the sugar is moistened.  Be sure not to squeeze the cucumber too much that you break it apart.  Cover and let sit overnight in the refrigerator.  After 24 hours remove from the refrigerator and add 2oz of honey and 500g of hot water.  Stir quickly to incorporate all ingredients then strain our cucumber, preferably through a fine strainer.
Add all ingredients to a cocktail shaker with ice and shake for 20 seconds.  Strain into an Old Fashioned glass with fresh ice.  Garnish with a thin sliced lime wheel.

COCKTAIL: House Aviation


"This cocktail is reminiscent of Spring due to its floral flavor as well as aroma. Violets are one of the first flowers to blossom in Wisconsin, which serves as a sign of the season changing."
--Edward Hong, Bartender, Gib's
INGREDIENTS:
1.25oz Death's Door Gin
.5oz Luxardo Maraschino 
.675oz Fresh Lemon juice (or 20ml)
.5oz House Violet Syrup*
3 drops of 20% saline solution
Execution: Shake & Double Strain
Glassware: Coupe
Garnish: Violet flower float
PREP:
To make House Violet Syrup: Pick 3 cups of violets (it's in season now, for only 1-2 weeks) and then pluck petals (you should yield about 75-80g). Flash freeze the petals with liquid nitrogen and then break them down in a blender. Add 750ml Death's Door Vodka and 250ml simple syrup (1:1 ratio to water). Coffee strain the final solution or centrifuge. "Coffee strain" simply means strain through a chinois lined with a wet coffee filter - this may be ideal over centrifuging, which may lose some of the vibrant violet color.