Wisconsin is not only America's Dairyland, but also takes credit for inventing the blender. Perhaps that's why Madison is the perfect place to grab a milkshake! The city has many restaurants that blend sweet flavors and creamy dairy to create milkshakes worthy of a road trip. Grab your spoon and read on.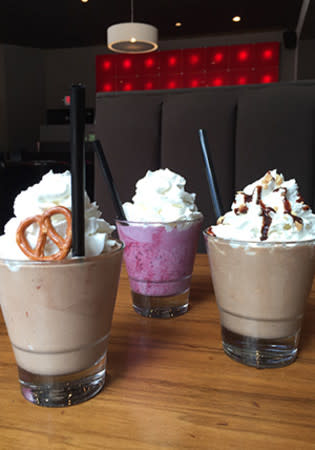 MILKSHAKE: Chocolate Peanut Butter Pretzel
LOCATION: DLUX
The chocolate peanut butter pretzel milkshake at DLUX mixes fresh ingredients and delicious flavors, creating a salty and sweet treat. The genius idea behind this milkshake is blending in pretzel pieces, which stay crispy—the perfect addition to a classic combination.
CHERRY ON TOP:
The shakes at DLUX come in smaller sizes too—so go ahead and order more than one. Try the fruity blackberry, the toasted marshmallow or vanilla coconut.
---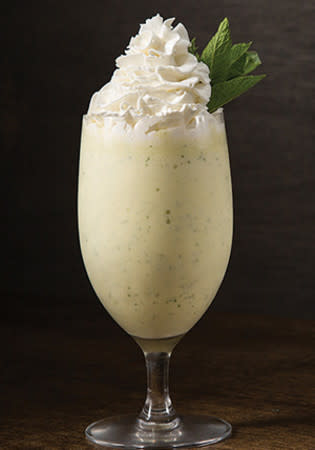 MILKSHAKE: The Cold Fashioned
LOCATION: Avenue Club and the Bubble Up Bar
Ice cream cocktails are often the drink of choice after a Wisconsin fish fry, and Avenue Club and the Bubble Up Bar's versions are highly elevated. The Cold Fashioned is a creamy take on Wisconsin's famous Old Fashioned cocktail. The drink starts with the traditional ingredients of brandy, cherries, bitters and oranges, and finishes with locally sourced Sassy Cow Creamery vanilla ice cream.
CHERRY ON TOP:
The Cold Fashioned is just one of four boozy shakes offered at Avenue Club and the Bubble Up Bar. Order the Wondermint Grasshopper, Chocolate-Covered Cherry, or Root Beer Barrel to share with friends.
---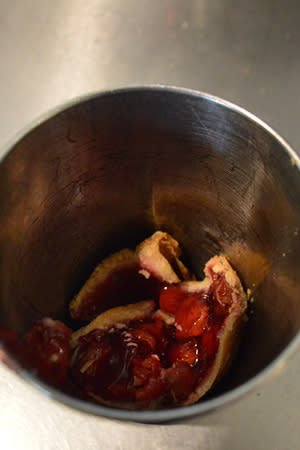 MILKSHAKE: Pie Shake
LOCATION: Hubbard Avenue Diner
If you want to "shake up" the flavor of your favorite dessert, add a slice of cherry pie to ice cream to create a delicious meta-milkshake. That's the idea behind Hubbard Avenue Diner's pie shakes — essentially taking pie a-la-mode and placing it in a blender. Since Hubbard is famous for pies, they know this is a good idea.
CHERRY ON TOP:
The shakes at Hubbard are so large they are easy to split between two people — making ordering dessert a smart economic decision. Share a shake with two spoons or straws and make it a sweet, date night treat.
---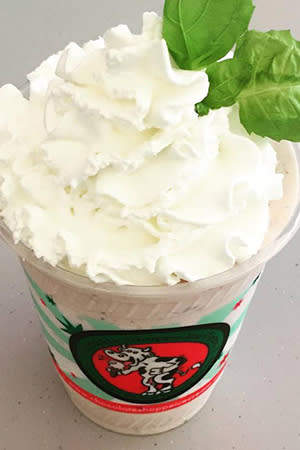 MILKSHAKE: Strawberry Basil (seasonal)
LOCATION: Chocolate Shoppe Ice Cream Co. 
If you want nutrition, eat carrots! That's the motto at the Chocolate Shoppe, home to mouth-watering, brain-freezing shakes that incorporate any of their 80 super-premium ice creams. Chocolate Shoppe likes to celebrate holidays and seasons, so it's always a good idea to go back regularly to try new shake flavors. The Irish Mint is popular during St. Patrick's Day and this summer brought Strawberry Basil. Yum!
CHERRY ON TOP:
Grown-ups can have fun experimenting with adult-humored flavors like Exhausted Parent, which includes bourbon-spiked espresso, and This $&@! Just Got Serious, a smooth salted caramel ice cream with fudge and salted cashews.
---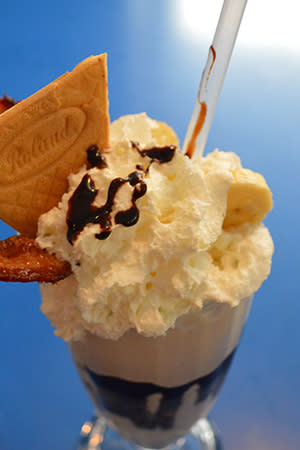 MILKSHAKE: The Fat Elvis
LOCATION: Monty's Blue Plate Diner
Save some room for dessert when you dine at Monty's Blue Plate Diner. The Fat Elvis milkshake has a cult following, and should be ordered at the end of every meal. This shake is an ode to Elvis Presley's favorite sandwich: peanut butter and banana. It starts with fresh banana, peanut butter and chocolate, and ends with whipped cream, candied bacon and a wafer cookie on top. Every king bows down to this drink!
CHERRY ON TOP:
Monty's menu is very vegan friendly, with numerous options available. That list doesn't stop at dessert—and their shakes are no exception. Just ask the friendly staff for options!
---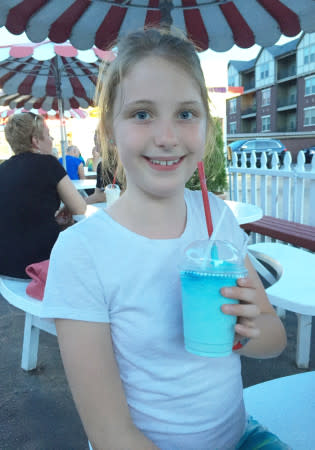 MILKSHAKE: Blue Moon
LOCATION: Michael's Frozen Custard

Everyone adores Michael's Frozen Custard's shakes, sundaes, cones, malts—and the family-friendly, outdoor ambiance. Perhaps that's why their website is ilovemichaels.com! Kids fancy the Blue Moon custard, which can be turned into a Fruit Loop-inspired masterpiece of a milkshake (adults usually choose one of the other 15 flavors).
CHERRY ON TOP:
Michael's outdoor seating is perfect after a day on Lake Wingra. Plus you can bring your four-legged friend—Michael's has K-9 custard for dogs.
---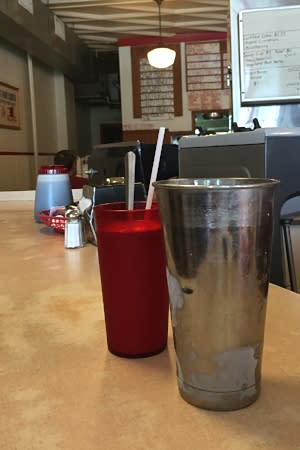 MILKSHAKE: Chocolate Malt
LOCATION: Mickies Dairy Bar
Of course we have to include Mickies—it has Dairy Bar in the name! This restaurant, located near UW-Madison, is a Madison institution and is a favorite among students and alumni. Everything at Mickies is retro, from the menu on the wall to the red diner glasses each milkshake is served in. Combine any of their eight flavors to create your perfect milkshake—or take our suggestion and get the chocolate malt for a true, old-fashioned diner experience.
CHERRY ON TOP:
Mickies is known for its breakfasts, and their scramblers have been designated as a "plate that defines Madison." We think adding a coffee and chocolate shake would make it a breakfast of champions.
---