Meet the Producer:  Tony Hook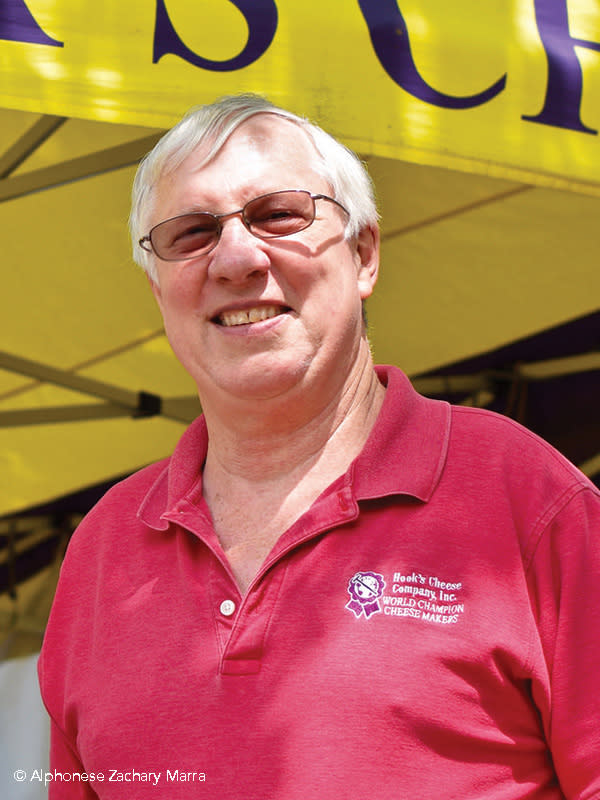 Tony Hook has been crafting cheese in Wisconsin since the early 1970s. Hook's Cheese Company's hand-crafted cheeses have won some of the most prestigious awards in cheese, including many international and world championships. In 2015, Hook took the foodie world by storm with his innovative 20-year aged cheddar. The limited production left many chefs and foodies hungry for more—so they seek out the Hook's stand each Saturday at the Dane County Farmers' Market (DCFM), which has been a popular place to taste samples and swap stories for the past 23 years.
We caught up with Tony on a non-market day to get the secret behind building such a solid reputation in the industry.
Visit Madison: What do you like most about the DCFM?
Tony Hook: We love dealing directly with consumers and getting their feedback about our products.
VM: Why do you think Hook's has been so successful?
TH: My family. My wife, Julie, has been at my side ever since high school and together we've produced outstanding cheeses that are renowned worldwide but made in our tiny town of Mineral Point, Wisconsin. My sister Julie, brother Jerry and nieces and nephews Melanie and Brian all contribute to the quality—and popularity—of Hook's, too.
VM: The Farmers' Market will turn 45 this year. What changes have you seen over the years?
TH: Many more of the farmers have come up with innovative new items or made their items easier for home cooks to prepare. They curate collections of ingredients to help people feel successful in their own kitchens. As an example, some vendors put together baskets of onions, tomatoes and jalapenos intended for salsa making. So the buyer still gets fresh ingredients, but they don't have to think as hard about what ingredients to buy and how to use them.
VM: Any tips for home cooks purchasing cheeses from Hook's?
TH: Let your cheese come to room temperature before serving. 
VM: Any tips for Farmers' Market shoppers? 
TH: Come early. Between 6:30 and 8:00 a.m. is best because you get a better selection from many vendors.
VM: What's your favorite thing to purchase at DCFM?
TH: I would say almost everything, but if I had to choose it would be asparagus, sweet corn and apples.
---
Find them at the Dane County Farmers Market: The Hook's Cheese Company booth is located on Pinckney Street on the Capitol Square during Market hours (6:00 a.m.-2:00 p.m.). During the colder months, you'll find them at the Winter Market at Monona Terrace® Community and Convention Center (through December, 7:30 a.m.-Noon) and at the Madison Senior Center (through April).
Missed the Saturday market? You can visit Hook's historic cheese plant in Mineral Point, about an hour's drive southwest of Madison.
For more information: Hook's Cheese Company Inc.