Meet the Producer:  Savory Accents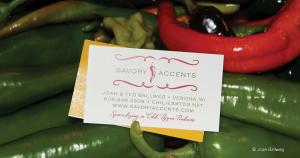 You may have heard that our Dane County Farmers' Market (DCFM) is the largest producer-only market in the country. But what does that really mean? According to the DCFM's rules for vendors, it is really quite simple: members may sell only those products they themselves helped to produce.
So the next time you're at the market and have a question about anything from learning about the farmer's back story to how to prepare their produce, just ask—because the person who is selling it to you is likely the one who grew it, too! Read on for a few questions we got to ask of the producers at Savory Accents.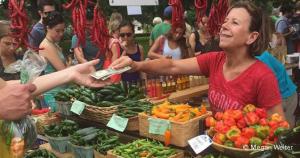 VM: What do you sell and why are they special products?
Savory Accents:  All of our products are original creations based on our organically grown products, primarily chile peppers. They're special because they are created for people looking for more flavors, more spice, and wholesome, local food from people they know and trust.
VM: Where is your farm located?
SA: We are located two miles south of Verona, or about 20 minutes from the Wisconsin State Capitol in downtown Madison.
VM: Tell us a bit more about your farmers.
SA: Ted is a third-generation farmer who created a market niche based on his personal passion: growing a wide array of chile peppers. He and his wife, Joan, have a passion for home cooking and spicy foods. Together they grow, process and market a wide range of chile pepper-inspired products that they share with friends, family and customers at farmers' markets.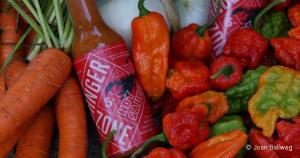 VM: Why do you love coming to the farmers' market? 
SA: After 35 years of selling at the Dane County Farmers' Market, the weekend would be incomplete without touching base with the hundreds of weekly customers we meet there. Many of our customers share wonderful recipes created with Savory Accents products, seek advice on the best use of a product, or simply want an update on the pepper crop and harvest.
VM: What is the most unique product from Savory Accents?
SA: This is like asking which of our children we like best (or now grandchildren), so we'll pass on that and instead give you a few of our favorites:

7-Chile Blend: This was the first product we introduced many years ago. It is a versatile, easy-to-use seasoning that adds incredible flavor to simple dishes like popcorn or complex dishes like Spicy Peanut Stew. It can be used in cooking or added at the table.
Chile Jam: This probably should have been called "Chile Glaze" because of how delicious it is on pork chops and salmon, or as a topping for any meat or fish. The unique, sweet and spicy flavors come from multiple peppers, which are fermented, blended and preserved. Just add a dab or even a whole spoonful right at the table.
Danger Zone Hot Sauce: We've combined flavorful, but hot, chilies with our own carrots, onions and garlic in just the right combination for eggs, wings or just about any dish where you want to wake up your taste buds! You can taste the home grown quality over the other stuff. Most hot sauce makers don't grow their own chile peppers so they don't control the most important input: flavor. We've got a distinct advantage because we are involved in every part of the process.
Merkan Spice: We were originally thinking about more of an "all-purpose" seasoning, but this one is just so good on chicken and vegetables (especially potatoes!) that we haven't experimented enough yet. The seven fermented and dried chilies are subtle enough so as not to overwhelm the other seven herbs and spices.
---
Be sure to catch Savory Accents at the Dane County Farmers' Market each Saturday! Click here for a complete list of vendors.