Owner/Brewmaster, Rockhound Brewing Co.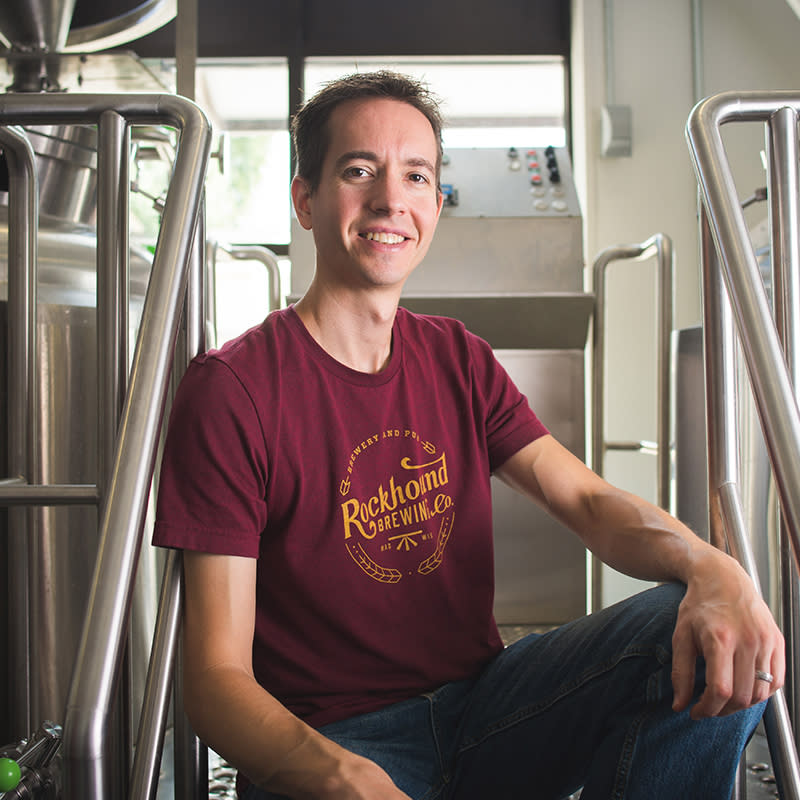 About Nate Warnke
Nate is a Madison native who attended East High and graduated from the University of Wisconsin-Madison. Nate spent 13 years in the corporate world before starting Rockhound Brewing Company in 2016. Nate lives in the Greenbush neighborhood – only a few blocks from his brewpub – with his wife and their two cats.
What three words would you use to describe your company?

Local. Comfort. Friendly.
How would you describe Rockhound – in more than three words?

Brewery and pub featuring full-flavored ales and lagers, all made in house. A full-service pub, Rockhound has a full menu of lunch, dinner, Sunday Brunch as well as wine and cocktails.
What's something that makes your business unique?

Near the zoo, campus and downtown. Owner operated by a Madison native.
How did you get involved in craft beverage making?

I began homebrewing almost 15 years ago. Eventually homebrewing grew into an all-consuming hobby. I became a true homebrewer — that's when you have more homebrewing equipment than anything else in your home – and decided to put my knowledge of brewing and my business degree to work.
What's one thing people may be surprised to learn about your job?

Brewing requires a good knowledge of chemistry.
What's your favorite thing about making your beverages?

The satisfaction I get when people drink it, enjoy it, and ask for more.
What makes your products different from others?

We produce well-balanced ales and lagers, as well as a balanced selection. We aim to have something for everyone and ensure that all of our beers are well balanced.
We work hard to source ingredients locally whenever possible; for instance, the sage used in our gin is grown on a local farm right outside Madison and is hand-picked fresh for each batch.
What does a visitor have to try when they come to Rockhound?

Housemade beers and house prepared comfort food menu.
If you could only drink one of your products for the rest of your life, which would you choose?

Balanced Rock Rye IPA
Why should someone come to Madison for the craft beverage scene?

The craft beverage scene in Madison is authentic. Real makers who own their businesses and put true care into the product they produce.
Describe Madison in three words

Friendly. Active. Diverse.
What is your favorite thing to do in Madison?

Take a walk or run through the Arboretum, or have a drink on the Memorial Union Terrace.
If a visitor comes to your business and wants to keep exploring the neighborhood, where should they go next?

For the Greenbush and Vilas Neighborhood, they should visit the Henry Vilas Zoo – just a five-block walk from Rockhound.