Art, nature and a splash of history — Madison's east side sculpture culture is just the ticket. This charming stretch of the Lake Monona Loop offers a taste of quirk through two unique and beautiful neighborhoods. Get on your best walking shoes or hop on your bike and begin your journey to creative and historical enrichment. 
Heading downtown from Olin Park, the first art stop is "Timekeeper," located on the left side of the path just before reaching Monona Terrace. Artist Robert Curtis sought to visually manifest the "the concept of new ideas in harmony with old." Now that's something to contemplate.
Then take an unexpected adventure up the Monona Terrace bike elevator (level 5) to their rooftop sculpture garden. Pieces rotate annually, and this summer you'll see the thought-provoking "Turning" by Gail Simpson and Aristotle Georgiades, "Timekeeper" by Steve Feren, "They 1 & They 2" by Michael Burns and "Mobile Home" by Andrew Arvanetes.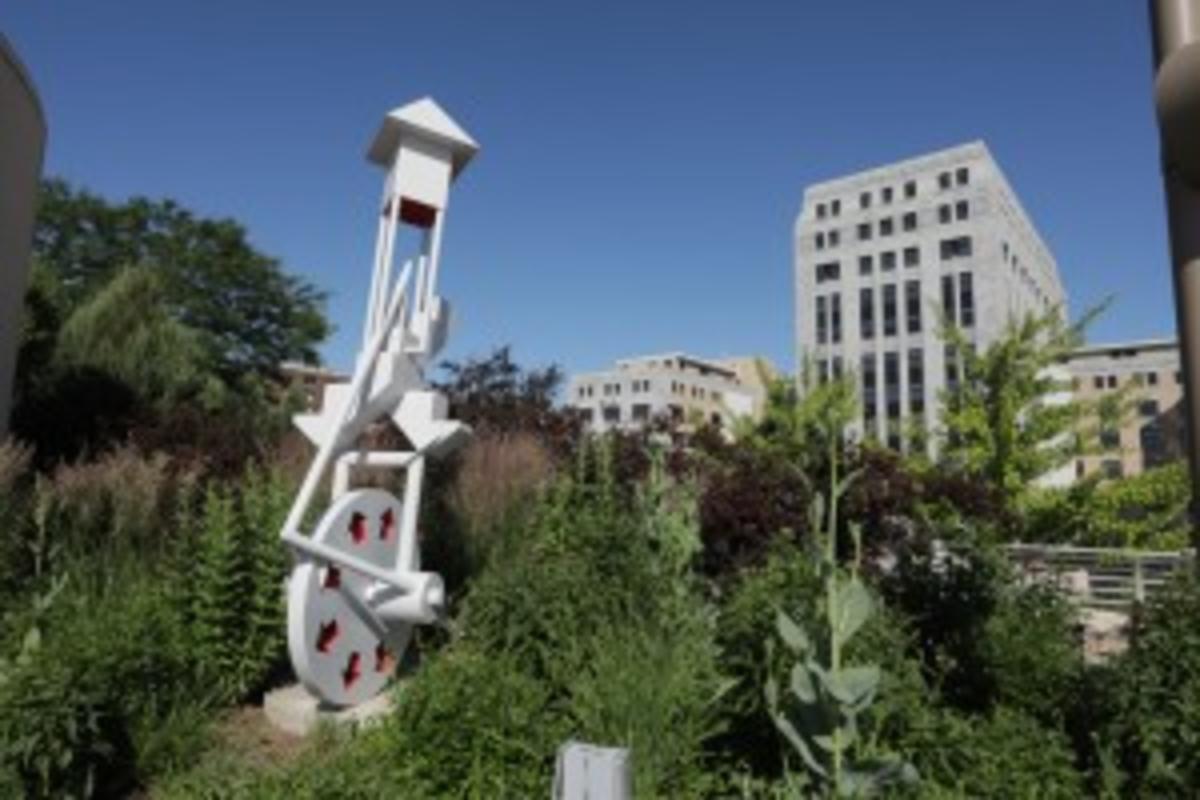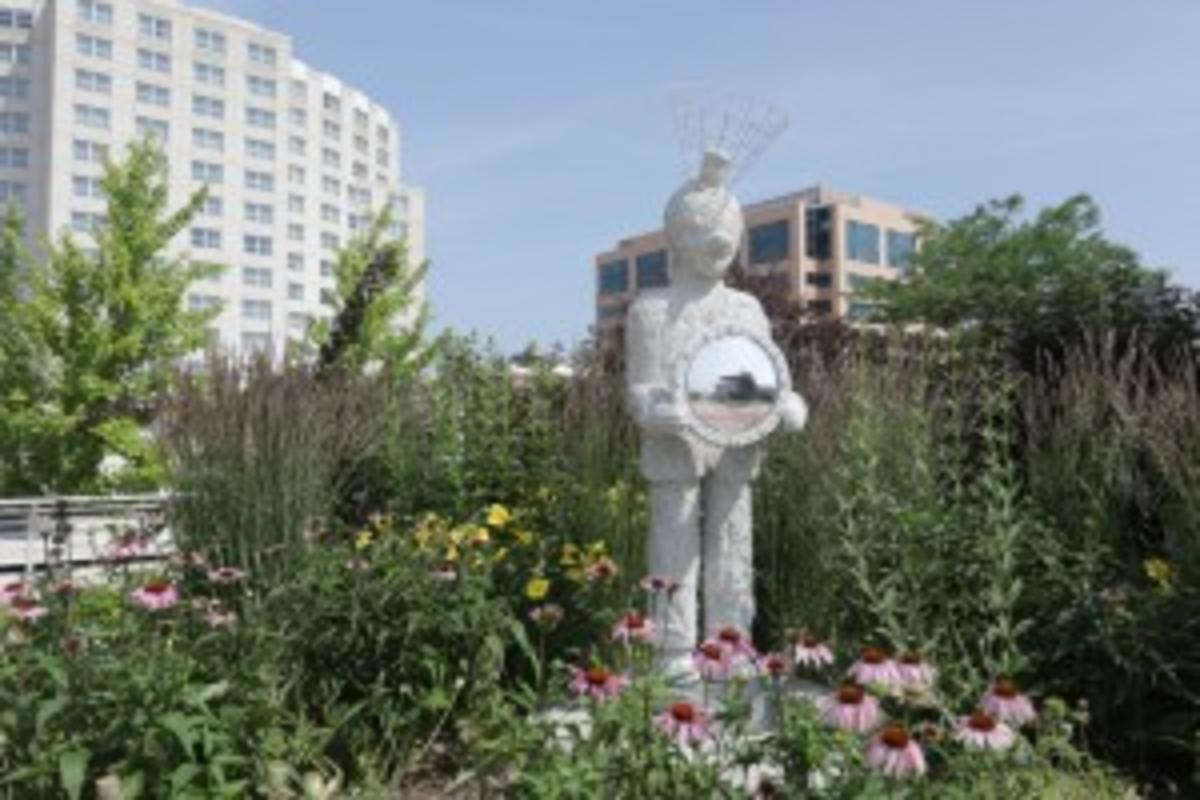 Williamson-Marquette Neighborhood
Continuing past Monona Terrace, the gateway into the Williamson "Willy" Street neighborhood welcomes you with the hard-to-miss, towering 32-foot repurposed metal "CommuniTree." Artist Erika Koivunen, her husband, Aaron Howard, and community volunteers welded the metal flowers that cover its branches. Hidden Gem — a time capsule suspended at the base of the tree — contains a ring Howard made with his father, a drink chip from the Caribou Tavern and a wheat penny from 1936. 
A little further, at the intersection of Willy Street and Jenifer Street, you'll find "Alexa." Artist Susan Walsh celebrates recycling and the hard-working ethics of this area. In years past, Willy Street was known as "Implement Row," home to a blacksmith, brewery, electric, implement, harvesting and seed companies. The sculpture contains giant replicas of tools and materials manufactured on this street. A journey back in time.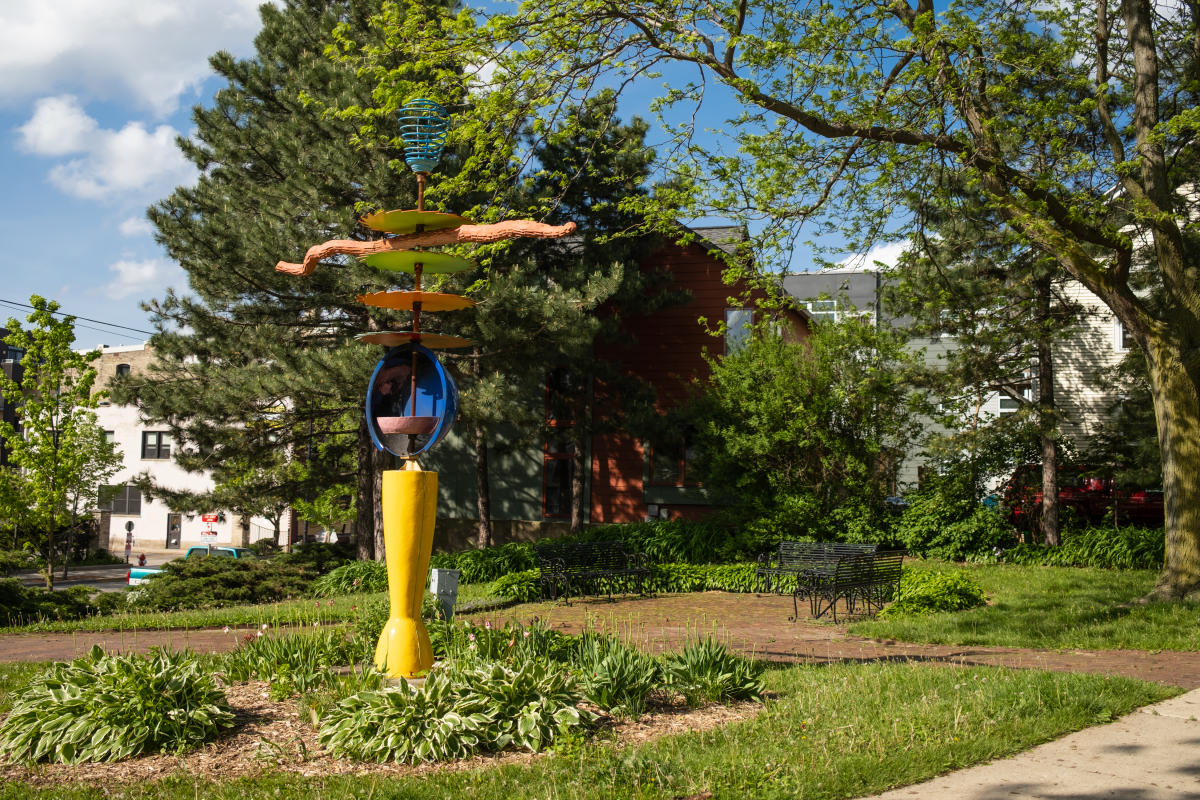 Following the Lake Loop, turn onto Jenifer Street, then Spaight Street. You will reach B.B. Clarke Beach. This is a good stopping place for a quick swim or a sit on the funky repurposed metal benches, also created by Erika Koivenen. Love what you see? For more metalwork, visit her flowering shrub sculpture in front of Madison Sourdough and Dr. Evermore's giant metal birds, "Dreamkeepers," off the bike path, on Patterson Street.
Schenk-Atwood Neighborhood
Continue on the Lake Loop, and cross over the Yahara River bridge. Welcome to the Schenk-Atwood neighborhood — home to several sculptures by Madison legend Sid Boyum, a longtime east side resident. The "Chinese Fu Dog Lantern," is located in Yahara Place Park under a cottonwood tree overlooking Lake Monona and the beautiful Yahara River. 
Boyd's works, made of painted cast concrete, are weird and wonderful. His quirkier pieces are a few blocks from the park along Atwood Avenue, between Winnebago and Dunning Streets. Well worth the side-track, you will find "Geometric with Round Window," "Tall White Lantern," "Creature Abstract Head," "Tree Limb Faces," "Blue Urn with Dragon," "Smiling Mushroom" (also called Man Eating Mushroom) and "Blue Lantern on Tripod." A kid favorite is the "Polar Bear Chair," located in the Circle Park on Elmside Boulevard.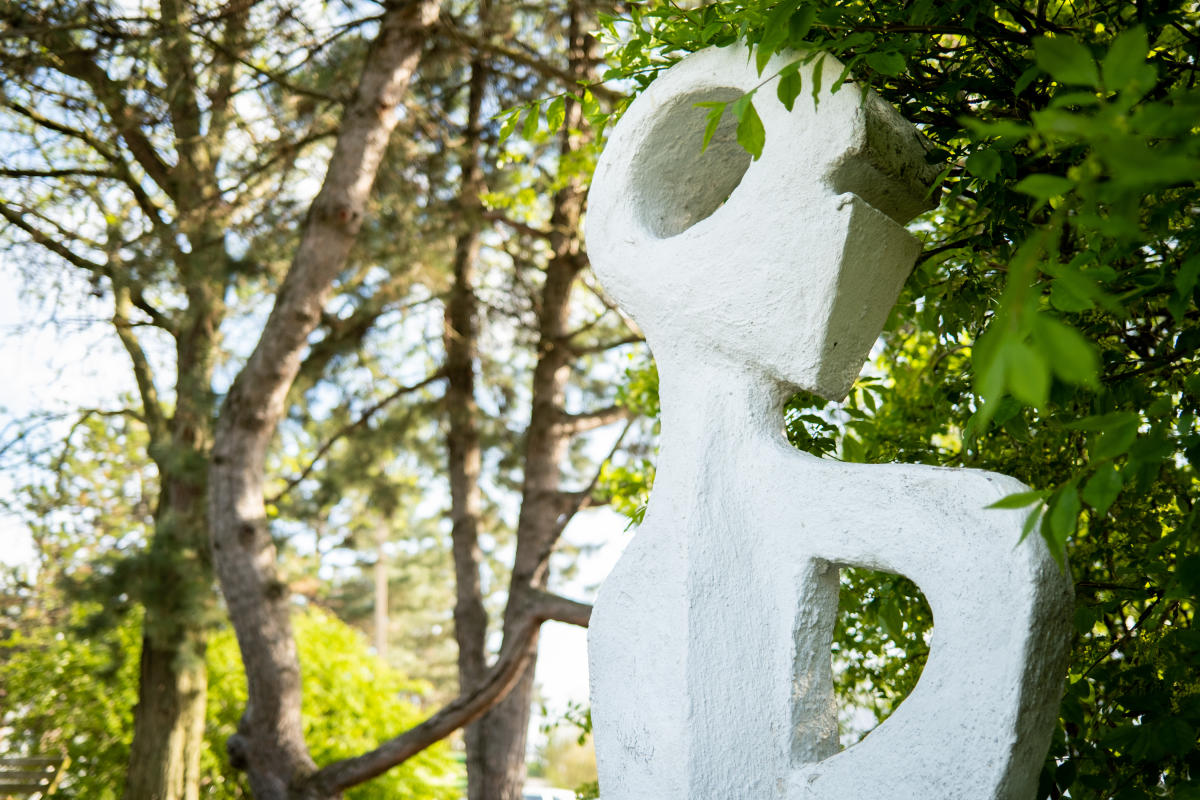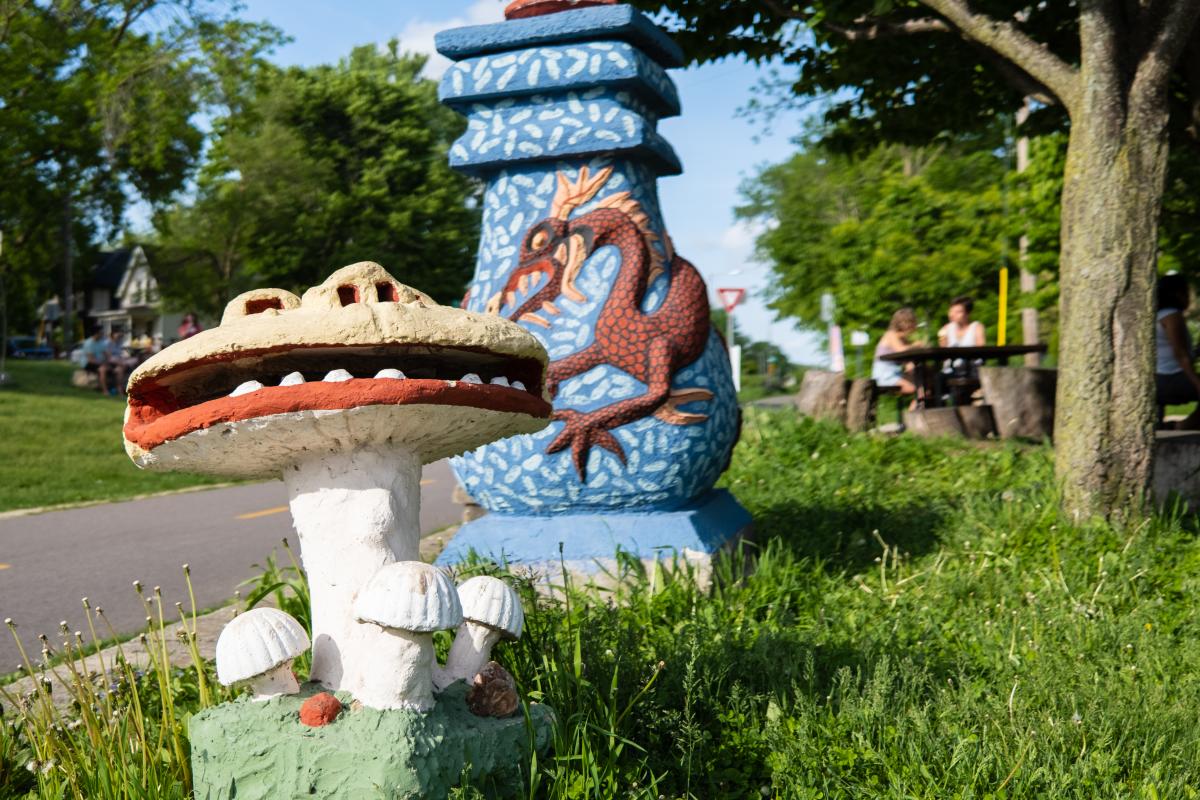 A reminder of this neighborhood's past is Madison landmark "Effigy Tree — Let the Great Spirit Soar" (Hudson Park). After lightning struck a hackberry tree on an ancient effigy mound located in this park and community members commissioned Harry Whitehorse, a member of the Ho-Chunk Nation, to create a low relief carving out of the remaining trunk. After it began to deteriorate, it was removed, restored and cast in bronze. It encourages passersby to pause and observe how it emulates and honors the effigy mounds preserved throughout Madison. Find the bear and lynx on the effigy tree honoring the effigy mounds in this park.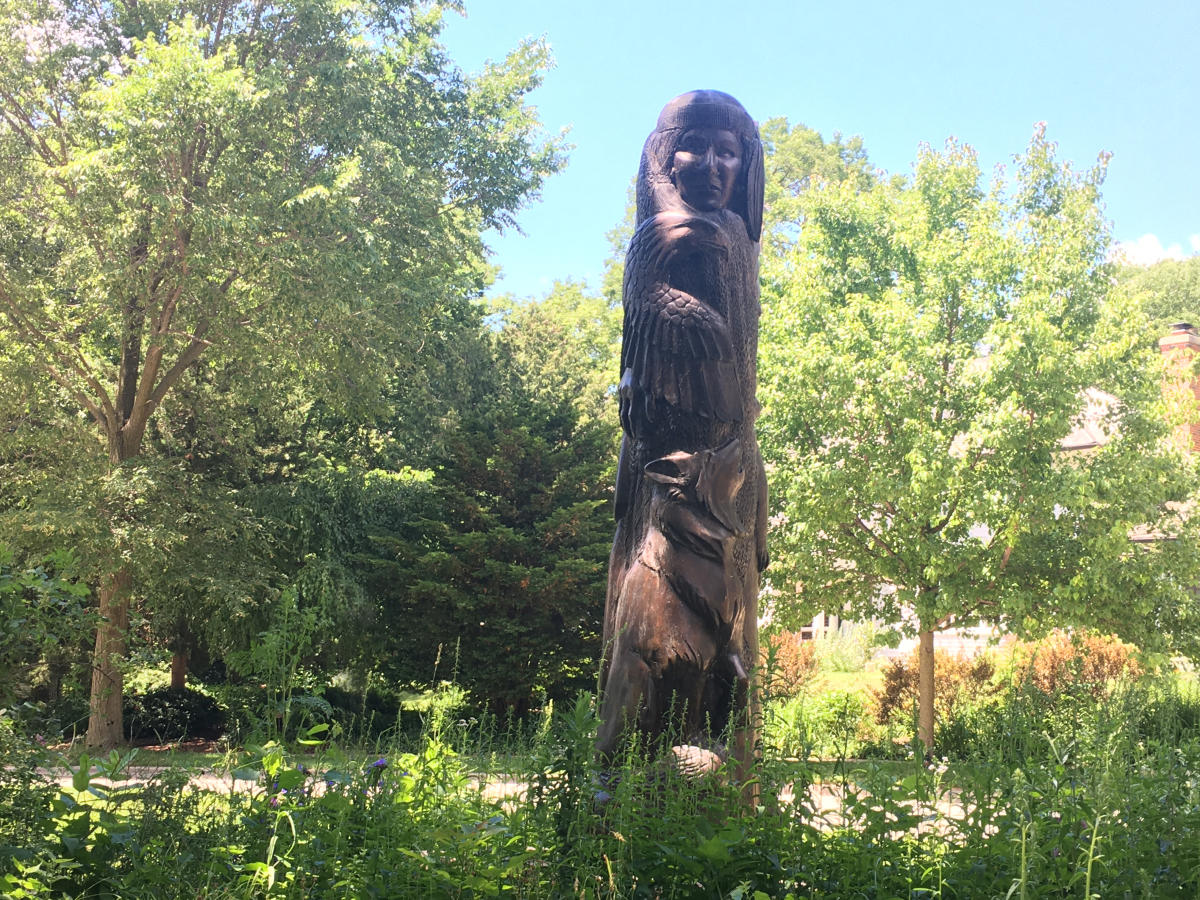 The final two sculptures are a short distance away in Olbrich Park. Barrelling down the steep hill into the park makes it easy to miss "Sunbathers" on the right. Created by Mary Michie, three cut, fractured limestone pieces resemble human forms. Both sides are carved as, you guessed it, reclining sunbathers. You may feel the same urge when you reach this waterfront park equipped with a playground, beach and Biergarten.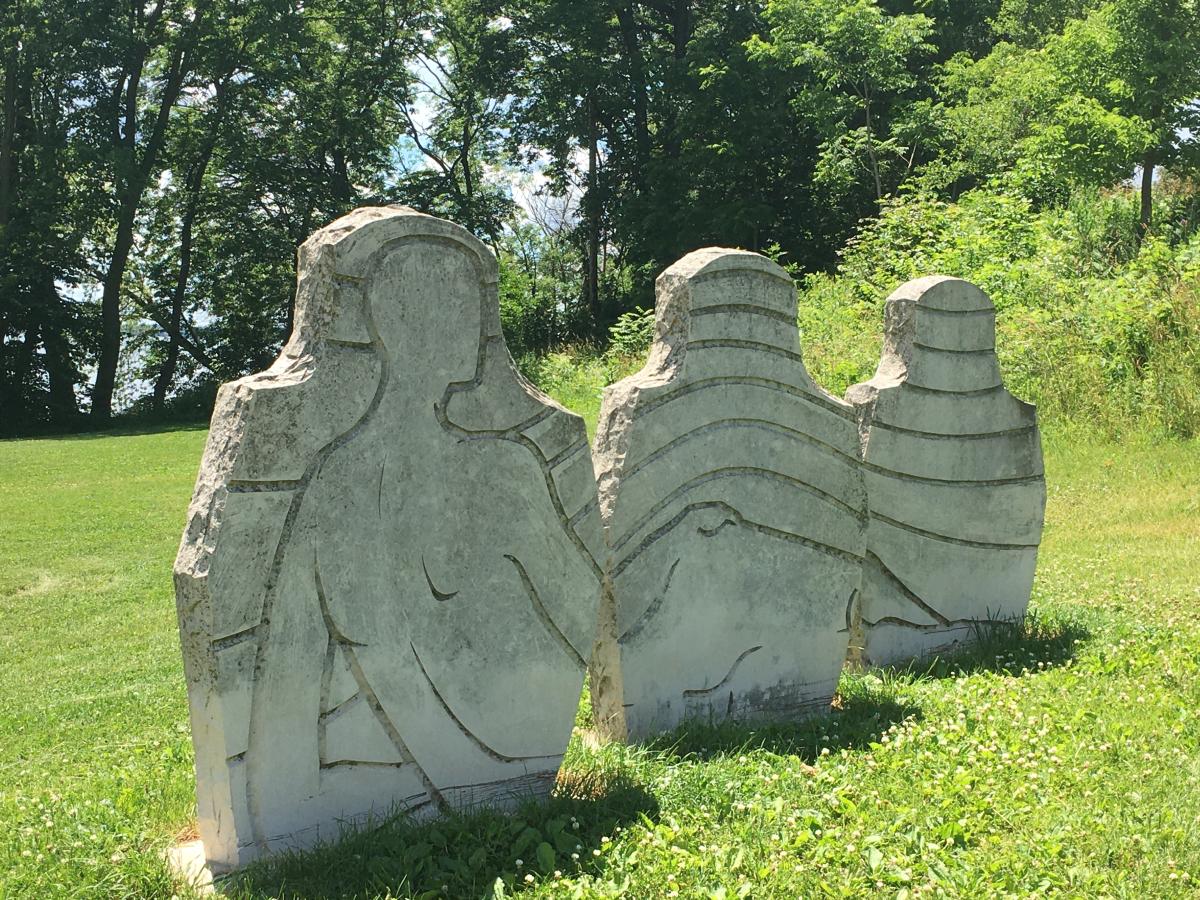 The final stop is surrounded by drama. William King's "ACT" found its home at the mouth of Starkweather Creek after being exiled from the civic center in the '70s. The larger-than-life steel and aluminum figures are the ideal backdrop for your own dramatic selfie pose. If you didn't get enough, Olbrich Botanical Gardens has a collection of other unique works of art.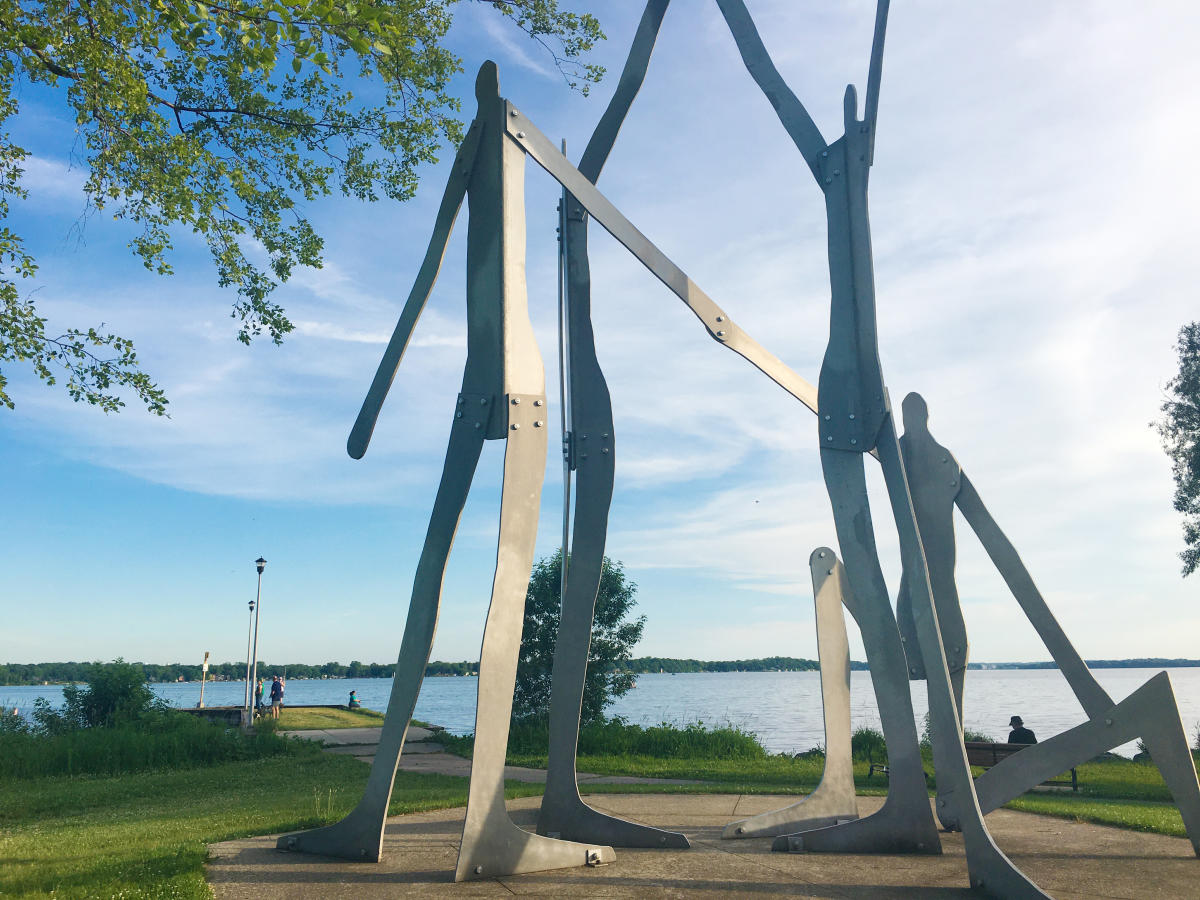 Learn more about the Lake Monona Loop and plan out your trip.