Putting Customer Feedback to Work
---
Our recent newsletter articles have focused on shaping customer expectations, partnering with other businesses and inspiring staff. However, another important way to enhance customer experience is to leverage the feedback and data you collect. But – especially with limited time – how do you decide what feedback is needed, capture data from many sources, and put it to work for your customers and your business? 
Before You Collect New Data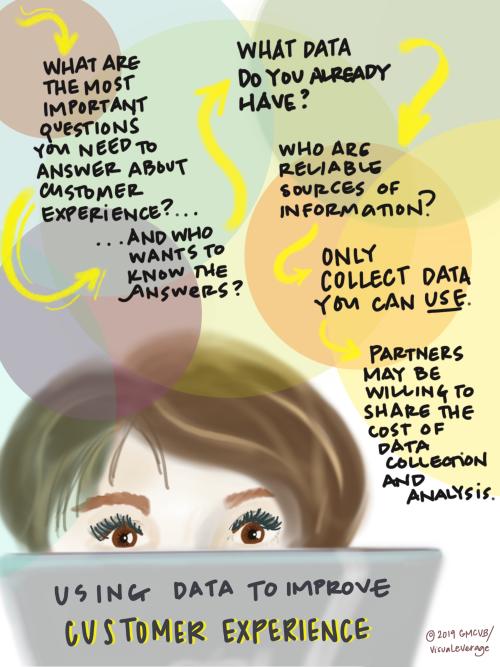 Start by taking a look at the types of data you already have, and what kinds of data you need.
Ask yourself key questions that apply to your business and market. What do you need to know to improve customer experiences?
Who's the best source to answer those key questions: Customers? Staff? Your business partners?
Determine who needs to know the answers to improve decision-making: Just you? Management? All staff? 
Only THEN look at how to collect the data you need. By only collecting information you can use, you'll save time and effort.
Gather From Varied Sources
With seemingly endless ways to collect and organize data, it can be confusing to choose your methods. At Brainstorm Bistro, partners set a goal to focus their efforts for the best ROI. Ideas included:
Advise staff to gather customer feedback regularly by asking customers specific questions. Designate a consistent way for staff to share feedback with coworkers.
Document how customers found you (CVB referral, Google, TripAdvisor, advertising, etc).
Use a variety of sources for customer reviews rather than relying on one or two sources. While "outliers" can be informative, avoid generalizing about one or two reviews that say you should make a drastic change.
Ask powerful questions like, "How likely are you to recommend us to others?" Offer a scale of responses (e.g., not likely, somewhat likely, very likely) and voila! You have qualitative data. 
Use data collecting methods and platforms that you feel comfortable with. Partners discussed combining tactics that yield the needed data without overwhelming them – there's no right "formula" as every business is unique. Examples included Google Analytics, Facebook Pixel, MailChimp, Constant Contact, sales data, online forms, SEO tracking, newsletter sign-ups or loyalty programs.
For qualitative data, suggestions included using employee insights, Google reviews, Twitter, TripAdvisor, onsite feedback, emails and phone calls. One partner suggested using Google Data Studio to aggregate and share data.
You're Collecting Data. Now What?
Follow through. Regularly evaluate the feedback you see, and if it warrants adjusting your services or the way you offer them, then do so. Use reliable data to fine-tune your marketing tactics to more effectively reach certain audiences.
For example, your sports event data shows that students use a higher percent of tickets than non-students. What attracts the students? Why do non-students attend? Use these customer insights to inform and create a marketing campaign. If your business is part of a larger organization, your data can also suggest a need for marketing that's different than that of your parent company.
Ultimately, determine how you will know you have provided great customer experiences.
Whether it's through key performance indicators (sales, bookings) or insights gained (customer reviews, referrals or website traffic), knowing what success looks like will continue to guide your data collection strategy.
Meet Your Partner: Revel
---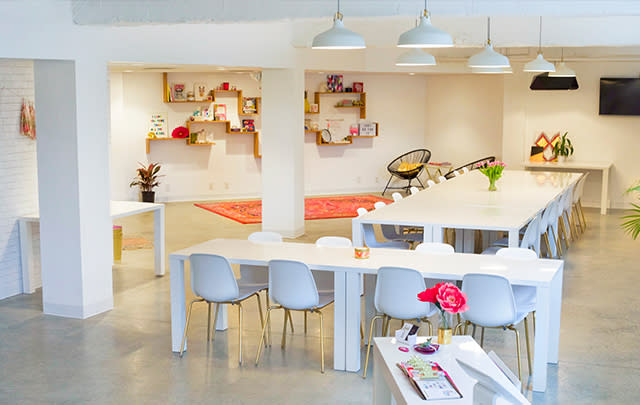 Revel is a modern DIY studio located just off the Capitol Square, filled with bright craft projects, fun drinks and joyous celebrations. Owner Sarah Van Dyke shares how Revel came to be, and what they're up to this year. 
How did the idea for Revel come about and what has it been like putting those ideas into action the last few years?
Madison's downtown has always been filled with amazing restaurants and shops, and I wanted to add to that with an experience-based business for adults. The original idea was for a welcoming and inspiring social space where there was always something fun and fresh going on… and then many iterations later, the idea for the Craft Bar was born!
It took a ton of work and was a complete team effort to get Revel up and running – but it's also been SO fun to see the concept come to life. It's truly rewarding to see guests creating in the Craft Bar, enjoying our workshops and events, and celebrating special life events like bridal showers and milestone birthday parties in our space. We've met so many amazing customers, vendor partners and fellow business owners along the way!
We know you rotate projects frequently. Any new projects or events coming this year?
We have a number of new Craft Bar projects and workshops planned, as well as some established favorites. Stay tuned for fun fiber projects, jewelry making, and possibly even some topics for foodies! In November we introduced UW™-licensed designs (like painted wood boards, etched glassware, and wooden 6-pack beer carriers) to our menu and we can't wait to share those with more Badger fans this year.
Tell us something about Revel that most people might not know.
Hmmm…here are three things!
Many people don't realize we have regular hours outside of our workshops and events. The Craft Bar is typically open to the public 5 days/week and drop-ins are welcome. Why not be spontaneous and stop by for a drink and/or DIY project?
Our space has ties to entrepreneurial royalty. Rumor has it that Eat Street housed a small office there when they were first starting out. And before that, an architecture firm had offices there for close to 15 years!
And if those aren't exciting enough facts? We serve prosecco on tap :)
Revel is also a great place for corporate events. Can you tell our readers a little bit more about the private events you host there?
We work with corporate groups in many capacities. Some come in during daytime hours to hold a meeting or retreat in a unique, inspiring space. Others book time for their group to come in for a workshop or crafternoon – which makes for a great creative break and team bonding experience (with or without the cocktails :))
In 2018 we expanded our offsite event services, and brought Revel DIY project stations or craft workshops out to a number of business, hotels and university events. We love these events since they provide a change of pace/scenery for our staff – while also making the logistics easy on the corporate event planner or manager who is coordinating the event!
Why do you partner with Destination Madison?
We've been a partner for about a year now and have appreciated the team's support, the informative classes offered, the helpful weekly newsletters, and the way they facilitate connections among all of their member businesses.
The other huge benefit for us has been their website and comprehensive events guide. Having our workshops and events posted there gives us a much broader reach than we would have by simply posting them on our own website.
Anything else you'd like our readers to know?
Downtown parking really isn't as bad as you might think it is :) And there are plenty of amazing downtown businesses and events to make it worth the trip!