March 2018
Issue 03.15.18
Featured Partner: Fair Trade Coffee House
---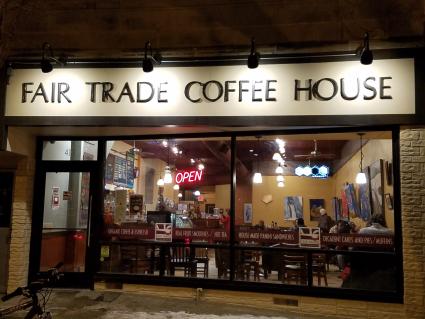 If someone isn't familiar with the concept, why should people seek out fair trade coffee and shop local when buying their morning coffee?
Many places these days are offering fair trade goods where the producers in developing countries are paid fair prices for these goods, especially coffee, but shopping local makes the biggest difference. As a small business, we don't always have the resources to have the most clever marketing campaign or trendiest slogan. We try to provide a great experience for every customer by focusing on service, presentation and cleanliness. You won't get the service we offer at one of the "chains!"
What seasonal offerings should we try at Fair Trade right now?
Our in-house baked goods, such as vegan zucchini muffins, vegan peanut butter bars and brownies, are always favorites. Spring is coming and we brew and keg our own cold brew and nitro coffee which we serve on tap!
What is the best compliment or review you've received from a patron?
We get lots of compliments on our friendly and outgoing staff. We try to keep a fun atmosphere for our employees that is contagious to our customers!
Tell us more about your coffee take-out and private party options.
We just recently partnered with EatStreet for take-out and delivery. We are always open to private parties and other events and encourage interested parties to contact us! Being an independently owned business gives us the flexibility to allow for unique events.
What's the most popular specialty drink?
Our in-house made Chai is a favorite for Chai tea lattes, and people really love the Grasshopper mocha!
Anything else you'd like to share?
Many people do not realize that we have an intimate and landscaped outdoor seating area that seats 8­­­–10 people at the rear of the cafe. We will be adding more elements to improve the ambiance this spring.
Fair Trade Coffee House is located at 418 State Street and is open daily from 8 a.m.–10 p.m.
---
---
---
---
---