December 2016
Issue 172 (12.15.16)
Featured Partner: Devil's Head
---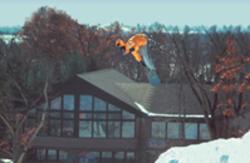 For decades, Devil's Head Resort has provided an escape for travelers looking to get away for a weekend—or weeks' worth—of outdoor activities. The Merrimac-based resort opened in 1970 with just ten ski runs, four chairlifts and a rope tow. But the resort quickly expanded its focus from a winter resort by premiering the 'original eighteen' golf course the following spring.

Today, the resort is a 1,000-acre property that offers four seasons of fun, from skiing to hiking to golfing. Suites and condos have been added, as well as a second golf course and a conference center. On the grounds, guests will find tennis courts, an outdoor pool, and a variety of dining options including the popular Avalanche Bar & Grill.

"We're really proud of our property and we are always excited about the number of return travelers we see each season from throughout the Midwest," says Joe Vittengl, General Manager of the resort. "Some of the special touches we provide, like exceptional snowmaking and grooming or offering nightlife for all ages have been a critical and successful piece of our operations plan."

In winter, Devil's Head attracts those returning skiers and snowboarders because their runs sit on one of the highest mountains in Wisconsin, offering 500 feet of vertical fun. But attracting new guests throughout the year is also a focus for the operation. That's where Vittengl credits the partnership and exposure provided by the Greater Madison Convention & Visitors Bureau (GMCVB).

"Devil's Head Resort has been a member of the GMCVB for more than 20 years," says Vittengl. "They feature us in web articles, refer guests from their visitor info centers and include us in their Visitors Guide. We've continued this valued partnership because their organization has consistently driven business meetings, skiers and golfers to our property."


Opening Day for skiing and snowboarding is December 9! Visit the Devil's Head website for seasonal hours, snow reports and to watch the snow cam!
Warm Welcome & Major Milestones
---
We're pleased to welcome the following new partners:
Cow & Quince is located in a 1930's historic building surrounded by farms, many of which supply the restaurant with fresh ingredients for its farm-to-table experience. There is also a small retail area that features Cow & Quince products, as well as local meat, honey, eggs, cheese and grains.
Congratulations to these GMCVB partners, who have recently earned esteemed recognition:

Janet Sperstad, CMP, was recently recognized as one of the 25 Most Influential Persons in Meetings by Successful Meetings magazine. We are so proud of your many accomplishments and appreciate your insights as a member of the GMCVB board of directors!
Charlie Eggen of Verona Hotel Group earned the esteemed Greater Madison Hotel & Lodging Association's Hotelier of the Year award! We appreciate your many contributions as a GMCVB board member and are proud to call you a partner.
Amy Simchak of North Central Group was just recognized with the Greater Madison Hotel & Lodging Association's Corporate Champion of the Year award! 
Abby Rein of HotelRED was presented with the Spirit of Hospitality Award at the Wisconsin Hotel & Lodging Association Conference in November.
Partners In the Press
---
We love to celebrate when we see our partners in the press! Check out these recent articles highlighting how successful our partners are at making our destination so desirable:
America's Friendliest Cities, Travel + Leisure, November 2016
Partners pictured: Monona Terrace® Community & Convention Center
20 Beautiful Hotels Where You Can Spend Thanksgiving, Town and Country, November 2016
Partners mentioned: The Edgewater, Wisconsin State Capitol, UW-Madison
Why the Crossfit Games are Moving to Madison, Men's Health Online, November 2016
Partners mentioned: Alliant Energy Center, UW-Madison
Top 20 Meeting Cities for 2016, SmartAsset as published by Meetings & Conventions, December 2016
Partners mentioned: Overall destination