Meet Your Partner: Badger Bus
---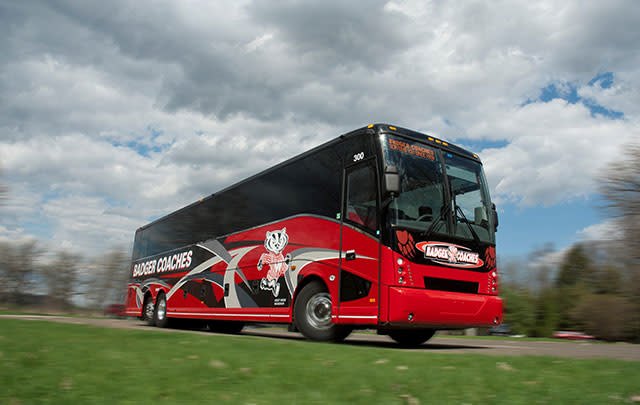 What does a company learn after 100 years in business? We ask Badger Bus co-owner, John Meier, about how his company became Madison's largest motorcoach fleet.
Explain your role at Badger Bus in one sentence.
I am co-owner and manage sales, operations and maintenance for over 600 employees at five facilities in the Madison and Milwaukee area.
Tell us about Badger Bus. What are the top three things your fellow partners should know?
Badger Bus was formed by my grandfather in 1920. My partners David, Jim and I are third-generation family and we – along with all of our employees – are so excited to be celebrating our 100th anniversary in business this year.
As a longtime member of Madison, we embrace the diversity that is represented in this community. For Badger, diversity is a company principle and throughout our company, we are fortunate to have a staff that is filled with wonderful people from all different backgrounds. With over 50% of our team consisting of women or minorities, Badger is very proud of our diverse workforce.  
In addition to our regular route service and school contracts, Badger Bus operates a tour company out of Milwaukee and offers escorted motorcoach tours in North American. Last year, Badger Bus Tour and Travel started a new brand called Purely Wisconsin Experiences, which features authentic and local hot spots in Wisconsin's cities and neighborhoods with tours "Curd is the Word", "Come Fry with Me", "Paczki, Pierogi & Polish Vodka" and always popular "Laverne & Shirley's Milwaukee".
When you're not working, what does your ideal day in Madison look like?
Spending time with our little brother Jaxen either going to a Badger game or just doing homework. My wife Michelle and I became a Big Couple (BBBS) after becoming empty nesters, we were paired with Jaxen when he was six and now he is a freshman at East HS. It has been so fun and rewarding being a part of Jaxen and his family's life.
How did you get into the transportation industry and what's been your favorite part about it?
I was born in a family that loved the industry and being raised in the bus business I would say it is in my blood. I was very fortunate to have worked with many dedicated employees that were hired by our grandfather and his sons. Using that experience and model, I understand that it is the people at Badger that make this place great and why we are celebrating our 100th year in business.
Why do you partner with Destination Madison?
Being a partner allows us the opportunity to help promote the vision of Destination Madison. Working together allows us to network with other local companies and contribute to each other's success.
Anything else you'd like our readers to know?
Our grandfather started Badger at the young age of 19. In the beginning, he had one bus running between Madison and Monroe, operating one-way whenever he got enough prepaying passengers, which would be every few days. Back then, the bus was only 8 horsepower so the able-bodied passengers had to get out and help push the bus up those Wisconsin hills. Our future grandmother was one of his passengers and thankfully, she did not have to get out and push the bus up the hills.