Meet Your Partner: State Line Distillery
---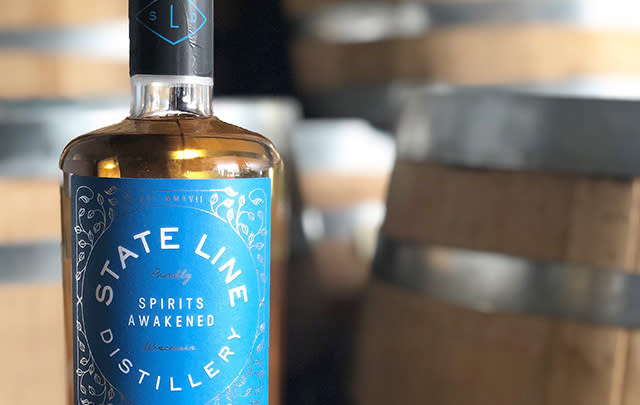 Grain-to-glass distillery and cocktail lounge featuring vodka, gin and craft cocktails. Gather around the table, the back patio, or the bar and enjoy a different kind of cocktail experience.
What are the top 3 things our readers should know?
Our spirits are fully grain-to-glass and we pride ourselves on using whole, fresh ingredients throughout our entire process.  


Founder John studied in Scotland and has a Master of Science degree in Brewing and Distilling from Heriot Watt University.  


In the next few months we will be unveiling an exciting new group for fans to be able to interact with State Line on a whole new level!
How long have you been in your role at State Line Distillery? What is the most rewarding aspect of your job?
I have been at State Line Distillery for about a year and a half. There are many rewarding experiences that I have been a part of through this role. I love that I am able to positively impact our community by partnering with non-profits to host fundraising events in our space. It is also exciting to help create a unique experience for our clients and cocktail lounge guests. We offer so many options for private events; each group that walks through our doors has the opportunity to create a fantastic and one-of-a-kind event! I am also grateful to work with so many wonderful and passionate people.
What are some must-try cocktails/spirits? What is your favorite?
This is a tough one! Our menu changes seasonally, so I always make it my mission to find my favorite gin and favorite vodka cocktail. Currently, "A Pull from Old Tom" is my favorite gin cocktail on our menu. It features our newly released Barreled Gin, cherry-orange syrup & Angostura bitters. For our vodka, the Trotsky's Escape is my go-to drink no matter the season. Our gin is definitely our MUST TRY spirit. It is vastly different than a standard London Dry. Our gin is sage forward and fantastic served on its own or in a cocktail. To be honest, the whiskey is one I cannot wait to get my hands on! Similar in style to a Highland single malt whisky, this spirit will definitely be worth the wait.
What are you most looking forward to this summer in Madison?
Summer in Madison brings on lakeside running, water skiing and many trips to the splash pad with my family. We always make it a point to have a "date day" brunch on Sardine's patio once a month. I am really excited to check out some of the new food cart vendors, too! I book vendors at the distillery a few times a month, so I love seeing new faces in the industry!
Why do you partner with Destination Madison?
We partner with Destination Madison because they provide phenomenal education sessions. Everyone on their team strongly embraces the vision of connecting partners and creating lasting relationships.
Anything else you'd like our readers to know?
We are dog friendly, both on our patio and in the cocktail lounge.


On September 14 we'll be celebrating our two year anniversary


We're members of Bicycle Benefits, so be sure to flash your member sticker for a discount


We have a small, yet mighty team of eight employees


Our cocktail lounge is open Thursday & Friday 5-11 p.m. as well as Saturday 3-11p.m. It is a great opportunity to see where the products are made and try some delicious and unique cocktails!