Meet Your Partner: Audio for the Arts
---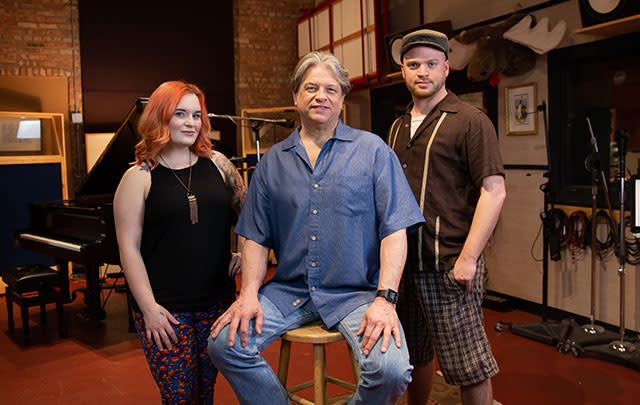 Audio for the Arts is a full-service recording and audio production company offering audio expertise and friendly, professional services to a wide variety of clients.
Explain your role at Audio for the Arts in one sentence.
Buzz Kemper: I am a co-owner, engineer, producer, voice talent, and assistant changer of light bulbs.
Audrey Martinovich: I am a co-owner, one of the lead audio engineers, music producer, and sound designer.
Tell us about Audio for the Arts. What are the top 3 things your fellow partners should know?
BK:
We are a full-service professional audio recording and production company, providing complete in-studio and on-location audio services for businesses and musicians (including a grand piano).
We have audio and video live streaming capability, as well as remote connectivity via Comrex phone hookup, ipDTL, ISDN and Skype.
Our client list includes Madison Symphony Orchestra, American Family Insurance, TDS Telecom, Comedy Central, Madison Ballet, Wisconsin Chamber Orchestra, Overture Center for the Arts and many others.
AM:
We handle any type of project, big or small – from local musicians and businesses to international projects.
We have a network of voice talent so we can find the perfect voice for your business's message and audience.
We can work in our studio or on-location, and event connect several people from remote locations.
When you're not working, what does your ideal day in Madison look like?
BK: Rock climbing, hiking, enjoying our parks, paddling or swimming in our lakes...or, if I want to be really sore the next day, all of the above.
AM: For me it's taking my four-year-old son to Henry Vilas Zoo or to James Madison Park, followed by dinner at a local restaurant.
How did you get into the music industry?
BK: My dad introduced me to an engineer at Minnesota Public Radio, and they hired me to engineer Garrison Keillor's "A Prairie Home Companion" show and to record the Minnesota Orchestra and St. Paul Chamber Orchestra.
AM: I used to sing opera in high school and during lessons I would record myself. That sparked an interest in recording and manipulating sound so I went to college for music production. Later on, I got another degree in Entertainment and Media Business, before starting at Audio for the Arts as an intern.
Why do you partner with Destination Madison?
BK: We are proud of our business and our city; this partnership gives us a unique opportunity to help each promote the other.
AM: Investing in the local economy is so important! This is one way we stay connected to others in our area and find new places to explore, keeping our dollars right here.
Anything else you'd like our readers to know?
BK: Our most unusual job: we work for several law firms providing forensic audio services: cleaning up distorted sound for use as evidence, and in a few cases, creating audio reenactments of events to support testimony.
AM: We have a monthly acoustic music concert series called Acoustic Moose that we proudly present with 98.7 WVMO. Local musicians perform an intimate concert in our studio for a small audience of about 25 people. Each concert is recorded and then later broadcast on WVMO. It's a great way to get acquainted with local music and artists!