3 Ways to Try Beets
Fresh beets are typically available in Wisconsin from June through October, and there are so many ways to prepare them: roast them, can them or just get creative with them! While it's true that beets are a pretty controversial vegetable—people seem to either love them or hate them—before you make up your mind, we encourage you to make these try-at-home recipes shared by local chefs.
Courtesy of Tory Miller, Graze (Madison, WI)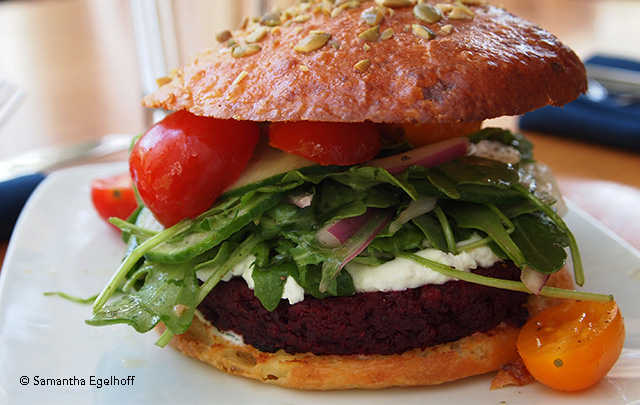 Total Time: 1¾ hours Serves: 8
INGREDIENTS:
4 large or 6 medium beets
2 cups walnuts
1 large egg, beaten
1 tablespoon potato starch
1 cup Panko bread crumbs
Salt and freshly ground black pepper
2 teaspoons olive oil
8 hamburger buns
2 cups arugula
16 cherry tomatoes, halved
DIRECTIONS:
1. Preheat oven to 400 degrees. Wash beets, wrap individually in foil and place on a baking sheet. Roast until tender, 1 hour. Let cool, peel and coarsely chop. Set aside 4 cups chopped beets and reserve remainder for another use. Reduce oven temperature to 350 degrees.
2. Spread walnuts over a baking sheet. Toast in oven until fragrant, about 5 minutes.
3. In a food processor, pulse toasted walnuts and 4 cups chopped beets until consistency is similar to couscous. Mix in egg, potato starch and bread crumbs. Season with salt and pepper to taste.
4. Shape beet mixture into 8 patties and place on a parchment-paper-lined baking sheet. Bake until slightly firmed, 10 minutes.
5. Heat olive oil in a non-stick pan over medium-high heat. Working in batches and adding more oil as needed, cook patties until a nice crust forms, 2-3 minutes per side.
6. Toast buns. Top bottom buns with beet patties, arugula and tomatoes. Top with remaining buns.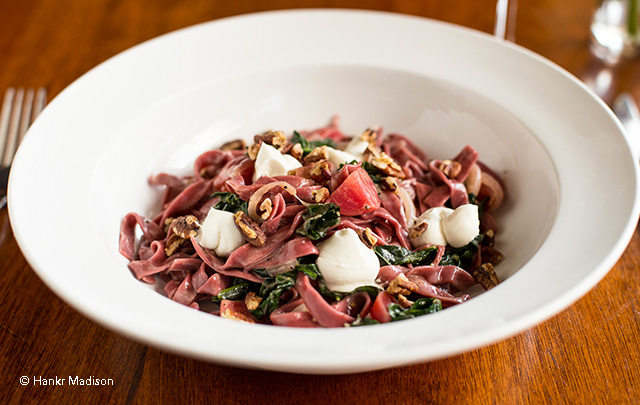 This gorgeous, full-flavored pasta dish courtesy of Brasserie V is a bit more sophisticated and not for the novice cook.  If you have already mastered making your own pasta and are not intimidated by a multi-step process, this recipe delivers on flavor and color as the pasta is decidedly pink and goes for a big WOW factor.
If you aren't quite up to making your own noodles, Chef Stephen Carroll suggests using RP's Spinach Fettuccine which is widely available at many area grocery stores or online.
INGREDIENTS:
2 tablespoons brown butter
3.5-ounce portion pasta (recipe below)
3 tablespoons roasted beets (recipe below)
1 cup kale
1 ounce smoked goat cheese (recipe below)
¼ cup red onion, thinly sliced
Vegetable stock/pasta water, as needed
Heavy whipping cream, as needed
Toasted pecans 
Sartori Sarvecchio Parmesan, as needed 
DIRECTIONS:
Bring salted pasta water to a low boil in a heavy bottomed sautée pan. Set your sautée pan to medium-high heat. Add brown butter. Once warm, but not smoking, add red onion. Sautée until aromatic, but not yet translucent. Add kale and beets (if using a sturdier kale like lacinato, sautée for 1 minute, until slightly wilted). Add vegetable stock or pasta water to deglaze pan (about 2 ounces by volume). Once the stock is simmering, gently add about 1 ounce of cream, lower heat to medium and drop pasta into pasta water. After 2–4 minutes, the pasta should float slightly and be soft while still retaining some bite and all of its color. Drain and add to your sautée pan. Add salt and pepper and grated Parmesan cheese as need. It shouldn't be too much Parmesan; just enough to add some depth and tie the sauce together. Continue simmering until the pasta has absorbed all of the liquid and is coated properly. Place into serving bowl and garnish with toasted almonds and Smoked Goat Cheese. We use a pastry bag to pipe the goat cheese into the pasta; quenelle with a couple of small spoons will also work well.
INGREDIENTS:
2 cups packed all-purpose flour
3 cups packed 00 flour
3 egg yolks
4 whole eggs
6 tablespoons reduced beet juice
DIRECTIONS:
Juice about 2 quarts of beets resulting in approximately 2 cups of beet juice. Simmer until reduced by half. Cool. Combine both flours in a Kitchen Aid stand mixer bowl, then make a bowl in the middle and add beet juice and eggs. It is very important that the beet juice is cold, otherwise the eggs will cook. Using the dough hook attachment, begin mixing on medium low. Continue to mix until most of the flour is incorporated. It won't become a complete dough ball in the mixer. Hand-knead the dough for 2-3 minutes until combined and the ball springs back at the touch of the finger. Rest for at least 30 min. Follow manufacturer's directions for rolling pasta.
Start with about 4 ounces by weight of dough. Thin out with rolling pin and begin with the first setting on your pasta maker, moving up 3 passes at a time until at the 4th thickness setting. Cut pasta at about 9 inches in length and proceed to cut, using fettucine setting on the pasta maker. Keep covered and refrigerated once cut.
INGREDIENTS:
Beets - approximately the same size
Apple cider vinegar
Water
Salt & pepper
Whole mustard seeds
DIRECTIONS:
Use approximately the same sized beets. Rinse off beets and place in a heavy roasting pan. Season generously with salt. Add a heavy pinch of mustard seeds and peppercorns. Add vinegar just halfway up the beets and cover the remainder with water. Cover with parchment paper and foil. Roast for 45 min to 1.5 hours at 450 degrees, until just fork-tender. Let sit for about 30 minutes. Separate the beets from the liquid (reserving the liquid) using a damp towel and quickly remove the peel from the beets while still hot. (This can be done while cold but takes considerably more work.) Once peeled, dice the beets and place into container introducing the cooking liquid to prevent them from drying out.
INGREDIENTS:
1 ounce goat cheese
French oak chips
DIRECTIONS:
Light wood chips until flamed. Stoke chips and place under goat cheese. Cover with foil, and set aside until all the smoke has been absorbed.