Madison Ballet's rendition of The Nutcracker returns to the Overture Center for the Arts for another dazzling season December 20 – 28. With thrilling choreography and colorful music provided by the Wisconsin Chamber Orchestra, this locally-produced show is a tradition for both the performers and the audience. Keep reading to discover why Madison's version of this holiday classic is so special, and learn what goes on behind the scenes!
THE NUTCRACKER LOOKBOOK
The Scrim
Just like magicians pulling a rabbit out of a hat, theater designers can change a scene right before your eyes. Using a scrim, or screen, the set for the Nutcracker changes instantly with lighting. Above, the scrim is being used to introduce the audience to the show, but soon the lights will illuminate what's behind: the opening party scene.
Prepping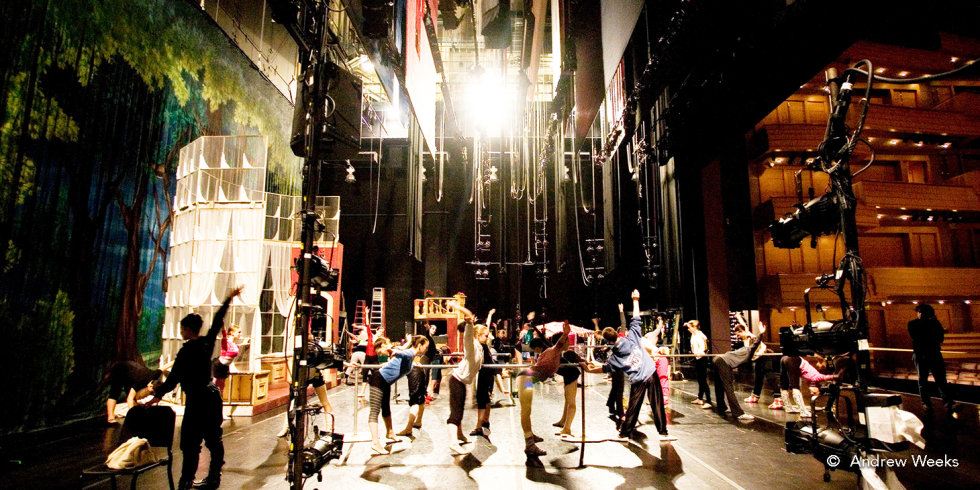 The Nutcracker is comprised of 13 professional dancers and 110 community members. Above, dancers warm up on stage before a performance. The professional company rehearses for up to five hours each day and community cast members rehearse on weekends. The entire cast comes together just three weeks before the show opens.
Garden Attendants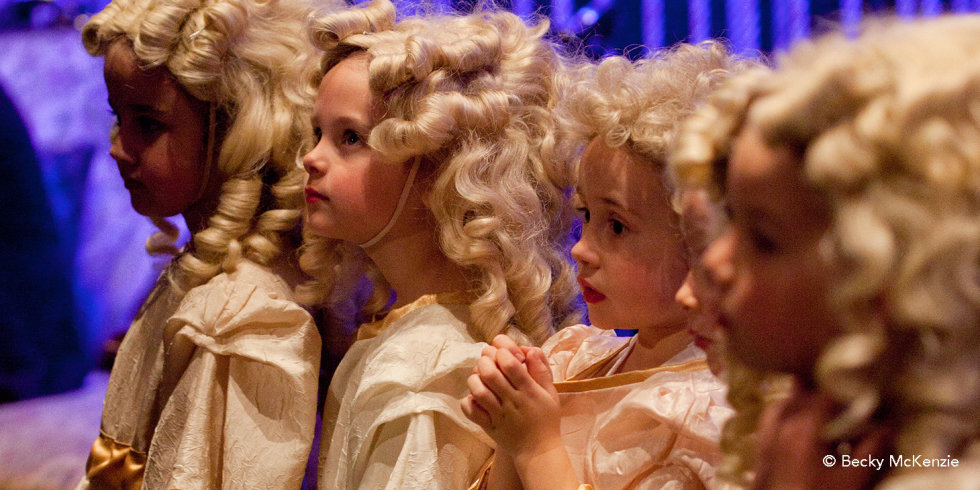 The Nutcracker is magical for child performers—they share the stage with their idols and dance in front of 1,800 people nightly. Ages as young as five through adults are in the cast. Above, garden attendants in gold wigs await the arrival of Clara. In this Nutcracker, an enchanted garden is used instead of Land of the Sweets.
Getting Into Character
A lot of preparation goes into each performance of the Nutcracker. Professional dancers warm up for an hour to get their bodies ready and to center their minds. There are physical therapists, massage therapists and chiropractors on-hand for maintenance, as well. Above, a performer puts on his own makeup (everyone wears it—even the men).
Volunteers on Hand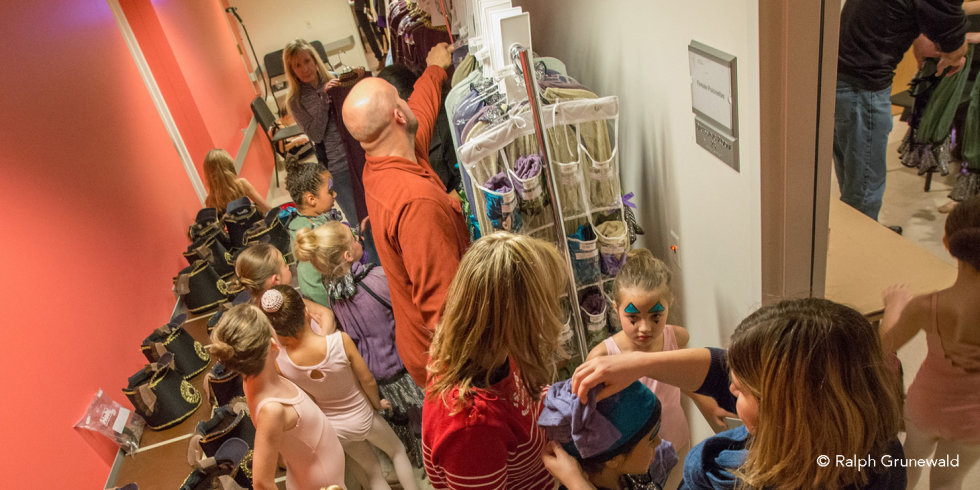 Between 75 and 100 volunteers are backstage at the Nutcracker, steaming wardrobe items and readying quick-change costumes. Above, volunteers help children with hair, makeup and costumes. They will also chaperone each child to the stage.
Snow Shines Brightly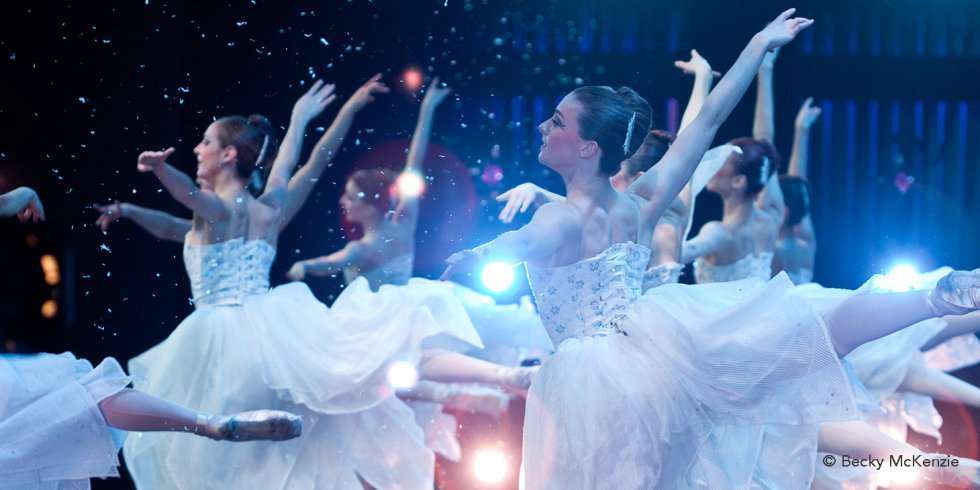 The magic of music and dance come together during the Nutcracker's snow scene. Tchaikovsky's music speeds up and glistens, just like the theater snow falling from the sky onto the stage. Above, performers enjoy 16 minutes of dancing in unison, a delight for them and the audience. It is easily the most striking sequence in the entire ballet.
Wear and Tear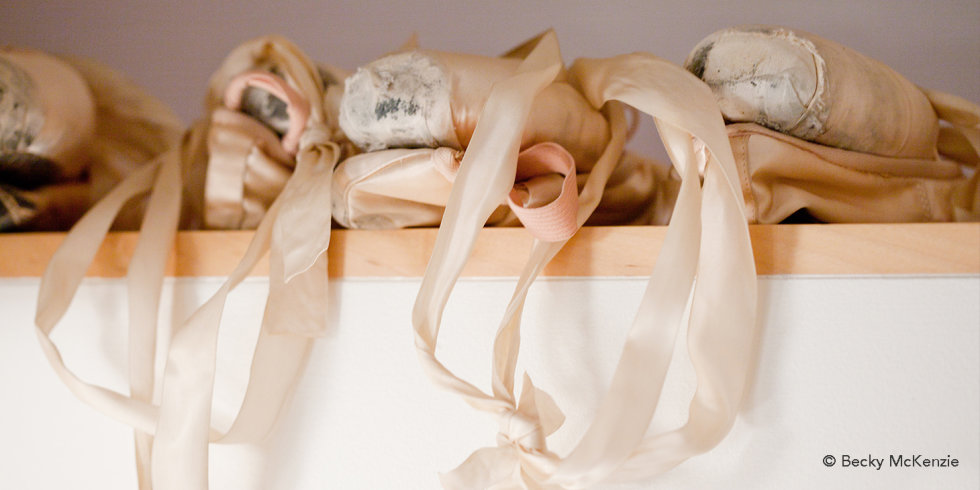 Before going on stage, dancers paw around in a box of rosin (adoringly called the kitty litter box) to reduce slippage on stage. Above, toe shoes are placed together for repair or replacement. Dancers often go through a pair each performance and may have up to six to 10 pairs ready to wear, depending on the type of ballet they are performing.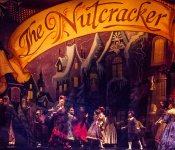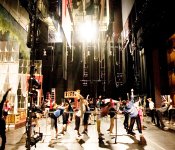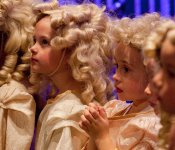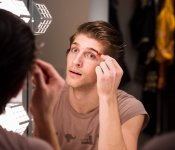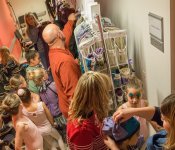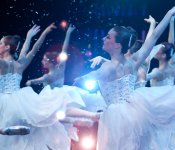 Related Articles