BRING YOUR MEETING HOME: CAMPUS CONNECTION
Madison is a vibrant, lively and thriving home. Why not share it with your colleagues?
Bring Your Meeting Home – Campus Connection unites Madison and its colleges in the pursuit of progress. If you're in an association that hosts an annual conference, we want to help you bring it home. When you Bring Your Meeting Home, your individual department will receive an incentive. All while fueling Dane County's economy.
Become a community advocate, elevate your school's prestige and increase industry visibility.
HOW IT WORKS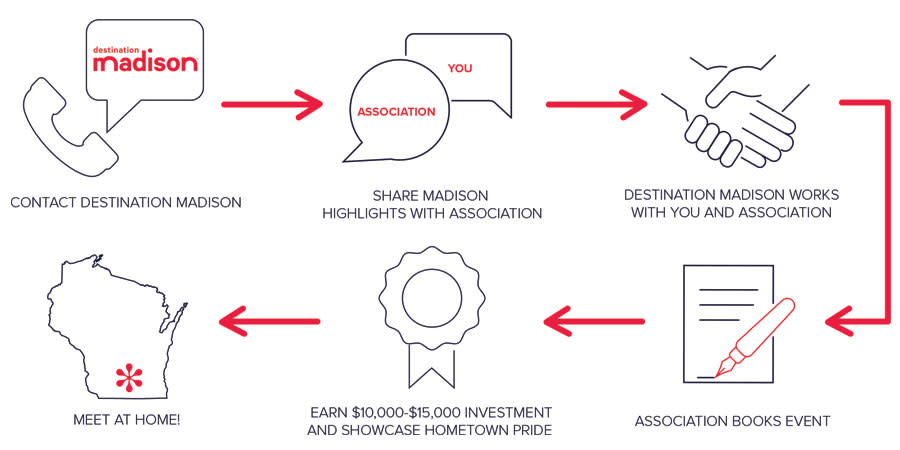 INCENTIVES TO BRING YOUR MEETING HOME
We believe in collaboration. That's why when you invest in Madison, we invest in you.
When you Bring Your Meeting Home, you elevate our community. Your meeting creates economic impact that improves resident income, job creation and tax revenue that supports Madison's quality of life.
As an added bonus, we invest in your college. Investments range from $10,000–$15,000 to support your department's future.
HOW DESTINATION MADISON HELPS
We do the heavy lifting to make your association's meeting thrive. Our sales and services team take on crucial responsibilities to help bring your meeting home. Our services are at no cost and include:
BID MANAGEMENT
Professionally-produce a bid customized to your event
VENUE EXPLORATION
Collaborate with planners to find the perfect venue.
ACCOMMODATIONS
Assist with with hotel selection and room block management.
SITE VISITS
Host a planner tour led by Destiantion Madison experts.
VENDOR SELECTION
Connect planners with local vendors.
EVENT SERVICES
Support your meeting after it books, including attendance building, onsite services and promotion and planning services.
ABOUT DESTINATION MADISON
As Madison's official destination marketing and management organization, we create and pursue events to elevate Madison. In 2018, we secured 146 future events, which will generate $59 million in direct spending for our community.

Program Details
Payout Based on Consumed Room Nights
| ROOM NIGHT RANGE | OUR INVESTMENT TO YOU PER EVENT |
| --- | --- |
| 1,000 – 2,000 room nights | $10,000 |
| 2,000 – 3,000 room nights | $12,500 |
| Over 3,000 room nights | $15,000 |
EVENT CRITERIA
Event requires a minimum of 1,000 contracted and consumed hotel room nights using two or more hotels
Requires usage of Monona Terrace, Alliant Energy Center, or another facility with approved exception
Applies only for events that rotate around the US or WI which have not met in Madison over the past three years
Proactively collaborate with Destination Madison to facilitate organization internal/external networking, provide applicable local host support needs and other appropriate steps that help secure Madison as the final host destination