MEET JOHN MLEZIVA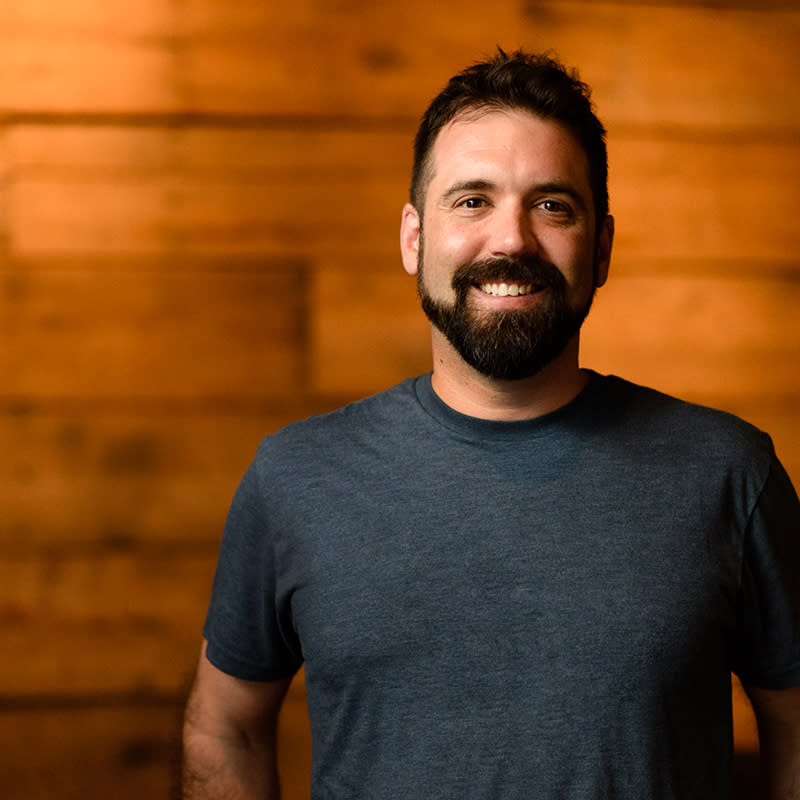 About John Mleziva
John Mleziva (Muh-LEZ-i-vah) is the founder of State Line Distillery. His Czech heritage can be blamed for the preposterous confluence of consonants and vowels from which his last name is assembled. He attended the University of Wisconsin-Eau Claire as an undergrad before attaining a Master of Science Degree in brewing and distilling from Heriot-Watt University in Edinburgh, Scotland in 2012.
What three words would you use to describe your company?
Authentic. Approachable. Passionate.
How would you describe State Line Distillery – in more than three words?
State Line Distillery is a combination of hard work, fun, great partnerships, and of course the commitment to produce the finest grain-to-glass spirits. Everything is done with transparency by a small team that cares deeply, and is passionate about what we are creating and putting out in the world.
What's something that makes your business unique?
I completed a Master of Science in Brewing and Distilling in Scotland. Our interior is constructed of reclaimed barn wood from DeForest, Wis. We offer creative cocktails and friendly service.
How did you get involved in craft beverage making?
My grandfather introduced me to home brewing when I was in my twenties, and due to my love of science I quickly became hooked on learning how to maximize the brewing process through yeast management, grain selection, and technique.
I knew early on I wanted to work in this industry in some fashion, but it wasn't until I moved to Scotland to earn my Master of Science Degree in Brewing and Distilling that my focus shifted to distilled spirits.
What's one thing people may be surprised to learn about your job?
The lengths we go to ensure our yeast is happy. Because we are a fully grain-to-glass facility, the first stages in our process is similar to a brewery.
We spend much of our time cleaning to ensure when we pitch our yeast it produces the compounds we want; mainly ethanol and specific esters, which are flavor compounds naturally created during fermentation.
What's your favorite thing about making your beverages?
The natural partnerships and collaborations that come out of working to source our products as locally as possible whenever possible.
There are so many people we've met who bring the same level of passion to their work as we do, which makes for fantastic opportunities to collaborate and innovate.
Outside of that, we love having complete control over every step of our process. It allows us to truly say we're creating a product that is uniquely and proudly Wisconsin.
What makes your products different from others?
The base for our spirits is a mixture of wheat and barley that we ferment, distill, and bottle completely on site, grain-to-glass. The wheat and barley provides a high level of roundness and smoothness on the palate.
We work hard to source ingredients locally whenever possible; for instance the sage used in our gin is grown on a local farm right outside Madison and is hand-picked fresh for each batch.
What does a visitor have to try when they come to State Line Distillery?
Our signature cocktails
If you could only drink one of your products for the rest of your life, which would you choose?
That is a difficult question to answer, but if I had to choose today – mostly because our whiskey is still quietly aging – I would choose our gin because of it's smooth character and delicious sage forward qualities.
Why should someone come to Madison for the craft beverage scene?
The Madison craft beverage scene is thriving and innovative. I feel proud to be working in a city with so many talented producers who all feel passionate about what they make.
Describe Madison in three words
Progressive. Innovative. Adventurous.
What is your favorite thing to do in Madison?
I enjoy exploring Madison's bike trails and running through the University of Wisconsin-Madison Arboretum trails. In the summer if I'm not doing either of those things you'll probably find me at the Wisconsin Union.
If a visitor comes to your business and wants to keep exploring the neighborhood, where should they go next?
Walk or bike over to Working Draft Brewery, then make a stop at Bos Meadery, next move onto Giant Jones Brewing Company, and finish at Old Sugar Distillery. Or better yet, spread the trip out over a few days.
Anything else you would like to share?
Our cocktail lounge features only whole, fresh ingredients. We juice fruit daily, produce all our own syrups and tonics, and even make our own ice using the reverse osmosis water system used in the distillation process. All of which we believe leads to a better cocktail experience.
---
Thirsty for more? Be sure to read more "Meet the Makers" profiles here.