MEET JESSICA JONES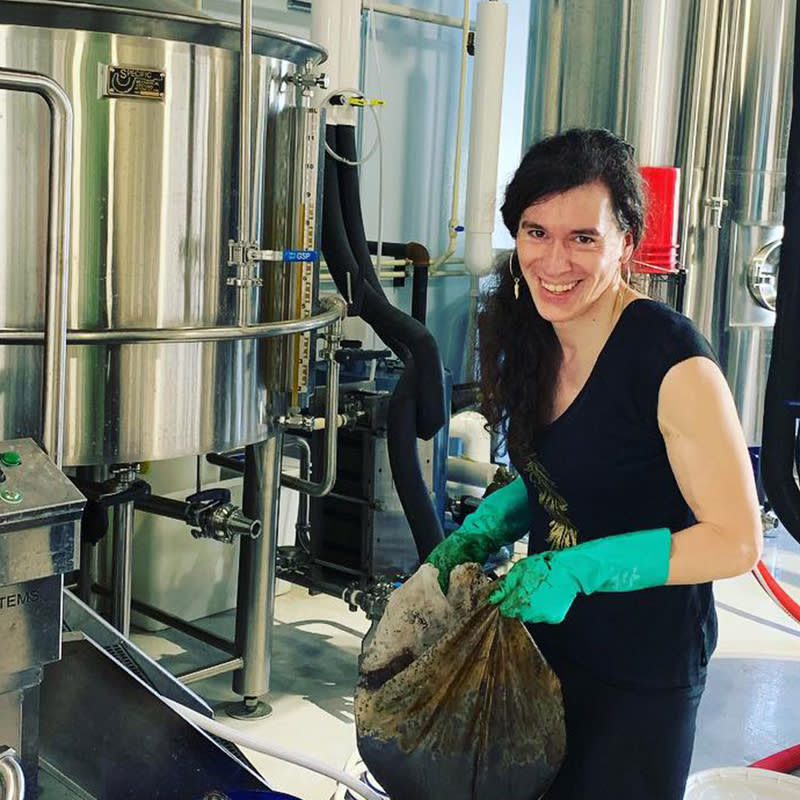 About Jessica Jones
Jessica grew up in Wisconsin and attended UW-Madison. She loved baking and cooking as a child and worked in kitchens and catering as she got older. After college, she moved to Berkeley, Calif., and became immersed in the craft beer scene. The seed was planted to become a brewer, and that became her goal. Returning to her native Wisconsin, she wanted to share her love of barleywines and classic beer styles!
What three words would you use to describe your company?
Certified organic brewery
How would you describe Giant Jones – in more than 3 words?
We're an independent, woman-owned, certified organic craft brewery in Madison, Wis.
What's something that makes your business unique?
Women-owned, brewing big, barleywine-style beers that are certified organic. We're open Thursday-Saturday 4-10 p.m., just off the bike path. And I'm an Advanced Cicerone and Grand Master Beer Judge!
How did you get involved in craft beverage making?
I started home-brewing with my Dad right after I turned 21, and quickly read every home-brewing and beer style book I could. I became an avid home-brewer and got to know a number of professionals in the beer industry by serving on the Brewers Association (BA) competition staff for the Great American Beer Festival (GABF) and World Beer Cup (WBC) starting in 2008.
I completed a brewing apprenticeship with Faction Brewing Co. in Alameda, CA in summer 2014. I am a Grand Master Beer Judge through the Beer Judge Certification Program (BJCP), an award-winning home-brewer and Advanced Cicerone®.
What's one thing people may be surprised to learn about your job?
I'm not a chemist or microbiologist - but often am accused of being one. There's a lot of chemistry and biology that goes into making beer, but luckily you don't necessarily need a degree in Microbiology to be a brewer.
What's your favorite thing about making your beverages?
Creating flavor experiences that bring joy into people's lives.
What makes your products different from others?
All our beers are certified organic. We want to create balanced and complex flavors, and focus on higher alcohol styles and demonstrate that high quality, delicious beer can be organic too.
What does a visitor have to try when they come to Giant Jones?
Barleywine
If you could only drink one of your products for the rest of your life, which would you choose?
Barleywine
Why should someone come to Madison for the craft beverage scene?
Madison's beer and beverage scene is really growing and reaching the levels of quality and diversity of the larger urban cities. But what's great is that it's easy to get around to all the spots and quite affordable.
Describe Madison in three words
Big Small Town
What is your favorite thing to do in Madison?
Exploring the city on bike paths!
If a visitor comes to your business and wants to keep exploring the neighborhood, where should they go next?
Old Sugar Distillery, Bos Meadery, Tangent - Now Vintage Brewery, Working Draft Beer Co., Stateline Distillery – there are so many great options.
Anything else you would like to share?
Giant Jones Brewing, myself and Erika, aims to be a welcoming and open space. We're here serving beers, and when you visit, you'll have the chance to meet us and ask your burning questions.
---
Thirsty for more? Be sure to read more "Meet the Makers" profiles here.