MEET LIZ & JOE HENRY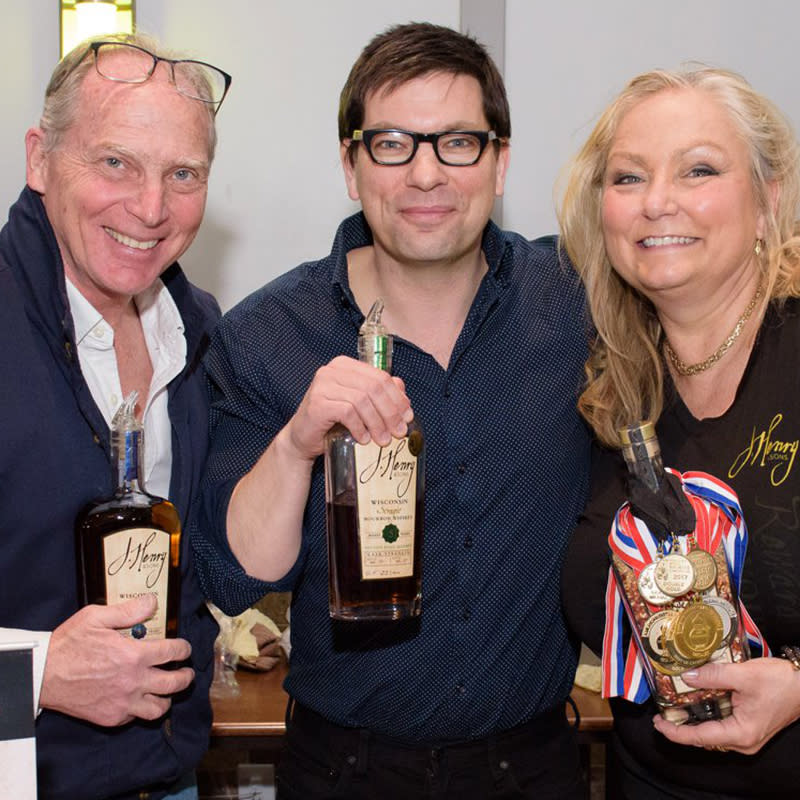 About the Henrys
Joe has been a seed corn producer all his life and Liz has been an agricultural marketer and educator. Together they run Henry Seed Farms LLC. In 2009, they began J. Henry & Sons Wisconsin Straight bourbon production opening Henry Farms Prairie Spirits LLC.
What three words would you use to describe your company?
Tradition. Quality. Experience.
How would you describe Henry Farms Prairie Spirits and J Henry & Sons Bourbon – in more than 3 words?
We're a fourth generation seed corn operation that also grows the mash bill and produces five-year-aged, Wisconsin Straight bourbon on our farm.
What's something that makes your business unique?
We are truly grain to glass, growing all the grains for our mash bills. We are a true family business, and our entire family is involved.
We have earned a reputation for Wisconsin spirits by winning the highest honors at national and international competitions and making excellent quality bourbon here using all-Wisconsin ingredients and environment.
How did you get involved in craft beverage making?
Bourbon is value-added agriculture, specifically small grains, and corn production. It flowed naturally as an excellent way to increase the value of our corn production and diversify our farming operations. We visited the American Distilling Institute in its inception and decided we would join the craft production movement.
What's one thing people may be surprised to learn about your job?
How much science and chemistry is involved in bourbon production and cocktail making.
What's your favorite thing about making your beverages?
Enjoying it once it's finished.
What makes your products different from others?
We only make bourbon using heirloom red corn developed at the University of Wisconsin-Madison in the 1930's, heirloom rye developed at the Spooner Agricultural Research Station in Spooner, Wis., and Glacier Wheat – also developed at UW-Madison.
We are the only producers in the world using this variety of red corn – one we revived working with UW-Madison – and we age it in a hundred-year-old dairy barn on our farm that is neither temperature nor humidity controlled so it uses wild Wisconsin weather to optimize the flavors extracted from the new, oak barrels.
Our terroir is special, and we are happy for the perfect expressions of bourbon it creates.
What does a visitor have to try when they come to J Henry & Sons?
Our sensory experience.
If you could only drink one of your products for the rest of your life, which would you choose?
Patton Road Reserve
Why should someone come to Madison for the craft beverage scene?
We have so many delicious, creative, collaborative options. There is a plethora of tastes, styles, and pairings for people to try, buy and share.
Describe Madison in three words
Fresh. Delicious. Fun.
What is your favorite thing to do in Madison?
We have so many favorites. Hang out and people watch while attending Farmers' Market, Art Fair on the Square, or Art Fair off the Square.
Catch a concert in one of our intimate venues, Concerts on the Square, Dane Dances, or Concerts on the Rooftop.
Grab a beer and a swim at Memorial Union, Pontoon Porch Boat off Monona Terrace, walk in the UW-Madison Arboretum or Picnic Point, skating at Tenney Park, SUP on Lake Wingra, watching the polar bears at the Henry Vilas Zoo and finding all the Buckys on Bucky on Parade.
If a visitor comes to your business and wants to keep exploring the neighborhood, where should they go next?
We are at the top of Dane County, just a short ride from our tasting room to Gibraltar rock. Lodi is charming and has a public pool. Three Bats in a Belfry gift shop, and Lodi Sausage for some local flavors and gifts that are unique. Then you can continue to Wisconsin Dells, Devil's Lake, and Indian Lake for great outdoor hiking, walking, and entertainment.
We often recommend beginning your day in Madison and coming out for a tour and sensory experience, or doing the tour and then returning to Madison for fine dining and great cocktails in Madison's wide array of fantastic establishments.
Our tasting room is a short escape from the hustle and bustle of everyday life and out of town without the hassles of leaving the area or driving very far.
Anything else you'd like us to share?
Madison has always been ahead of its time as far as healthy, fun, local outings that are a treat for all ages and can provide just what you are looking for, whatever that may be.
Our farmers market has been a mainstay and a hub of getting the ingredients for a picnic or a dinner or just meeting friends and walking the square. That has grown and evolved into chefs and bartenders foraging for fresh local ingredients that they will feature seasonally as they are available and Madison residents have grown to admire and respect the local resources available to them to get local and get creative.
We have incredible collaborations that go on between chefs, amongst the cooking and cocktail making community that make things like Yum Yum Fest, Taste of Madison, and Farm to Feast such phenomenal events.
We are grateful to be a part of this engaging, inclusive community where there is always something happening.
---
Thirsty for more? Be sure to read more "Meet the Makers" profiles here.