MAD FACTS: GET TO KNOW MADISON, WI
Madison's a get on your feet kind of city. A good eats kind of city. A city where history and future meet. We've got a small-town feel with big-city amenities. Discover more of Madison from lakes to latkes, Badgers to bookstores, and all the unforgettable moments in between.

Madison on the Map
Madison is one of only two major U.S. cities built on an isthmus. It's nestled between lakes Mendota and Monona.
Madison has more than 140 officially recognized neighborhood associations.
Our Capitol Building 
The Capitol was built with 43 types of stone from six countries and eight states. Construction was completed in 1917.
A city ordinance prevents any new building from being taller than the Capitol dome.
By the Numbers
Madison was incorporated as a city in 1856 and is named after James Madison, the fourth U.S. President.
In 2020, the Madison metro area was the fastest growing in the state, according to U.S. Census data, adding 75,361 residents for a total of 680,796.
47,932: Number of students enrolled at UW-Madison. 
81st largest city in the U.S.
2nd largest city in Wisconsin
77 miles between Madison and Milwaukee and 122 miles between Madison and Chicago
5: How many glittering lakes we have > Mendota, Monona, Wingra, Waubesa and Kegonsa
12: Number of public beaches you can check out.
15: Total off-leash dog parks in the Greater Madison area for you and your pup to enjoy.
14: How many communities make up the Greater Madison metro area > Cottage Grove, Cross Plains, DeForest, Fitchburg, Maple Bluff, McFarland, Middleton, Monona, Oregon, Shorewood Hills, Stoughton, Sun Prairie, Verona and Waunakee
Madison has 140 properties and districts listed on the National Register of Historic Places, including Camp Randall, the Gates of Heaven Synagogue and several houses.
608: Greater Madison area code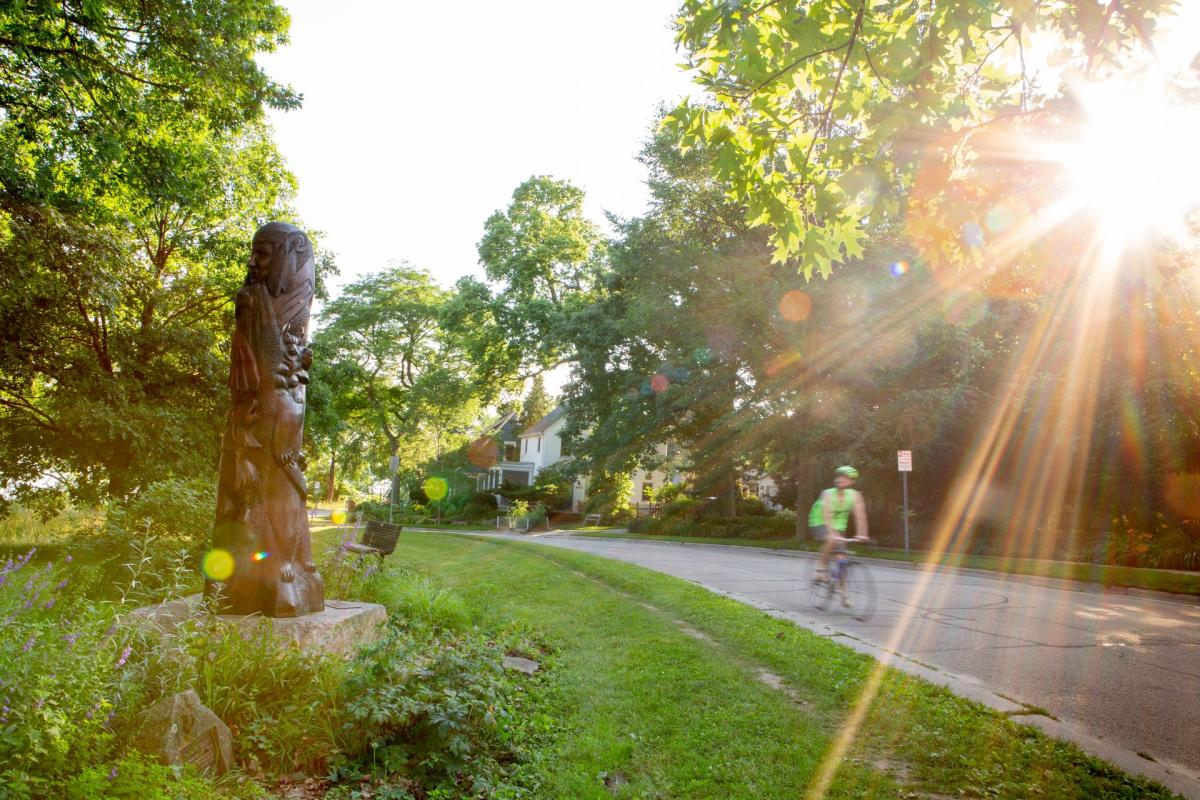 HERITAGE
Madison is located on land originally inhabited by the Ho-Chunk tribe. The Ho-Chunk is one of 11 federally recognized tribes in Wisconsin and is the most prominent tribe in Dane County. A community building for tribal members is located in Madison. We acknowledge and honor their history, and recognize the ongoing dedication and importance of Indigenous culture to these lands.
Thousands of Native American effigy mounds – the largest concentration in the U.S. – were built along the shores of Madison's lakes. Twenty-three mounds remain on public land in Dane County.
The first non-native settlers in Madison were Yankees from the eastern states followed by German, Irish, and Norwegian immigrants.
POP CULTURE
Scenes for the 2009 film Public Enemies, starring Johnny Depp, were filmed at the Capitol and surrounding areas.
Rodney Dangerfield's classic Back to School is set in Madison and features classic landmarks like Bascom Hill, Lake Mendota, the Red Gym, State Capitol Building, and more.
The band Garbage got its start in Madison in 1993.
In 1988, The Onion was founded by Tim Keck and Christopher Johnson, students at UW-Madison.
Nirvana recorded its breakthrough album Nevermind in Madison
Rock and Roll Hall of Famer Steve Miller is a UW-Madison graduate.
Elvis Presley famously broke up a street fight in Madison in 1977.
Soul legend Otis Redding sadly passed away in a plane crash in Lake Monona.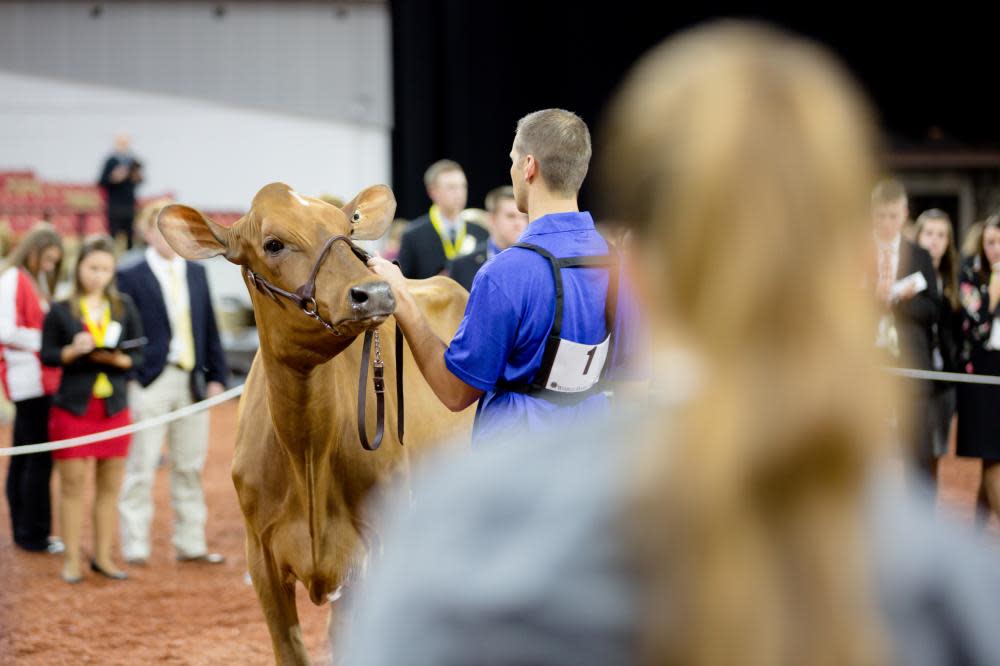 AG HERITAGE
Madison is home to the World Dairy Expo, which celebrated its 50th anniversary in 2016. The event is the largest dairy expo in the world and one of the largest trade shows in the world.
Since 1951, UW has made its own ice cream on campus– a favorite treat for students and alumni to enjoy at the Memorial Union Terrace.
UW-Madison was the first college in the country to offer a dairy major.
FOOD & DRINK
The Dane County Farmers' Market (located on the Capitol Square) is the largest producer-only market in the U.S.
Madison is home to the world's largest Brat Fest, held annually on Memorial Day weekend. More than 4 million brats have been sold at the festival since 1983.
Some of the biggest foodie fests attract visitors from around the country including: Taste of Madison, Restaurant Week, and dozens more.
Madison is known for its superb selection of craft beverages, featured at events like: Great Taste of the Midwest, Craft Beer Week and Isthmus Beer & Cheese Festival. 
The Old Fashioned in Downtown Madison was voted as having Wisconsin's Best Cheese Curds.
Madison is home to several James Beard award winners.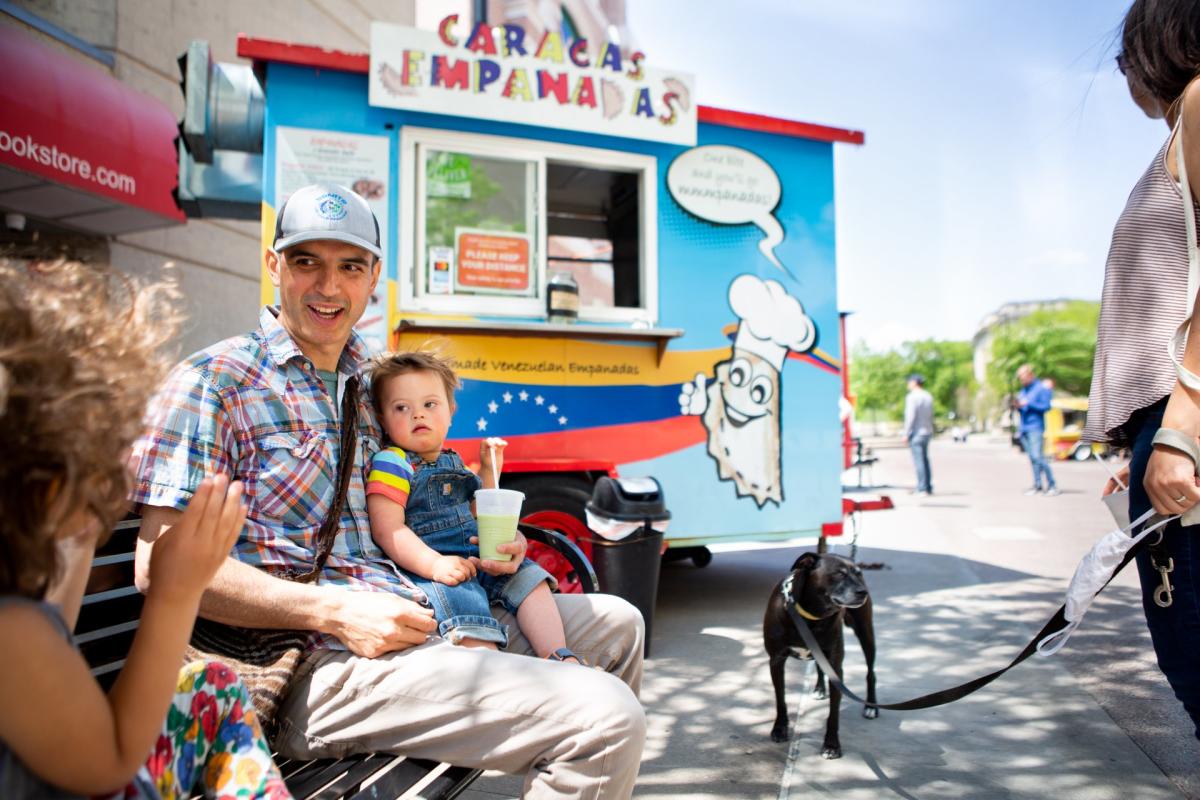 ACTIVE LIVING
Madison is one of only five platinum-level bike cities in the U.S. and has been named one of the best cities on Earth for biking.
The city is home to over 260 parks, 6,000 acres of parkland and more than 200 miles of off-road and multi-use paths and trails.
Madison has 15,000 acres of lakes where residents enjoy sailing, canoeing, kayaking, fishing, swimming and stand-up paddle boarding.
MOTTOS & MASCOTS
Buckingham U. Badger: Affectionately called Bucky is the UW-Madison mascot. Bucky's birthday is October 2, 1940. He was inducted to the Mascot Hall of Fame in 2006.
Forward: Wisconsin's state motto, and the name of the statue standing at the top of State Street since 1914.
Wisconsin: The name of the gold statue that sits atop the Capitol dome.
Plastic pink flamingos: The official bird of Madison since 2009.
On Wisconsin: The UW-Madison fight song and our state's song, although the lyrics are different.
The nickname "Mad City" was first coined in 1974 by James McKiernan, a then-UW-Madison graphic design student who used the phrase on a T-shirt design following a Badgers football upset win against the Nebraska Cornhuskers
LOCAL NOTABLES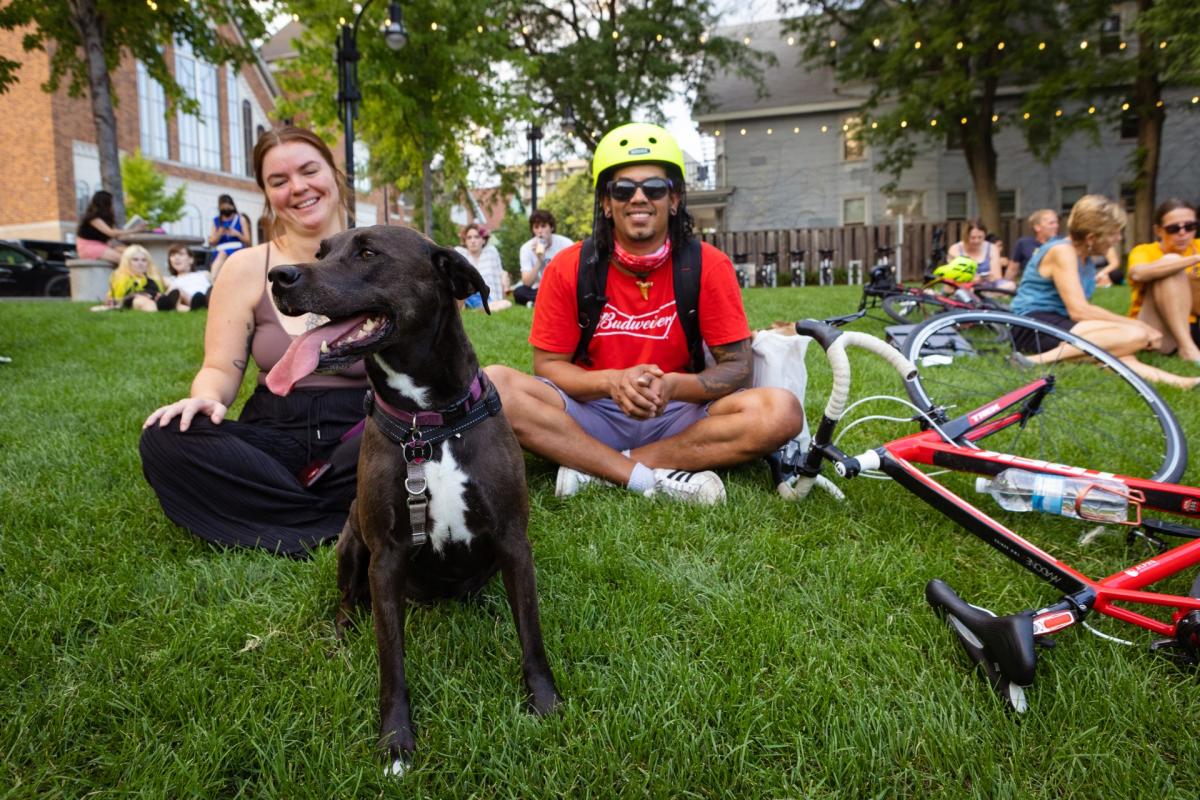 GREEN CITY
More than 40 buildings, including the Dane County airport and the Monona Terrace, have earned Leadership in Energy and Environmental Design (LEED) certifications.
Madison tops national rankings in number of parks in relation to population with 12.7 parks per 10,000 residents.
When in Madison, you are never more than a 10-minute walk from a park.
Madison has been named the greenest city in Wisconsin on several occasions.
MADISON FIRSTS
1917: The first electric voting machine in the world installed in the Assembly Chamber.
1917: WHA radio, considered the oldest radio station in the nation in continuous service, begins broadcasting. Pioneering experimentation in "wireless" led to transmissions of voice and musician and a regular broadcasting schedule in 1919. Call letters were assigned in 1922.
1968: Using techniques developed at UW-Madison, the first bone marrow transplant in the U.S. is performed at UW Hospital.
1998: Researcher James A. Thomson announces the successful cultivation in the laboratory of human embryonic stem cells, primordial cells that have the capacity to develop into any tissue in the body.