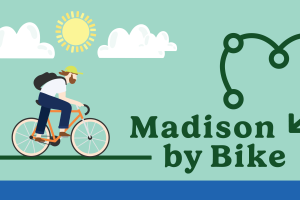 Introducing Madison By Bike, where pedaling is good but stopping is even better. Pedal across four Madison bike trails, each with their own vibe, and stop along the way to redeem exclusive discounts and earn prizes.
Read More
36 Things To Do This Summer
It's about time you experience an unmistakably Madison summer. Nothing beats moving from lake to biergarten to museum to nightlife in just one day. Our vibe is one loved by the outdoor enthusiasts and urban explorers alike. We're a Midwest summer vacation spot that caters to all and we wouldn't have it any other way.
Soak in the sunshine
Explore 16 acres of stunning outdoor gardens and landscapes including the breathtaking Thai Pavilion. Want to feel like you're in the tropics? Head inside to explore the Bolz Conservatory.
Featuring dozens of different gardening styles, from Victorian to Japanese, this UW-Madison gem is open to visitors year round.
Hit the open water with family and friends on a tour of Lake Mendota or Lake Monona aboard the majestic Betty Lou. Public and reserved private cruises are available April through October.
Your gateway to Lake Monona! Brittingham Boats provides everything you need for a day on the water — from canoes and kayaks to paddle boats and stand-up paddle boards — plus an outdoor patio for relaxing by Monona Bay. Explore Lakes Mendota and Wingra at Marshall Boats and Wingra Boats as well. Learn more about our five glittering lakes here.
Explore Outdoor Madison: On the Lakes from Destination Madison on Vimeo.
With nearly 20 miles of trails, you can set out on your own or learn from experts on guided Sunday hikes. 
Cool off from the summer heat underground and enjoy a guided tour of this geologic wonder. 
Embrace Wisconsin's Lumberjack heritage while improving balance, agility, leg strength, coordination and endurance! Kids and adults are invited to step out of their comfort zone and experience this one-of-a-kind sport.
Meet up with friends for a scoop of locally-made Babcock ice cream or grab a pitcher at UW-Madison's most iconic summer spot. Settle in for live music and other events.
Did you know when in Madison you are never more than a ten-minute walk from a park? It might take all summer to explore Madison's 40+ city parks and their activities. In the Greater Madison area there are more than 12,000 acres of park land including wildlife and natural resource areas, 100 miles of trails, five campgrounds, and two dozen recreation parks. Ready for adventure? Explore nearby state parks for experiences sure to wow the crowd.
Feel the beat
To say Madison loves its festivals would be an understatement. We'll throw a party for almost anything. Summer is kicked off annually at the World's Largest Brat Fest, an eccentric water parade floats through town during the Marquette Waterfront Festival, food (and music) takes center stage at Taste of Madison, and that only scratches the surface.
Our Capitol Square is beautiful. Add some music and it is truly magical. This FREE summer concert series hosted by the Wisconsin Chamber Orchestra is a well-loved, authentic Madison experience.
Looking for more FREE live music just steps from the Capitol Square? This concert series presented by the Majestic Theatre brings funk, rhythm and a whole lot of groove.
Discover art, culture and history
This museum is home to one of Wisconsin's largest collections of art, with pieces in all mediums coming from across the globe. It is open daily and perhaps the best part... it's totally FREE.
Located within Madison's Overture Center for the Arts, this museum features works by some of the most highly regarded modern and contemporary artists and holds lectures, film screenings and children's art classes.
Explore Madison's love affair with its lakes, celebrate the state's agricultural traditions or enjoy educational special events. Admission is FREE.
NOTE: The Wisconsin Historical Museum is currently closed for renovations. For updates on Construction progress, please visit the museum's website.
Better understand the role Wisconsin's bravest people played in some of history's biggest conflicts through award-winning exhibits and programs.
Frank Lloyd Wright, one one of the most influential architects of all time, called Madison home. His influence is still seen throughout the region to this day. Tour his infamous estate including stops at Wright's studio, house and grounds.
Speaking of Frank Lloyd Wright, this iconic Wisconsin attraction is said to have been influenced by the architectural icon. There's no place like it in the world. This Spring Green attraction — ­built on top of a chimney of rock — ­features a massive collection of eclectic exhibits and displays that we're certain you have never seen before.
Family must-dos 
Lions and tigers and bears…oh, my! See these animals and their many friends — more than 800 animals, in fact — at the FREE zoo open daily.
Little ones can get creative at the Art Studio, discover Wisconsin history in the Log Cabin and expand their brains in Possible-opolis. Three floors of fun — including a rooftop garden with chickens — await! The fun isn't restricted to indoors. Let the kids run wild at the new outdoor Wonderground included with admission.
Open seven days a week during the summer, Goodman Pool is a beloved summer spot.
Eat like a local
22. Dane County Farmers' Market
The largest producer-only farmers' market in the COUNTRY stretches four city blocks around the state capitol and lands a top spot on most "Madison To Do" lists. Produce, meats and cheeses, flowers, baked goods, and other specialty products are on sale Saturdays from 6:15 a.m. to 1:45 p.m.
Madison's popular streatery program has brought some of the finest local cuisines outside with beautiful patios and outdoor seating arrangements.
Have your meal and enjoy it too on these gastronomic journeys throughout the city and beyond.
25. Locally Made Ice Creams
In the mood for a cool treat? Check out these hot spots:
21+ Club
Are you ready to tap into Madison's craft beverage scene? Guide your summer getaway along a tour of more than 30 craft breweries, cideries and distilleries in Madison AND earn discounts and prizes along the way when you sign up for Madison On Tap, your guide to beer, bubbles, bourbon and beyond.
Madison On Tap connects you to the people behind our craft beverage scene, who are just as exciting as the drinks are. Ready to get started? Sign up now >> 
Catch Some Competition
Join the Flock and cheer on Madison's professional soccer team at Breese Stevens Field. Forward days are for everyone. No soccer knowledge needed. Come ready to get loud and experience a gameday experience like no other.
Enjoy your nine-inning vacation as the Madison Mallards, Madison's collegiate-level summer baseball team, take on the best of the Northwoods League at Warner Park's Duck Pond. Purchase single-game bleacher seats or enjoy all-you-can-eat and drink with admission to the open-air seating Duck Blind section.
Watch some of the world's most elite athletes compete for the title of "The Fittest on Earth™." Be sure to peruse the vendor village (a fitness mecca) in between events.  
30. American Family Insurance Championship
Support PGA legends, including host Steve Stricker, as they help raise money for local nonprofits at the scenic University Golf Ridge course. The festivities kick off with a concert at Breese Stevens Field.
Join Madison's professional Ultimate Frisbee team as they take on teams in the American Ultimate Disc League at Breese Stevens Field.
These local, expert water-skiers perform daring aquatic acrobatics on Lake Monona. Catch a free show at Madison's Law Park on Sunday evenings from Memorial Day to Labor Day.
Get up and move
Madison is consistently named among the country's most bikeable cities. Take advantage with hundreds of miles of urban and rural biking trails.
Cyclists of all experience levels can explore our uber-bikeable city from these electric bikes available to rent all around the city. 
Overlooking scenic Madison, University Ridge offers five sets of tees, perfect for players of every ability level. It is the official home course to the University of Wisconsin men and women's golf teams.
The Madison links are calling your name whether you are a recreational novice or headed to the PGA. Mix up your golf experience at spots like Vitense Golfland featuring two outdoor 18-hole miniature golf courses that are among the top-rated in the U.S. and Door Creek Golf Course, an award-winning public golf course home to 27 holes plus Footgolf and indoor virtual golf simulators.