There are so many great places to celebrate the holiday season in the Madison area. Take your pick of tree lightings and parades happening in neighboring towns. Or head to our shopping districts, zoo and even the Wisconsin State Capitol to get your festive fill.
You'll discover charming neighborhoods, cozy restaurants and sweet boutiques along the way.
Find kid-friendly events below, and visit throughout the season to enjoy holiday lights and snap some photos.  
Season-Long Celebrations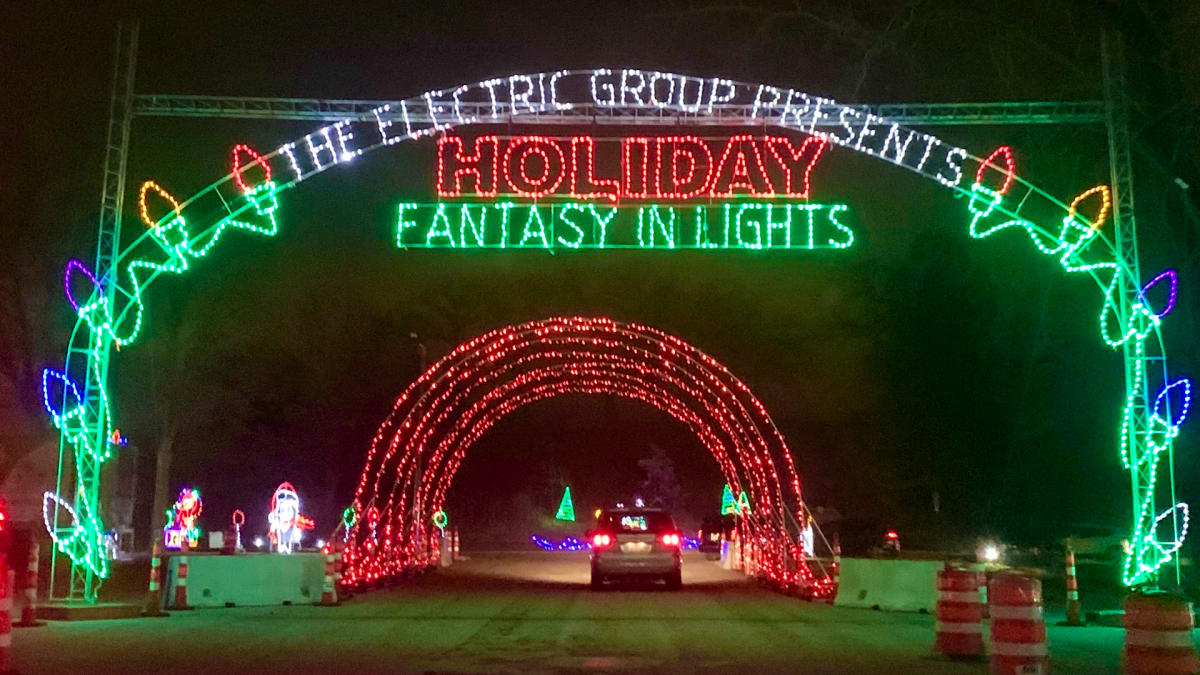 Holiday Fantasy in Lights – Olin Park
Daily, November 13 – January 2
Load up the family car and head to Olin Park for Holiday Fantasy in Lights. Drive through over 50 light displays featuring snowy winter scenes and favorites like Bucky Badger and the Forward Flamingos. 
More Details
Rotary in Lights – Waunakee
Daily, November 21 – December 31
Waunakee's Village Park transforms into a winter wonderland with light-lined streets and holiday displays. Enjoy the lights either on foot or from your car. 
Henry Vilas Zoo Lights 
Fridays to Sundays, November 26 – December 30 (plus bonus dates December 20-23 and December 27-30)
While the animals sleep, experience the Henry Vilas Zoo after hours, under the glow of nearly one million lights. Individual tickets and four-packs are available in advance with select entry times. 
More Details
Lake Ripley Park Holiday Lights – Cambridge
Daily, November 30 – January 1
Get into the holiday spirit with a light display in Cambridge's Lake Ripley Park. Drive through nearly a half mile of holiday lights and displays.
More Details
Tree Lightings and Special Events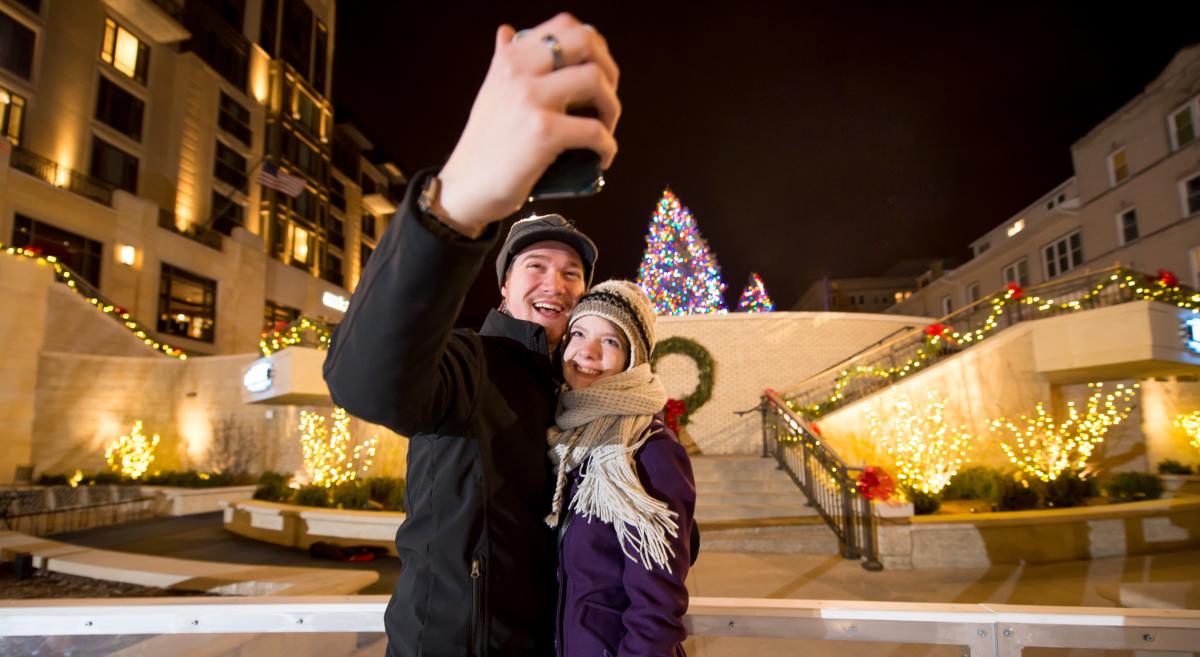 Photo by Focal Flame Photography
Shine on Madison – Downtown Madison
November 18, 4 – 9 p.m.
During the November Night Market, downtown Madison will shine bright. Enjoy live music, and shop a variety of market vendors and downtown stores. Then join near the Wisconsin State Capitol as all holiday lights turn on simultaneously at 6:08 p.m.
More Details
Middleton Tree Lighting – Downtown Middleton
November 20, 4 – 5:15 p.m.
Gather 'round for Middleton's tree lighting and family festivities. Start with popcorn and cider at the Middleton Area Historical Society and Rowley House Museum. There's crafts, hot chocolate, games and dance performances. Santa will arrive at Middleton City Hall to light the tree and take photos at 5:15 p.m.
More Details
North Pole Party and Tree Lighting – Hilldale Shopping Center 
November 21, 3 – 7 p.m.
Join Hilldale Shopping Center for a day of festive fun, followed by a tree lighting at 6 p.m. There will be a visit from Santa and his reindeer, kids crafts, carolers, Nutcracker characters and a preview of Black Friday shopping deals. 
More Details 
Edgewater Hotel Tree Lighting – Downtown Madison
November 26, 2 – 7 p.m.
Santa and Mrs. Claus return to the Edgewater Hotel to kick off the holiday season. Outdoor events will kick off at 2 p.m., with a tree lighting at 6 p.m. The full schedule will be announced soon.
More Details
Light the Ice Ceremony – Monona
November 27, 6 – 7 p.m.
Monona's RiverRink transforms into a winter wonderland with 10,000 lights strung on a 20-foot-tall tree. Join for the tree lighting, plus light displays, hot chocolate and ice skating. 
More Details
Drive-in Chanukah Ceremony – Hilldale Shopping Center 
November 30, 4:15 – 5:30 p.m.
This year's Menorah lighting at Hilldale will be a drive-in ceremony at sundown. Attendees will park behind Macy's and enjoy messages, videos and music on a larger-than-life screen.
More Details
Christmas in the Grove – Cottage Grove
December 2 – 5
Light up the Grove kicks off December 2 and runs all weekend, with a drive-thru light display at Drumlin Reserve. And on December 3, there will be a visit with Santa, holiday parade, tree lighting and chocolate walk. 
More Details
Wisconsin State Capitol Tree Lighting
December 3, 12 – 1 p.m.
Join inside the Capitol Rotunda for an hour-long presentation with remarks from the Governor and music from a youth choir. Learn where this year's giant tree is from, and see the ornaments created by kids from across Wisconsin. 
Victorian Holiday Weekend – Stoughton
December 2 – 5
Stoughton's weekend-long holiday celebration is overflowing with old-world charm. The annual lighting of the Love light Tree kicks off a weekend of music, artisanal shopping, local food and more.
More Details
Light the Night – Waunakee
December 3, 6:30 – 8 p.m.
Join Santa and his dancing elves for Waunakee's community tree lighting. There will be Rotary Lights at Village Park, boutiques open for shopping, and a parade heading down Main Street at 6:30 p.m.
More Details
Tree Lighting and Caroling with Santa – Oregon
December 3, 5:30 – 8:30 p.m.
Santa rides into town on a firetruck to light Oregon's holiday tree. Afterward, head to the local fire station for a chili dinner and photos with Santa. 
More Details
Downtown Fire & Lights Holiday Parade – Sun Prairie
December 4, 5:30 – 8 p.m.
Firetrucks dress in their holiday best as they lead the parade to a tree-lighting celebration with Santa. 
More Details 
Holiday Tree Lighting – New Glarus
December 4, 6:30 p.m.
Kick off the season of delights in downtown New Glarus. Their daily Adventsfenster window will be revealed, followed by a tree lighting. Visit the Depot for treats and enjoy music from carolers and the holiday alphorns. 
More Details 
Hometown Holiday Tree Lighting – Verona 
December 4, 5 – 7 p.m.
Head to Hometown USA for tree lighting ceremony at 5:20 p.m. at Central Park. See Santa ride in on a firetruck, and enjoy a drive-thru chili supper at the Verona Senior Center.
More Details
Holiday Lights Tour – Fitchburg
December 18, 6 – 9 p.m.
Fitchburg's Holiday Lights Tour returns with animated sculptures, interactive displays, lights and holiday décor. A map with locations will be released closer to the event. Want to participate? Submit your Fitchburg address to administration@fitchburgwi.gov to be included.
Browse the event calendar for more holiday events, festivals and markets. 
Everything you need to know to make the holidays in Madison memorable.
Take Me There