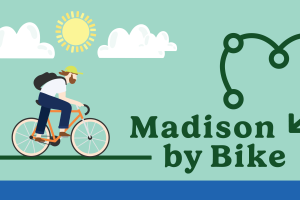 Introducing Madison By Bike, where pedaling is good but stopping is even better. Pedal across four Madison bike trails, each with their own vibe, and stop along the way to redeem exclusive discounts and earn prizes.
Sign up now
Things To Do
What's there to do in Madison, WI, you ask? Packed between our five lakes are rockin' concerts, 270 parks, a free zoo and free museums, more than 200 miles of biking and hiking trails, a renowned farmers' market and plenty more.
It's a fun road trip to Madison from Midwest cities such as Minneapolis, Chicago and Des Moines. And we're always welcoming visitors from New York, Denver and Dallas, thanks to quick direct flights that get you here fast so there's more time for a weekend full of fun. No matter where you're from—whether you're a solo traveler, a couple, or a family—Madison is a place where you can be an outdoor adventurer, an arts and culture aficionado, a well-fed foodie and a Badger fan, all in one trip!
Learn more about all our capital city has to offer when you download our free visitor's guide.
Seasonal
Each season brings brand new Madison vibes. 
During Fall, the Madison area's ample greenspaces turn crimson, auburn, orange and yellow. With an abundance of agriculture and farms, no matter what side of town you're on, you'll find pumpkin patches, fall activities for kids, corn mazes, haunted houses, and plenty of apple orchards and apple cider doughnuts.
We embrace Winter in the best of ways. From ice fishing, to giant holiday trees, to winter festivals and candle-lit hikes, a wintercation in Madison has no shortage of memorable things to do.
As the snow melts in Spring, you'll realize that 40 degree weather sometimes qualifies as shorts weather. Get out and enjoy our paved bike paths, foodie dining spots and take a day trip to one of our quaint surrounding towns.
Summertime just may be one of the best times to visit Madison. Our calendar of events is booked solid with ways to enjoy longer days, from lake life to biking & hiking to well-deserved rest & relaxation.
Lake Life
Mendota, Monona, Wingra, Waubesa and Kegonsa: Madison's five best friends. Like friends, each lake has its own vibe. Mendota: Large and in charge, Monona: Terminally chill, Wingra: Life of the Party, Waubesa: Timeless, Kegonsa: Trailblazer.
Madison's five lakes cover more than 15,000 acres and there is no shortage of ways to get on—and in—the water. From getting active with water sports you've never tried (but should!) to waterfront dining that puts our destination on the map, it's easy to live like a local and love our lakes.
But summer isn't the only time to hang at the lakes. Ice fishing? Sounds good. Festivals on the frozen lake? Yes, that's another good one.
Madison's Great Outdoors
Fun fact: When you're in Madison, you're never more than a 10-minute walk from a park. Our parks system boasts more than 270 parks and beaches, each with their own incredible flair.
Madison is the most bikeable city in the country and for great reason. Our biking and hiking trail system covers more than 200 miles, meaning you can see all the wonders of the capital city from two wheels. Rent a bike from BCycle, an urban bike-sharing program that makes it quick, easy, and convenient to get around town. Machinery Row Bicycles and Budget Bicycle Center are also great places to rent a bike or pick up a lock or helmet.
Let's Be Friends
Follow us on social to find more trip-spiration.