Essential Madison Experiences Development 2020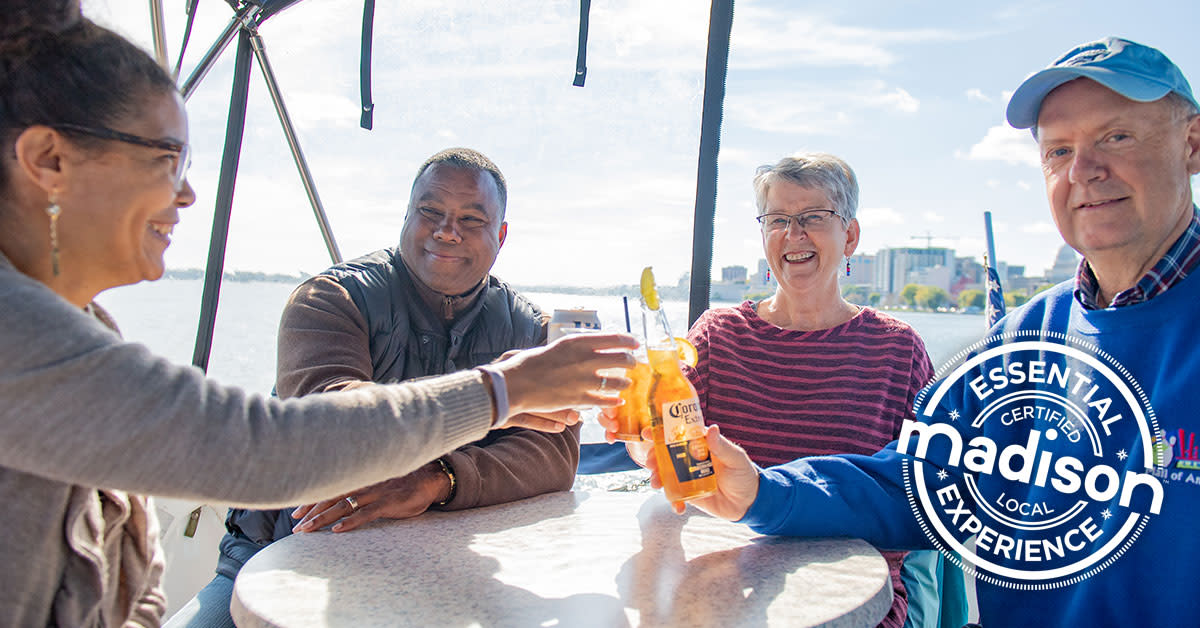 Madison is a destination for seekers.
Our visitors desire to connect with our authentic community through immersive, hands-on experiences. They want to be enriched. They desire to learn and connect on a deeper level. They seek experiences they can post, share and talk about for years to come.
YOU – our tourism partners – are key to delivering these experiences.
Essential Madison Experiences
Destination Madison is dedicated to creating economic impact through tourism promotion and development. The Essential Madison Experiences program develops immersive and memorable visitor experiences while strengthens, distinguishes and grows our destination's reputation and image.
In 2017, we launched the Essential Madison Experiences to support existing attractions and authentic area assets in their efforts to create new visitor experiences. We are kicking off the next round of development in 2019 with experiences that will launch in 2020.
Working with our renowned consultant, Joe Veneto, local organizations participate in an 18-month development program. Your finished product will be an immersive and authentic offering that can be sold, marketed and promoted to event planners, group travelers, leisure visitors and local residents and will generate new revenue streams for your organization.
Organizations that desire to:
Develop fresh, new visitor experiences or enhance current offerings
Create scalable offerings for individual visitors and groups
Represent the diversity of our destination
Change perceptions, broadening the view of what Madison and Wisconsin have to offer
Create new business offerings and revenue opportunities
New experience product and new revenue stream(s)
Participation in an 18-month development and marketing program, including 7 monthly sessions with experience consultant, Joe Veneto
A professional toolkit filled with templates, examples and marketing/PR materials
Professional photography and video to promote your experience
A process to run all new and future products through to ensure they are engaging and memorable
Prestige and marketplace credibility
Increased exposure and marketing by Destination Madison via digital content
Increased sales and recognition of offering an Essential Madison Experience
Increased media exposure
Pre-launch testing for feedback, notes and coaching
Packaging and/or cross-promotional opportunities with other project participants
Comradery and synergistic opportunities with class participants
CEO/Senior-level understanding, approval and empowerment
Financial and people resources necessary within your organization to set and achieve goals, and ensure program sustainability
Designation of a team leader(s) as the key contact and development participant(s)
CEO/Senior-level attendance at initial meeting to understand agreement and deliverables
Attendance at development sessions per outlined schedule below
Homework delivered on-time per outlined schedule
Written experience script, sales, marketing and PR plan to support developed experiential product(s)
Marketing plan demonstrates individual organization's contribution/spend to overall sales strategy
Train staff and maintain appropriate staffing levels to support new experiential product(s) and to ensure sustainability of product offering(s)
Several rounds of previews and tests of developed experience(s); to include cohort members, Destination Madison staff, models for photo and video shoots and others as identified to extend marketing/PR reach
Development of web content and landing page(s) to support, market, and sell your new experience(s)
Provide easy-to-use booking information
A schedule of monthly public dates for experience(s) delivered to Destination Madison staff
Reporting of monthly results to Destination Madison
Offer the new experiential products for a minimum of two years, and allow periodic audits conducted by the Destination Madison during this time frame
Participation in the 2020 Essential Madison Experiences Development is available to existing and new Destination Madison partners*.
*All partners must be in good standing with Destination Madison for inclusion in marketing and public relations. Please note that Destination Madison partner fees are paid separately from the experiential project fees.
The cost to participate in the 2020 Essential Madison Experiences Development is $5,000. Your investment covers a small portion of the total cost for the experience development, marketing support, and professional photography and video production.
Destination Madison will be underwriting the balance of the experience development, marketing and support for the overall program. Organizations selected to participate will be required to pay 50% of the fee ($2,500) by August 30, 2019 and the remaining 50% ($2,500) by January 30, 2020.
Experience partners will gather monthly from September 2019 through May 2020, for a ½ day experience development workshop. During that week (either prior to or following the workshop) there will be an individual one-on-one meeting lasting approximately 1-2 hours at each organization's location to dive deeper into the process. Then at the approximate halfway point, in January or February, there will be practice run- through(s) of the experience. Towards the later months of March, April and May, there will be final previews and tests for feedback, as well as photography and video shoots to prepare for marketing materials.
 
Payment
Due

1/2 Day Workshop




at Destination




Madison

1-2 hour




1:1 Meeting




at Your Business

Homework




To Do




Outside of




Meetings

Sales, Marketing




and PR Planning

Previews,




Tests and




Public




Evaluation or




Exposure

Photography/




Video

August

X

 
 
 
 
 
 

September

 
X
X
X
 
 
 

October

 
X

X

X

 
 
 

November

 
X
X
X
 
 
 

December

 
 
 
X
 
 
 

January

X
X
X
X
X
 
 

February

 
X
X
X
X
X
 

March

 
X
X
X
X
X
 

April

 
X
X
X
X
X
X

May

 
 
X
X
X
X
X

June (if needed)

 
 
 
 
 
X
X
The Consultant: Joe Veneto is a 20-year veteran of the tourism industry with a track record of success working with local businesses to develop experiential tour and travel products. Joe is a committed professional who is ready to help you craft the specifics of your own experience; capitalizing on your strengths and creating an engaging product that is unique to you.
Destination Madison Services Team: Members of this team will be your main point of contact throughout the experience development and beyond. They will attend most workshops, as well as some 1 on 1 meetings and tests/previews.
Destination Madison Marketing, PR & Sales Teams: Members of these teams will attend various workshops and test/previews to better understand the experiences you are developing. They will take this knowledge and promote your experience to conventions, groups, leisure visitors and media.
Your Cohort: Together with up to 10 other organizations, and past Essential Madison participants, you will be supported by a driven group that is eager to collaborate and learn from each other.
Destination Madison will hold several partner information sessions at our offices, so you can learn more about the process and ask questions. We recommend attending at least one! Register here.
June 14:
9:00 a.m. (Consultant Joe Veneto will attend)
June 19:
1:30–3 p.m.
July 9:
10:30–12 p.m.
Destination Madison representatives and experience experts will review all applications in early August. Successful applicants will be notified and will be requested to attend a principals meeting or conference call before moving forward. Unsuccessful applicants will be notified and will be given constructive notes for improvement.
You can leave or be asked to leave the Essential Madison Experiences program.
If after December 31, 2022, you need to adjust your plans, or if you've sold your business, lose licenses or cannot fulfill the experience going forward, you may request to leave the program. We ask that you provide 4 months' notice, so Destination Madison can update marketing materials.
You may be asked to leave the program if the quality of your experience has declined, you are not in good partnership standing with Destination Madison or if you do not fulfill the agreements per above. Destination Madison will work with you to resolve any of the above.
DESTINATION MADISON PARTNER TESTIMONIALS
"The Madison Experience project really helped The Madison Concourse Hotel and Governor's Club shape a unique and fun experience that we could offer to our hotel guests as well as local residents. The process was not only fun and insightful, it also allowed the local businesses to collectively share ideas and work towards creating genuine Madison experiences that could best showcase the city we love."

–Nattika Wattanasuttiwong, Madison Concourse Hotel & Governor's Club
"We have had more tours in August and September than the previous 7 months of this year! Traffic has definitely increased. We are looking forward to providing many more group tours with our immersive mustard experiences at the National Mustard Museum."

–Patti Bridges, National Mustard Museum
"By participating in this program, I reaffirmed my appreciation for this incredible city. I also developed an understanding of what an integral part Betty Lou Cruises and all the other "Experience Partners" play in representing and promoting Madison to visitors. This process was a big commitment, but it was well worth our time and financial investment."

–Jack von Rutenberg, Betty Lou Cruises
"This Experience Development offered me and my team the insight to find different ways of expanding our brand and finding another stream of revenue apart from what we do day-to-day. This has changed the way we assume the base knowledge of the guest, especially regarding our Wisconsin traditions and the visitors' interest to learn about them."

–Liz Stolz, Avenue Club and Bubble Up Bar
OTHER DESTINATION EXAMPLES
Columbus, OH
Paducah, KY
Twin Cities, Minneapolis and Bloomington, MN and St. Paul, MN
Video: https://www.youtube.com/watch?v=uhWjdQWEyL4
Testimonial from Olga Oros of Damariscotta River Cruises:
"Joe Veneto and his incredible workshop has helped our tour boat experience tremendously, and was definitely worth our time and energy to re-think, re-organize and add new elements to the existing tours, to enhance an unforgettable experience on The River Tripper….(Joe) provided us with such a comprehensive framework and outline."
The program inspired the business to pay close attention to re-scripting and re-writing their narration according to specific suggestions from Joe.
Changes were apparent. Five star reviews from customers showed that people got a much clearer picture of the oyster farming industry on the Damariscotta River.
Preliminary calculations show that the implemented changes learned from Joe Veneto's Experience Lab impacted about 3,000 visitors in the year 2017.
Participation in the program also encouraged cultivating stronger bonds with other complementary local businesses—learning from each other, supporting each other and creating new partnerships.