Confession: I am getting so travel deprived that, in my free time, I create Google Map lists of different places. It's possible that sounds less dorky than it is, but trust me, it's a real nerd-alert situation.
Still, it's forced me to realize all the things I've been missing out on right here in Madison, WI. Case in point – I found (and saved to my boozy Google Maps list) 30+ breweries, cideries and distilleries in the area. For a city of less than 270,000 people, that's pretty stellar.
Finally take that friends trip or plan a surprise trip for the lovah with the perfect itinerary for a boozy getaway in Madison.
Daytime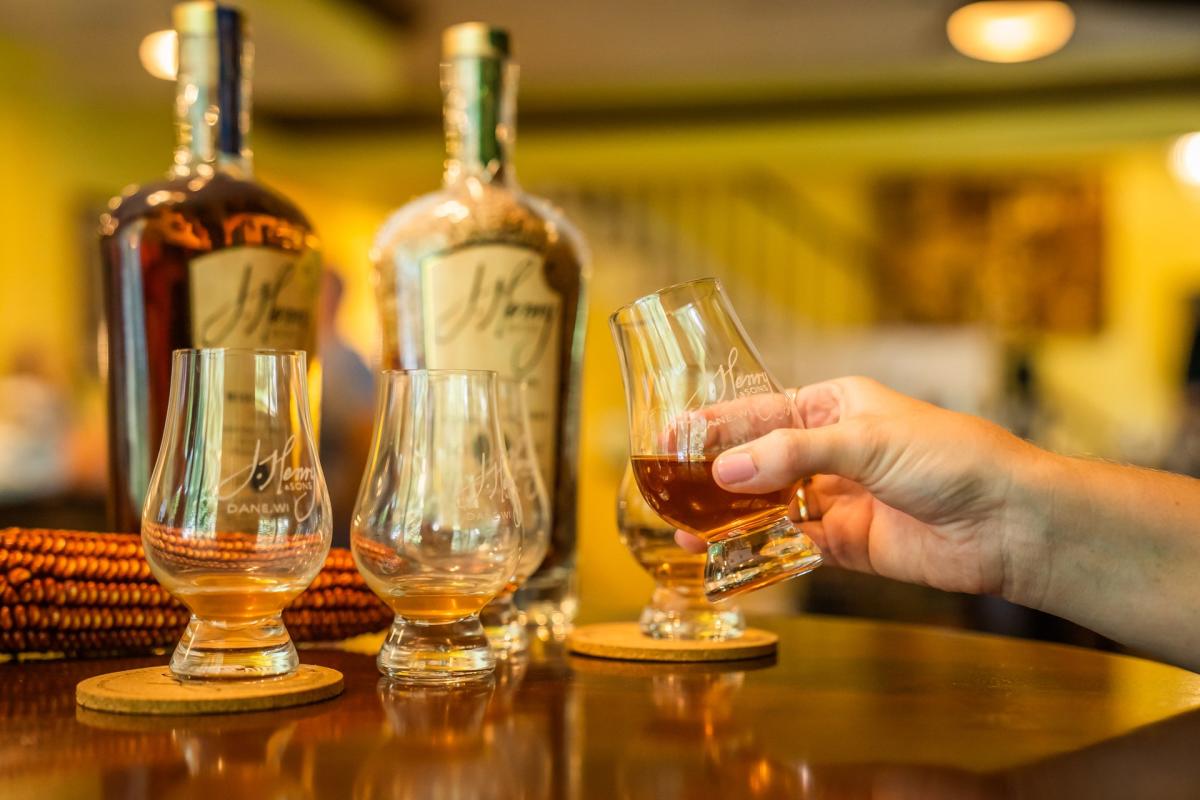 J. Henry and Sons Bourbon
What type of person would I be if I didn't give you one of the Madison area's best-kept bourbon secrets? (Now, you're wondering how many "bourbon secrets" does she have. A lot, OK?!)
Transport to both a wintry wonderland in the countryside just outside Madison and an award-winning family-owned bourbon distillery that is just as much about the experience as it is about the complexity of their sweet, sweet whiskey. Take a tour: J. Henry & Sons Wisconsin Straight Bourbon Tour
Shopping on East Johnson Street
Shopping and sippin' couldn't get any cuter than in this hidden little shopping district on Madison's beloved east side. Johnson Public House is a down-to-earth coffee shop that even java snobs adore. Get your coffee to go and stroll around local shops like Bernie's Rock Shop (for literal gems), Teasider (oh my god, the matcha!) and many more.
Tenney Park
What better way to fully embrace the snowy scenery than a stop at the nearby Tenney Park. Stroll over atmospheric bridges that'll lead you to the moody Lake Mendota shoreline. (#ShorelineSelfie) Then, loop back around, rent skates and glide on the Tenney Park Ice Rink, which is open Wednesday through Sunday. Go here for up-to-date info. on when the rink is open.
CocoVaa Chocolatier
Just down the bike path from Tenney Park is where you'll be saying cheers to chocolate and beer! Splurge on local, artisan chocolate (and save some for souvenirs) at CocoVaa while supporting this Black-owned and female-owned business. Plus, O'so Madhouse is right next door with 20 beers on tap, ranging from hazy IPA's to sours to barrel-aged brews.
Evening
It's painful to tell you which spot to eat at in the city with the most eateries per capita in the U.S. So, I'm going to cheat (just a little) and give you this awesome resource to look up restaurants while you're out and about.
Robinia Courtyard
I recommend trying all the different winter dome dining experiences in the Madison area. Not all are on the east side, but Robinia Courtyard, located on East Washington Ave., is and has some awesome food, including several vegan options, as well as extensive beer, wine and hard seltzer offerings.
Try an East Side Distillery
If you make your way from Robinia into some of the backstreets, you'll find three pretty unique Madison distilleries, including Old Sugar Distillery, State Line Distillery and newcomer, Imaginary Factory (right next door to State Line). All are one-of-a-kind Madison experiences. With Imaginary's all-white interior bar, and State Line and Old Sugar's outdoor-and-indoor seating, it's just as much fun to check out the venues as it is to try their spirits.
Visualize Your Minication...
Nighttime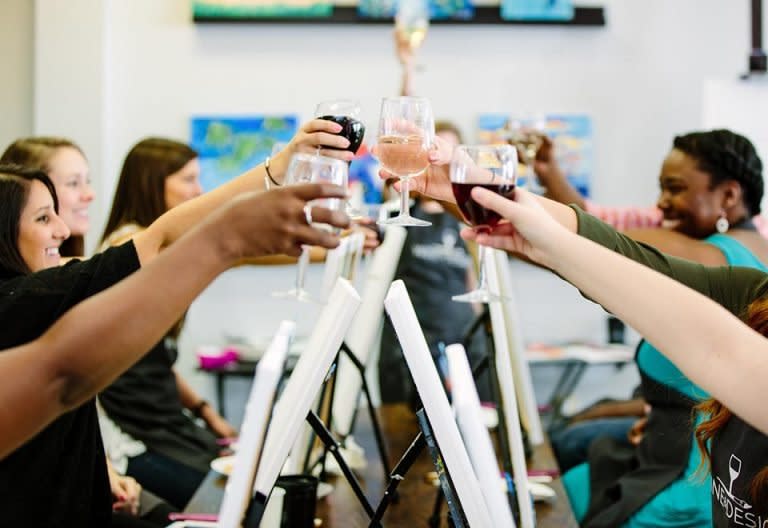 Art or a Show
Depending on where you head out for dinner, make your night memorable with a paint and sip at Wine & Design, or if you're up for some laughs, hit up Comedy Club on State. Out on a weekday? The Mic on State shows are some home-grown comedy for just $3. PS – There's a two-drink minimum, and the drink selection is huge at the Comedy Club.
Hit up a Dive Bar
Or all of them to close out the night and chitchat with the locals.
Caribou Tavern
Stop by Caribou Tavern or "The Bou" as locals affectionately call it for a show-stopping local burger and a spirited, often-times eclectic group of bar patrons. Sure to be entertaining.
Crystal Corner
For anyone looking to drink like a local, Crystal Corner Bar is a must. Adored by Madison east-siders, this Willy Street staple is part dive bar, part venue and a full-on good time. On any given night, you'll find reasonably priced drinks, darts, foosball and maybe even some live music.
Mickey's Tavern
Mickey's is easily one of the most memorable bars on the east side of Madison in the Willy Street neighborhood. Sit at the bar or venture into Victorian-style rooms with various antique seating and aesthetics. It's been described as an "LGBTQA-friendly dive(ish) bar" that's conveniently along the Capital City Bike Path but totally accessible by car, too. Good times at night and worth a stop the next morning for a charming brunch and a Bloody Mary.
---
Check out Madison-area hotels now...