Lake Monona greets anyone entering Madison by way of John Nolen Drive. 
In the summer months, you'll see people dotting the water. They may be kayaking. Canoeing. Stand Up Paddle Boarding. Or maybe Paddle Boating. 
Want to join? It's easier than you think to get onto the water. 
How do I start? 
Head to Brittingham Boats, one of Madison Boats' three locations. Located on the shore of Monona Bay within Brittingham Park — Madison's longest and oldest official park,. This peaceful circle of lake is separated from the rest of Lake Monona by John Nolen Drive and is a perfect kick-off spot for your Lake Monona paddling adventure. 
Reserve your watercraft of choice online ahead of time. Once you arrive, the Brittingham Boats team will get you set with a boat, paddle and life jacket. A gentle push into the bay and you're off.
Where should I go? 
Okay, so you're on the water. Where to now? We recommend paddling out of the bay and toward the Monona Terrace.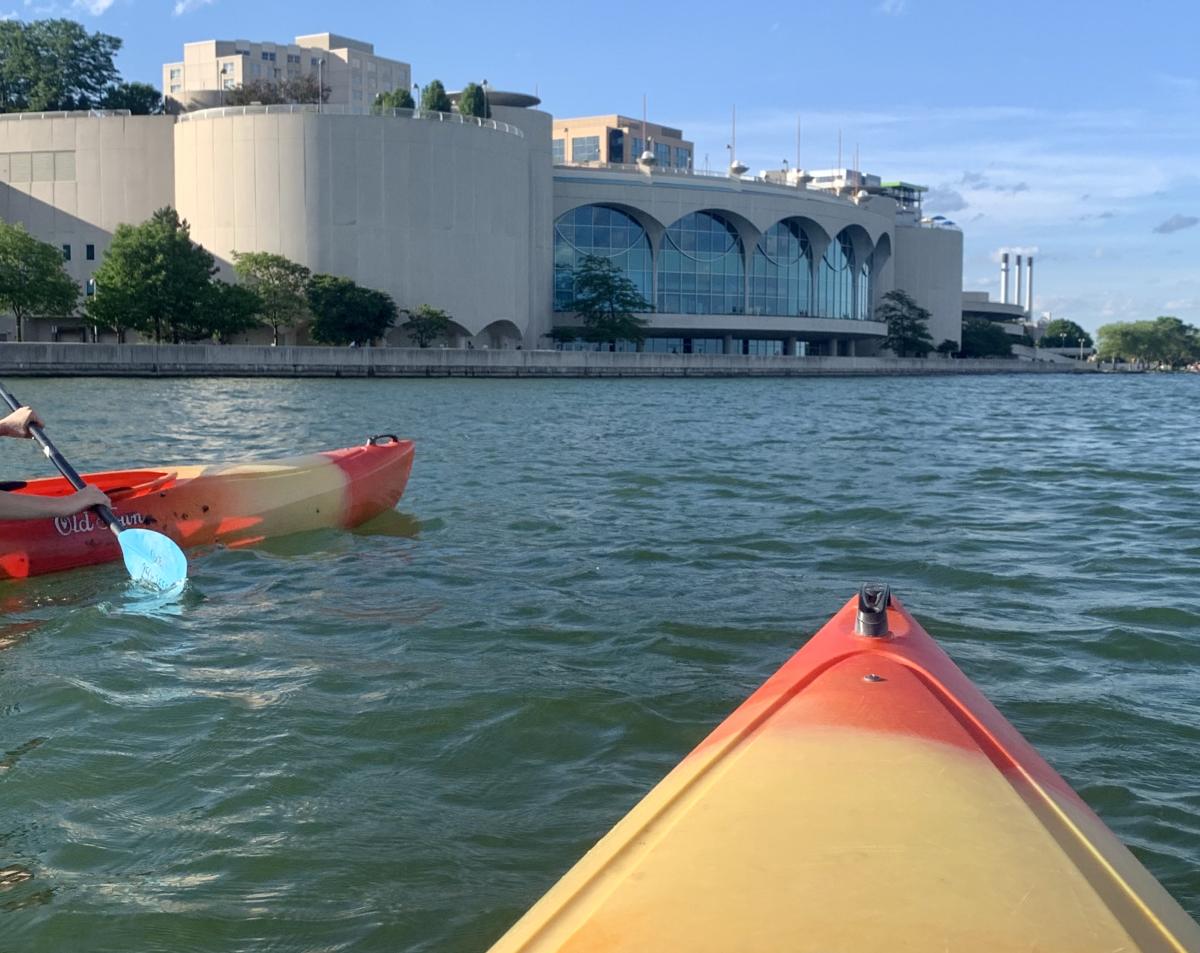 This Frank Lloyd Wright-designed convention center links the shore of Lake Monona to the State Capitol. It takes about 30 minutes (on a calm day) to paddle to the Terrace's unmistakable arches from Brittingham Boats. Along the way, you'll pass the Brittingham Boat House on your left — the oldest building in the Madison Parks system and home to the Camp Randall Rowing Club.
You'll also go under John Nolen Drive and railroad tracks. Fun fact: This is the only place where two main line railroad tracks cross in the middle of a lake. 
The Monona Terrace isn't the only architectural wonder visible from Lake Monona. You'll also get a breathtaking view of the Wisconsin State Capitol. By law, it's the tallest building within a one-mile radius, which is why there aren't any skyscrapers in downtown Madison. Fun fact: The statue on top of the dome is named Wisconsin and on her head is a badger (the Wisconsin state animal).
New to being on the water, or short on time? Stick to the bay. The water stays calm, and you'll never be far from returning to Brittingham Boats. You can also cross the bay over to Bernie's Beach Park. Take a breather and relax on the sandy shore.  
Who would love this?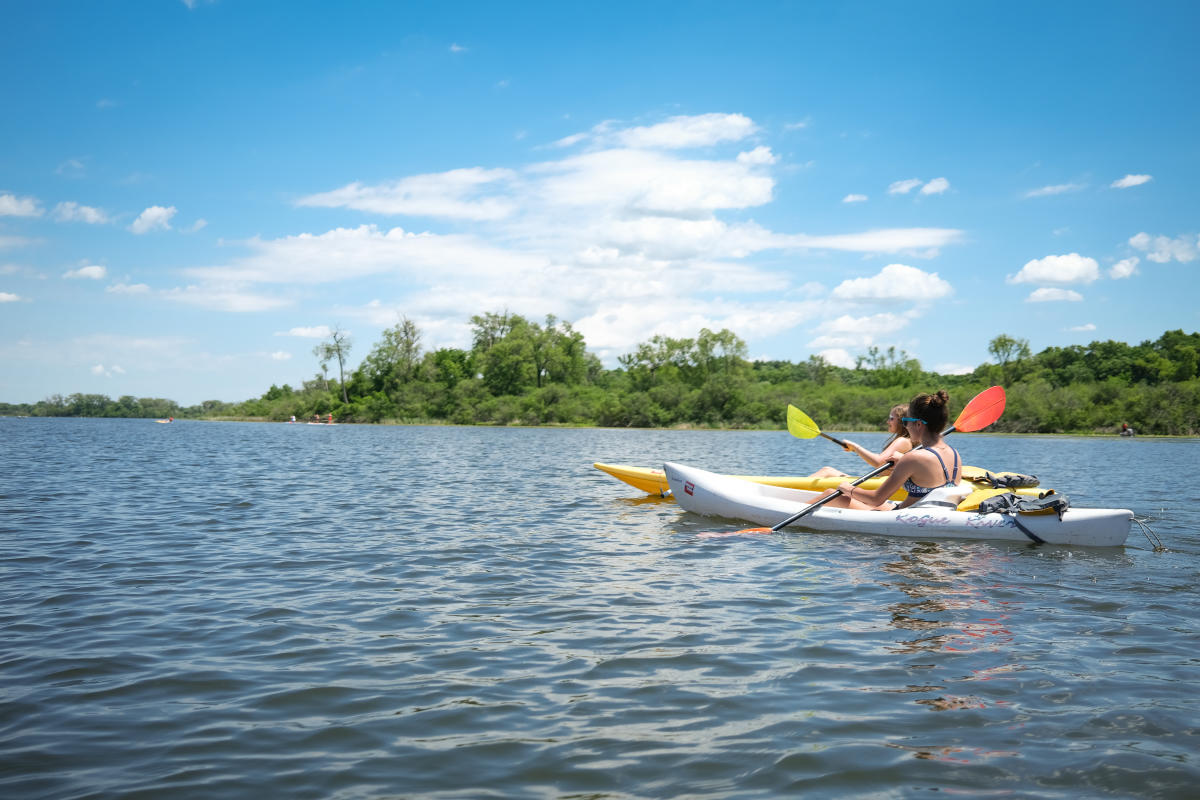 Those who've never been on the water. Architecture buffs. Water lovers. Families. Really, just about anyone. Brittingham Boats makes it easy, safe and fun to enjoy the lake. 
What's the distance? 
Totally up to you. Keep it short and sweet, or get a workout in and cover some ground. 
Do I need to bring anything?
Sunscreen, sunglasses, hat, face mask (for before you're on your boat). A life jacket, if you have one. 
Brittingham Boats has safety procedures to help you feel comfortable throughout your entire adventure. They include extra sanitizing of boats and paddles and extra handwashing stations. Read their full plan here.  
Why should I check this out?
It's one of the easiest — and most scenic — ways to enjoy Lake Monona. Plus, you're right next to the city, while being immersed in nature at the same time. 
Anything else I should know? 
Sad but true: Soul-singer Otis Redding died when his plane crashed into Lake Monona in December 1967 in route to a concert in Madison. There is a plaque in his memory on the Monona Terrace rooftop. 
Originally, Lake Monona was named 'Tchee-ho-bo-kee-xa-te-la' or "Teepee Lake," by the Ho-Chunk people. 
How to book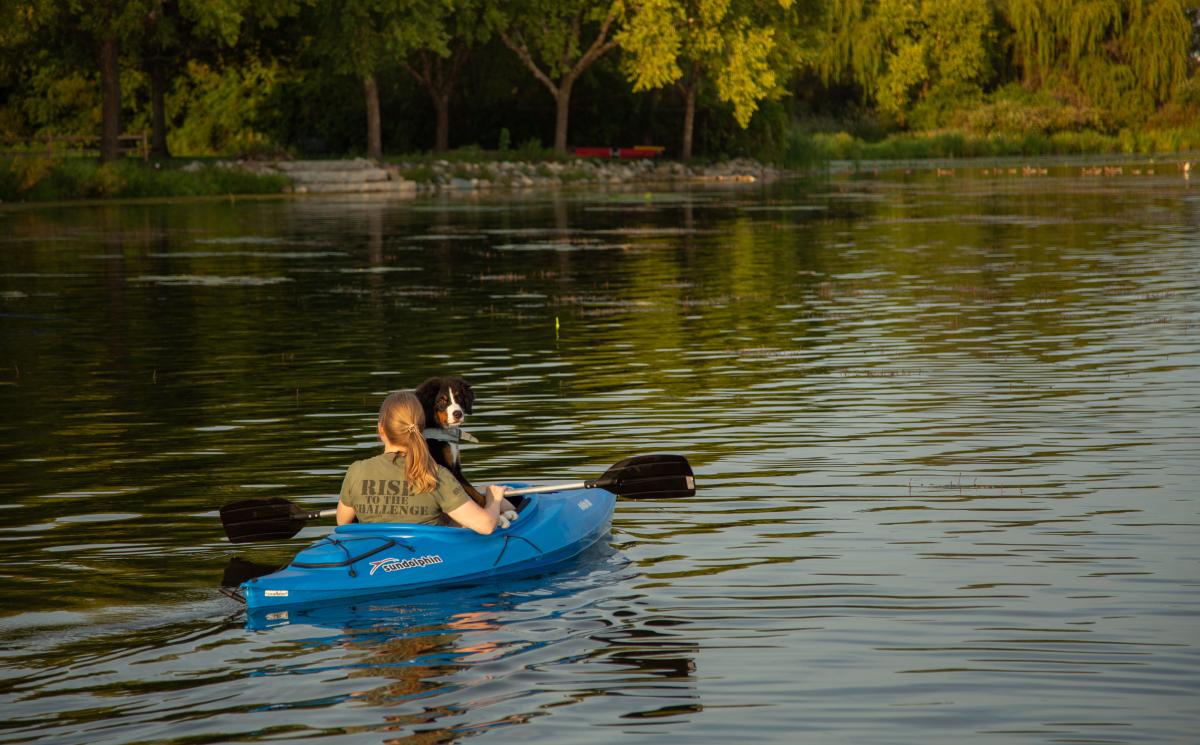 All bookings are done online, and must be completed in advance. You have the option to schedule one or two hour sessions starting anywhere between 8:30 a.m. and 7 p.m.
Where should I eat nearby?
Grab some food to-go, and bring with you on your voyage. Try sandwiches from Jimmy John's on Randall Ave. Or pack a picnic filled with Fromagination goodies to enjoy in the park.
Afterward, stop for a refreshing beer and snack on Rockhound Brewing's patio.