In the fall of 1979, Madison was the site of the largest known migration of plastic flamingos in recorded history. On September 4, University of Wisconsin students and staff, trudged their way to class and were stunned to see that more than 1,000 plastic flamingos had descended upon the iconic Bascom Hill in the wee hours of the morning. A prank had been pulled and a legend born.
This prank turned tradition became so popular that in 2015, the Madison Common Council declared the plastic flamingo the official bird of the city of Madison. In 2018, the Forward Madison professional soccer club unveiled the bird as their official logo, and their fan club adopted the name of "The Flock."
The two students who first called the birds to Madison (one student being future "Mystery Science Theater 3000" producer, Jim Mallon) never envisioned this prank would turn into university history. They were leaders from the "Pail and Shovel" party.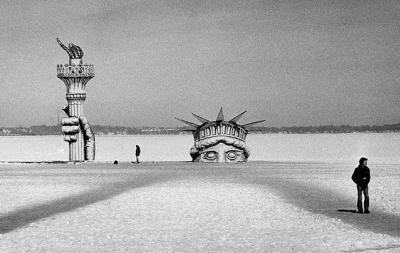 The party had instituted such programs buying toys for students to occupy themselves during the tedium of class registration, hosting a toga party for 10,000 people ("Animal House" star John Belushi called in to give his blessing to the event), and decorating the surface of a frozen Lake Mendota with a partial replica of the Statue of Liberty.

The flamingo prank lasted one morning, but the impact lives on. University of Wisconsin Foundation and Wisconsin Alumni Association recreates the scene on Bascom Hill every year as a fundraiser.
Students, residents and visitors can enjoy Fill the Hill each October, when 1,008 plastic flamingos will again cover Bascom Hill. And why 1,008? The original pranksters set their sights on having 1,000 flamingos, but they could only order them by the dozen. So, they ordered 84 dozen and the rest is history.
Visitors can find reminders of Madison's passion for plastic flamingos in places ranging from restaurants to gift shops. They can even see living flamingos at the Henry Vilas Zoo.
The flamingo's flamboyant nature has made an influence on Madison's local art scene. Madison-based, Mexico City-born experimental artist Triangulador in collaboration with OhYa Studio created the striking "Flamingo Swirls" mural outside of Johnson Street Laundromat in the city's Capitol East neighborhood. The mural is a favorite for Instagramable moments (and is near some stellar restaurants and shops).