Forward is kind of our thing in Madison. It's the name of an iconic Capitol Square statue. It's the mindset of our community's progressive ideals, and it's the name of our legendary football (soccer, if you prefer) club. 
Going to a Forward Madison FC game is about way more than football. It's a place for hardcore fans to cheer, for new fans to get acquainted with the community and for casual fans to enjoy a fun night out. The team was formed in 2018 and in that short time has become a cultural cornerstone for Madison. We love sports in Madison as much as we love music, beer, and cows. On gameday, you can get all of that in one place.
Forward Gameday is like no other. Everyone says that, but here it's true. It's truly one of the community's favorite things to do in Madison. Here's everything you need to know before you go #FullMingo. 🦩
---
PRE-GAME
Forward gameday starts well before you walk into Breese Stevens Field. The field is located along the Eash Washington Corridor just minutes from the Capitol Square and is home to dozens of bars, eateries, coffee shops, hotels and more to gather with your Flock before kickoff. And there's a bonus – Breese Stevens dedicated parking lots are spread out across the district making it easy to park, then explore. Accessible parking is available near the field along N. Patterson Street.
Pre-game hot spots within walking distance:
Palette Bar and Grill

(pro tip- players and other Forward legends have been known to hang out there after games)
Want to venture out a bit further? Breese Stevens is within walking distance of the iconic Willy Street neighborhood featuring more food, drink, shopping and Madison ~vibes~. Make your visit last by staying overnight at the nearby Hotel Indigo!
---
WHICH SECTION MATCHES YOUR VIBE?
Picking which section to buy your ticket in is a bigger decision than you might think! Don't worry, we're here to help. (And, honestly, there isn't a bad seat in the house.)
The Flock
This is the ultimate Forward fan section. If you're ready to get rowdy, this is the space for you! Join in on chants, songs, and cheers and expect to sit next to some colorful characters (yeah, some people bring drums and trumpets. NBD). This is a standing section with rails for holding drinks and food. Accessible seating options are available.
Bud Light Biergarten
Looking for a casual lounge atmosphere? This is your spot!
Covered Corner
Want to stay out of the elements? This spot a little further from the field is a great section to stay somewhat indoors (and be close to the biergarten).
Skyline 
Get a flamingo-eyed view of the field from these seats!
101-113 sections 
Your standard stadium-style bleacher seating great for any and all.
Pro tip: Near The Flock section you'll find Rose Cowbelle and Lionella Bessi — two live cows who are the informal mascots of Forward Madison.

Upcoming games
---
WHAT THE FLOCK?
You've heard us mention The Flock a few times. What gives? The Flock is the ultimate high-energy, inclusive, community-minded fandom. In other words, an organized group of passionate Forward supporters. How do you join? There's not much to it. Anyone who wants to be in it, is. The more you go to games the more involved you could become. 
Within The Flock are dedicated supporter groups for folks to connect with fans within their identity groups such as:
And that's not all! The Flock feverishly supports LGBTQ+ pride and other social movements.
Mad Facts: Why flamingos? Plastic pink flamingos have been the official bird of Madison since 2009, an homage to the iconic 1979 prank where UW-Madison students covered Bascom Hill with 1,008 plastic, pink flamingos.
Tips From The Flock
Nobody knows gameday like The Flock. We asked Forward fans what their must-dos for gameday are:
Watch The Flock social media pages to learn where pre-match parties are held, then join in on the fun!
March to Breese Stevens Field with The Flock (from the pre-match parties).
Join in on The Flock chants and cheers.
Try the Vegan Banh Mi.
Visit The Flock Merch Store at halftime (stickers and high fives are free).
Meet and talk to as many people as you can.
Attend a Flock post-match get together (collect more free high fives).
Check out the brand new Forward Club that just opened at Breese Stevens Field.
Don't forget to pick up the gameday poster designed by local Madison artists!
Look out on social media for ticket deals the team puts out with free food/merch included.
At the end of the game, go down to the boards surrounding the field at The Flock end, to get high-fives from the players.
Check out local businesses for Forward merch and collabs like Fleet Feet, Wollersheim Winery (Chateau Mingeau) and Vintage Brewing Company (FWD IPA).
---
What To Drink and Eat on Gameday
It's not a true gameday without some food and bevvies! The menus at Forward games are way beyond stadium hot dogs and popcorn. You'll find booths dedicated to BBQ, tacos and nachos alongside familiar favorites. Menus include options for a variety of lifestyles including vegetarian, vegan, and gluten free.
Forward Games offer a host of local food and drink options to give you a taste of Madison including Great Dane Brewing beer and ice cream from Sassy Cow Creamery.
Pro tip: Try the Mingo Berry ice cream flavor — a Forward exclusive!
Pro tip #2: Want a taste of Forward action when the team is away? Catch games at the official Forward partner pub Coopers Tavern.
---
Join the COMMUNITY
Walking into a Forward Madison game is like walking up to a block party.
Everyone is welcoming and ready to have a good time. You feel the connection to the community as you see nearby residents walking to the stadium from their home or see a bartender from a nearby restaurant in the stands. 
Community connection is at the center of some themed nights Forward puts on, including Bob Ross night, featuring local artists, and pride night, celebrating local LGBTQ+ groups.
---
GETTING THERE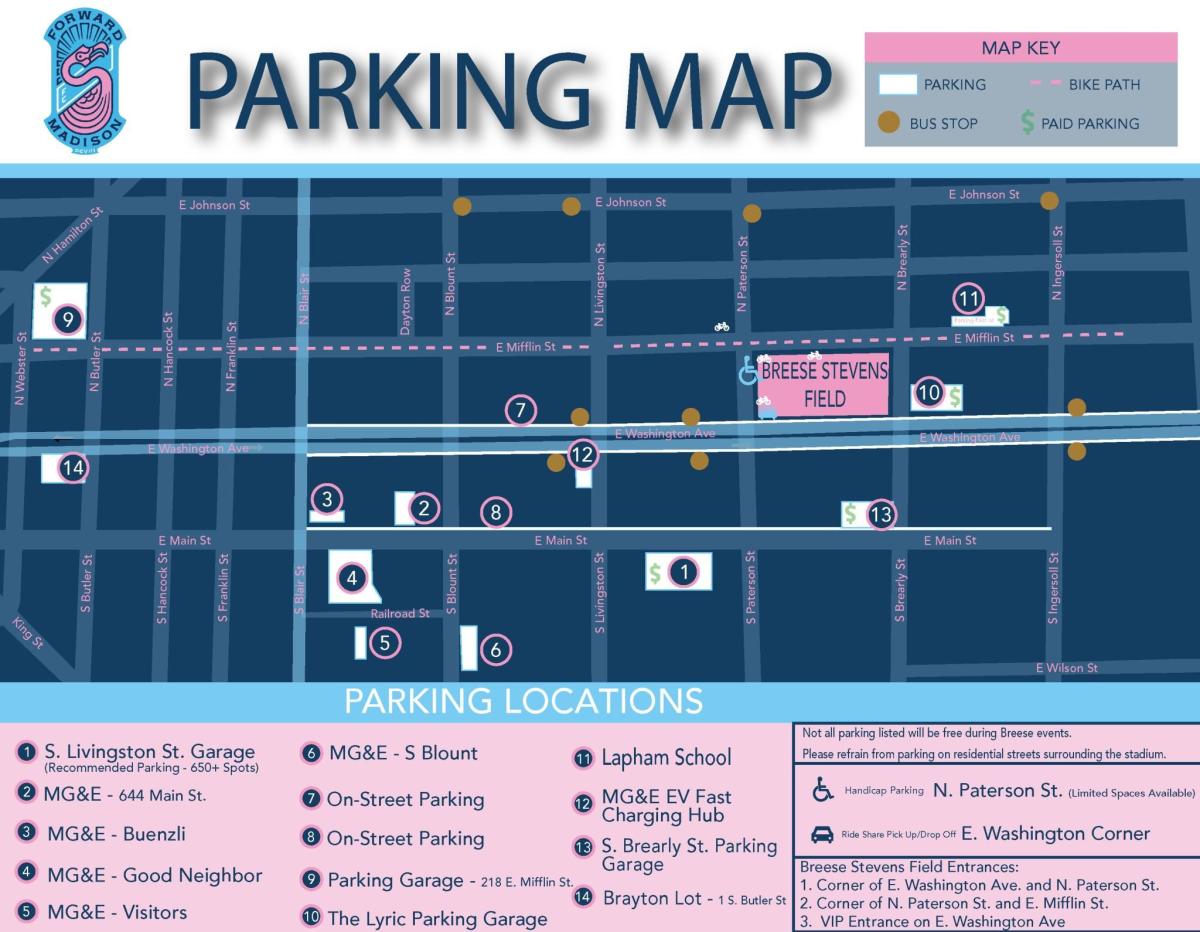 Driving and parking your car is just one way to get to the game. Madison is the country's most bikeable city and to support that, bike parking is available along the outside of the field and indoor bike valet service is offered at the Mifflin Street entrance.
If public or shared transportation is more your style, there are six bus stops on E. Washington Avenue near Breese. Designated Uber and Lyft pickup/dropoff is at the E. Washington Avenue corner of the field.
Pro tip: EV drivers can take advantage of the charging hub located across the street on the corner of East Washington Avenue and Livingston Street.
Pro tip #2: Keep an eye out on Forward social channels to see when the Nitty Gritty shuttle bus that goes from the Nitty Gritty to Breese will run! This is offered for select home games.
BUY TICKETS
Get your Forward Madison tickets at forwardmadisonfc.com and make sure to tag us in your #FullMingo pictures using #DestinationMadison.