A Betty Lou View of Madison
EXPERIENCE MADISON THE WAY IT'S MEANT TO BE SEEN – FROM THE WATER.
Welcome aboard Betty Lou Cruises, your gateway to aquatic adventure. Explore Madison's rich history with a knowledgeable local Captain. From Bozho the monster of Lake Mendota, to the site of Otis Redding's crash in Lake Monona, and a variety of iconic landmarks – you'll see the secrets beneath the waves.
Enjoy the Captain's favorite treats, and savor the scenery only an isthmus could create.
Come Aboard! A variety of cruise options, including private rentals, with themed drinks and multi-course meals are available daily May through October.
Cost: $25–$57
Duration: 1.5–2 hours
Availability: Late April through Mid-October
Minimum # of Participants: 1
Maximum # of Participants: 50
For booking and more information:
608.246.3138
info@bettyloucruises.com
bettyloucruises.com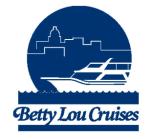 For more Essential Madison Experiences, visit experiencemsn.com.