MUSTARD BITES
A TASTEFUL ADVENTURE
YOU'VE NEVER SEEN MUSTARD LIKE THIS BEFORE!
Curry mustard? Mustard with asparagus? Dessert Mustard?
Get ready for a whirlwind adventure through the surprising world of mustard at The National Mustard Museum. Nine delicious, locally-sourced bites will introduce you to a new side of the classic condiment. Learn the five fantastic flavors that create unique combinations.
See a live cooking demonstration and come home with simple recipes that will surprise your loved ones. From seeds to mustards from around the world, you'll never see things the same.
Ready for an adventure? Check the mustard museum's website for public classes; private classes are available by request.
Cost: $45 per person
Duration: 1.5–2 hours
Availability: Year-round; two-week notice for private groups, 48-hour notice for an open booking event where seats are still available
Minimum # of Participants: 12
Maximum # of Participants: 48
For booking and more information:
Patti Bridges
608-831-2222
pbridges@mustardmuseum.com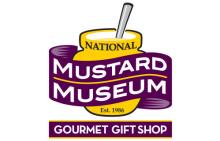 For more Essential Madison Experiences, visit experiencemsn.com.