Tall, aromatic pine trees. Fresh sparkling snow. The crisp air cools your face, and you can't help but smile as you admire the gorgeous winter scenery. This is a spot-on description of what it's like to go snowshoeing in and around Madison.
Unlike other winter endeavors that require a bit more skill and dexterity, snowshoeing is a fun activity that can be picked up in an afternoon. Simply strap on your snowshoes over some warm boots, make sure you're bundled up and head out on the trails.
It's a venture you won't need a permit for either, but there are some rules of the road, or the trail, in this instance. Any general park with good snow-cover is ideal for a snowshoeing adventure (as Madison Parks points out, a minimum of four inches of snow is best). But don't go on the groomed trails meant for cross-country skiing — the trails should be marked accordingly. Also, if you're in a conservation park, keep in mind that small animals hang out in the off-trail, wetland areas, so to keep them safe, stay on the trails.
Since it's an activity that's known for its safety, snowshoeing is a wonderful winter hobby for the whole family. Read on for areas around Madison that are idyllic for snowshoeing.
Madison Parks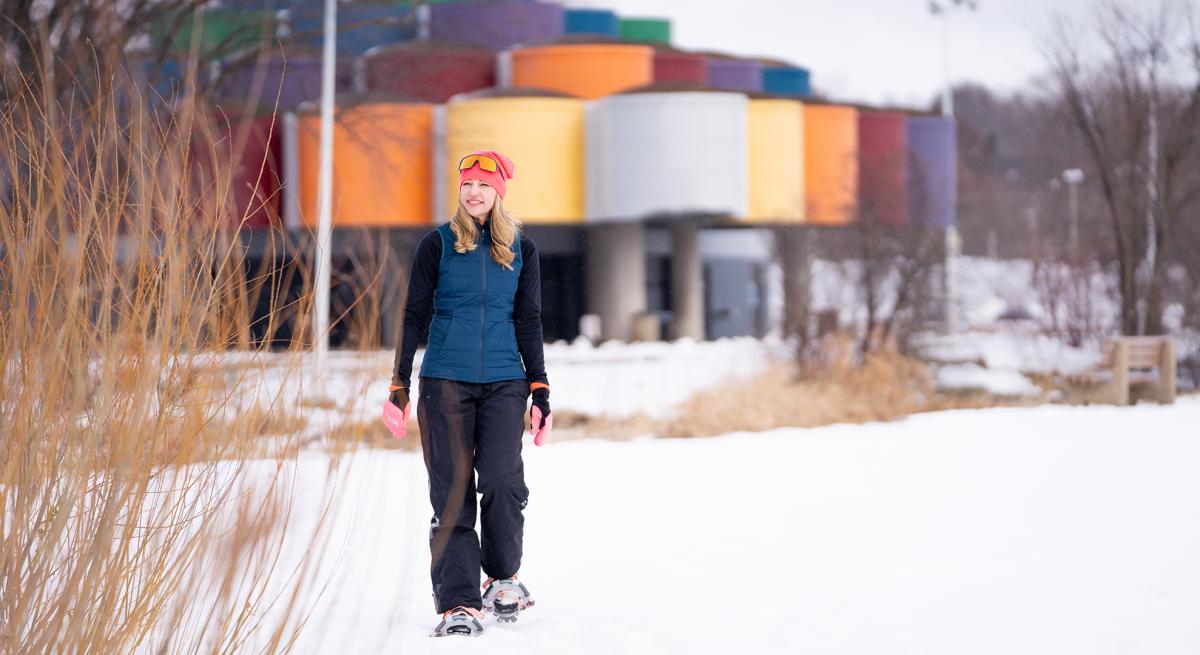 Focal Flame Photography
Madison Parks offer tons of locations to go snowshoeing around town, like Vilas Park on the shore of Lake Wingra, where you'll also find snowshoe rentals. Or Warner Park on the north side that comes alive in the summer with its Madison Mallards baseball games, but serves as a lovely spot for snowshoeing in the winter. With 42 acres, the west side's Garner Park boasts plenty of room to get your adventure on.
Dane County Parks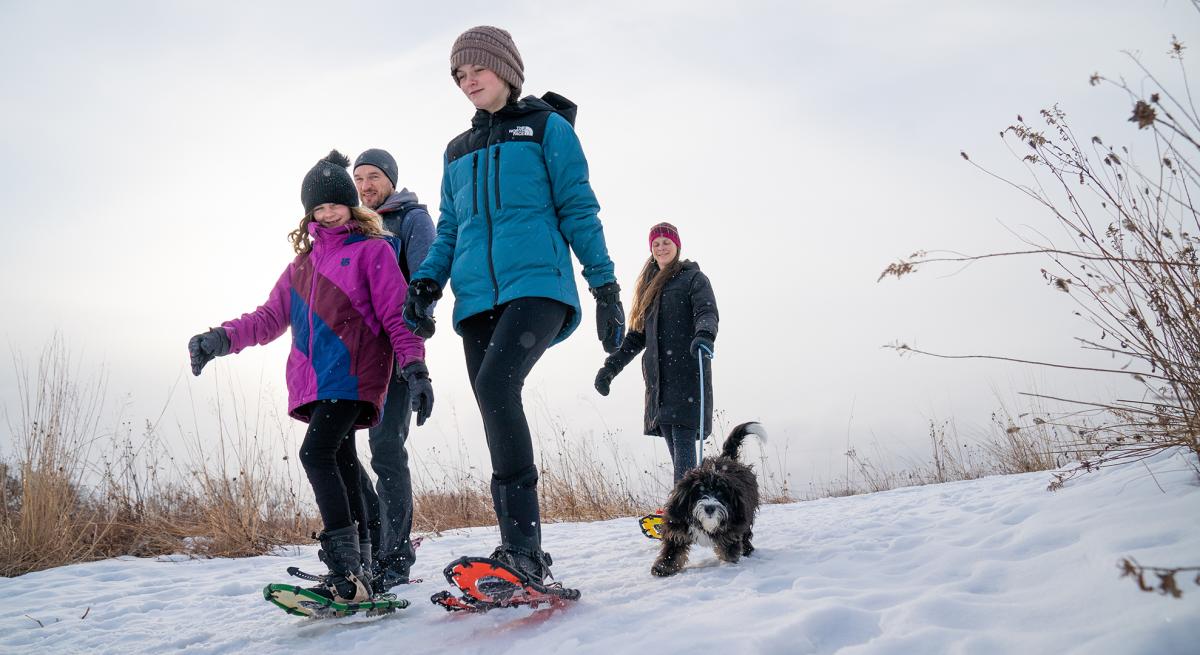 Focal Flame Photography
Dane County Parks also plays host to a myriad of snowshoeing opportunities, and there are some particular areas to note that provide stunning winter scenery, too. You're sure to spot some animals in Middleton's Pheasant Branch Conservancy as you traverse its 160 acres of land.
Waunakee's Cherokee Marsh Natural Resource Area has 243 acres of varying ecosystems, from woodlands to prairie, all covered in a layer of glittering snow. Verona's Ice Age Trail Junction Area has no shortage of beautiful scenes to behold as a section of Wisconsin's storied 1,000-mile-long national trail.
Wisconsin State Parks
Madison is located near a number of state parks as well, all which feature snowshoeing trails just waiting to be discovered. Situated near Middleton, Governor Nelson State Park has a 1.31-mile trail that's pet-friendly so you can take Fido along on your snowshoeing expedition. Stoughton's Lake Kegonsa State Park has 1.2 miles of designated snowshoe trails that flank the lakeshore and wooded areas.
In New Glarus Woods State Park, all the trails are available to snowshoers with 435 acres that connect right up to the Sugar River State Trail if you want to continue your journey. Note: To explore our state parks, you'll need an $8 day pass, available on-site.
University of Wisconsin Campus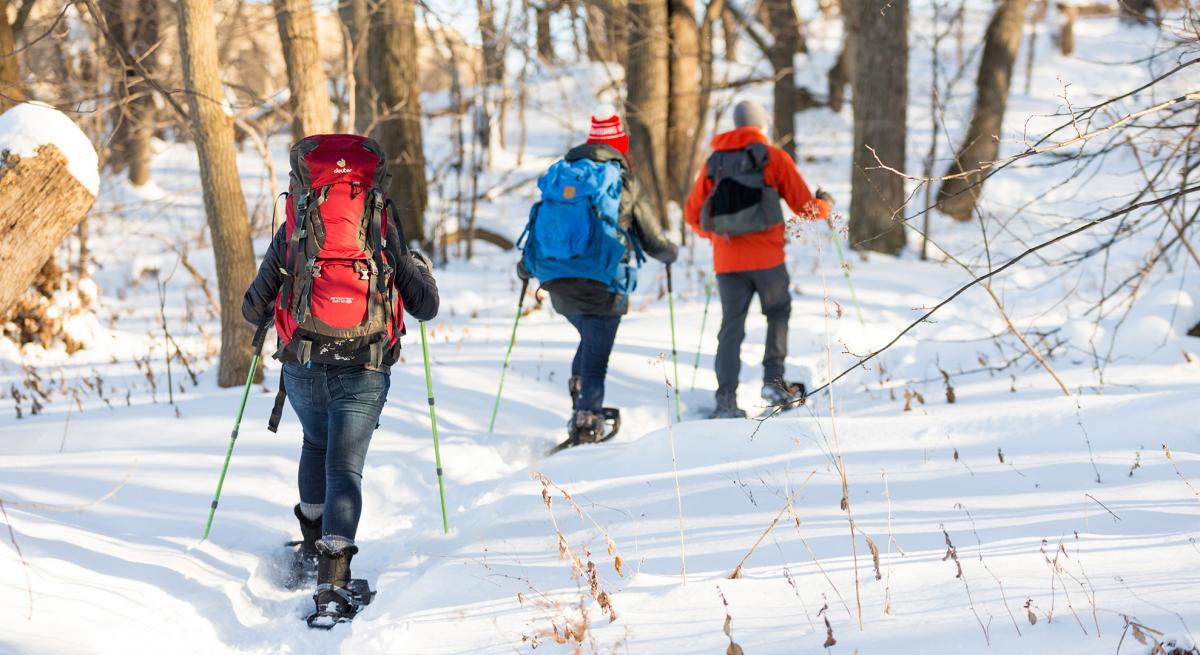 Outdoor UW

UW-Madison makes winter adventuring easy thanks to its pristine Arboretum brimming with 10 miles of ski and snowshoe trails. Need some gear? You can always head to the Wisconsin Union to rent snowshoes and trekking poles for a weekend, or even a whole week.
Frozen Lakes & Creeks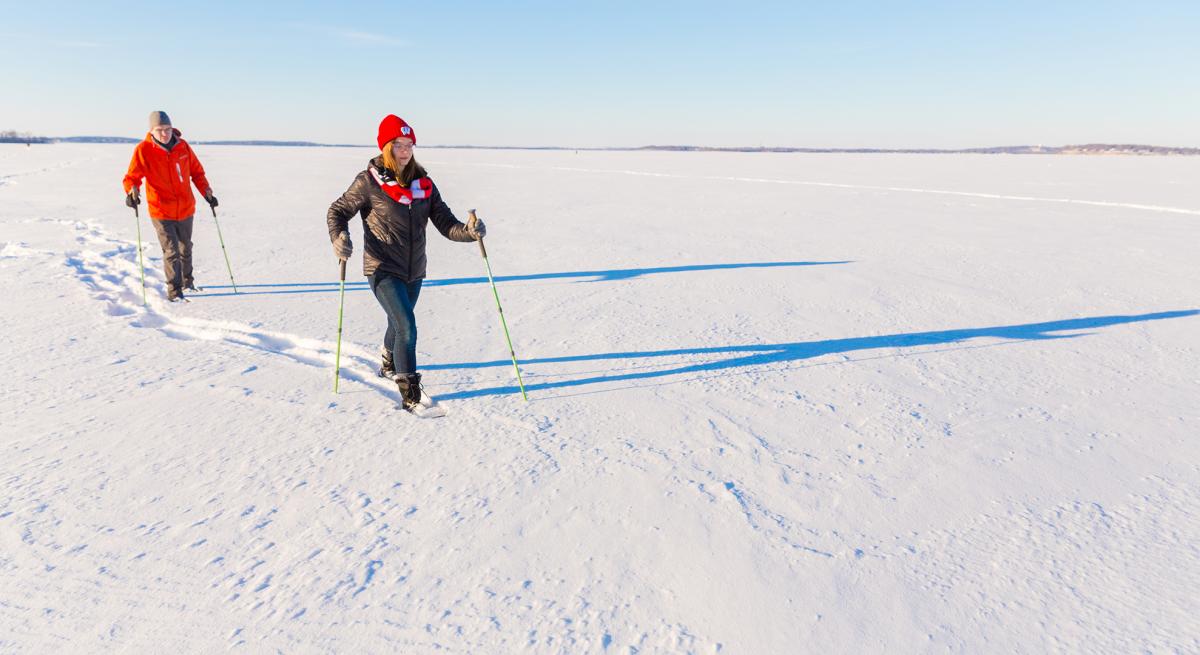 Outdoor UW 

Lastly, if you really want to get in touch with nature during your snowshoe excursion, many area snowshoers enjoy exploring the frozen creeks between Lake Waubesa, Lake Monona and Lake Wingra. You can't go wrong with those wintry lakeside views that are simply stunning this time of year.
Skiing
Snowshoeing not your thing? Check out our article about skiing in Madison for more winter ideas.
Find Your Slope