We can all agree that 2020 hasn't exactly been the year we thought it would be. Naturally, and understandably, you might be feeling pretty stressed these days, for any number of reasons related to the coronavirus pandemic. You're likely in need of some much-deserved rest and relaxation, and you're in luck — because you can find it right here in Madison.
If you're a local looking for a travel fix, but want to stay close to home, Madison offers opportunities for taking a safe and fun staycation. Even though you may only be a few miles from home, staying a night (or two or three) at a hotel can feel downright luxurious, a place where you won't have to look at dishes in the sink and a massage appointment is just down the hall. Also, perhaps your hotel is near destinations you've always wanted to go to, but your schedule hasn't allowed for it. It's like seeing your hometown through new eyes.
Whether you're getting away with a partner or family members, or perhaps you're craving some alone time, these laid-back Madison staycations are good for the soul.
For Pampering & Classic Madison Fun: The Edgewater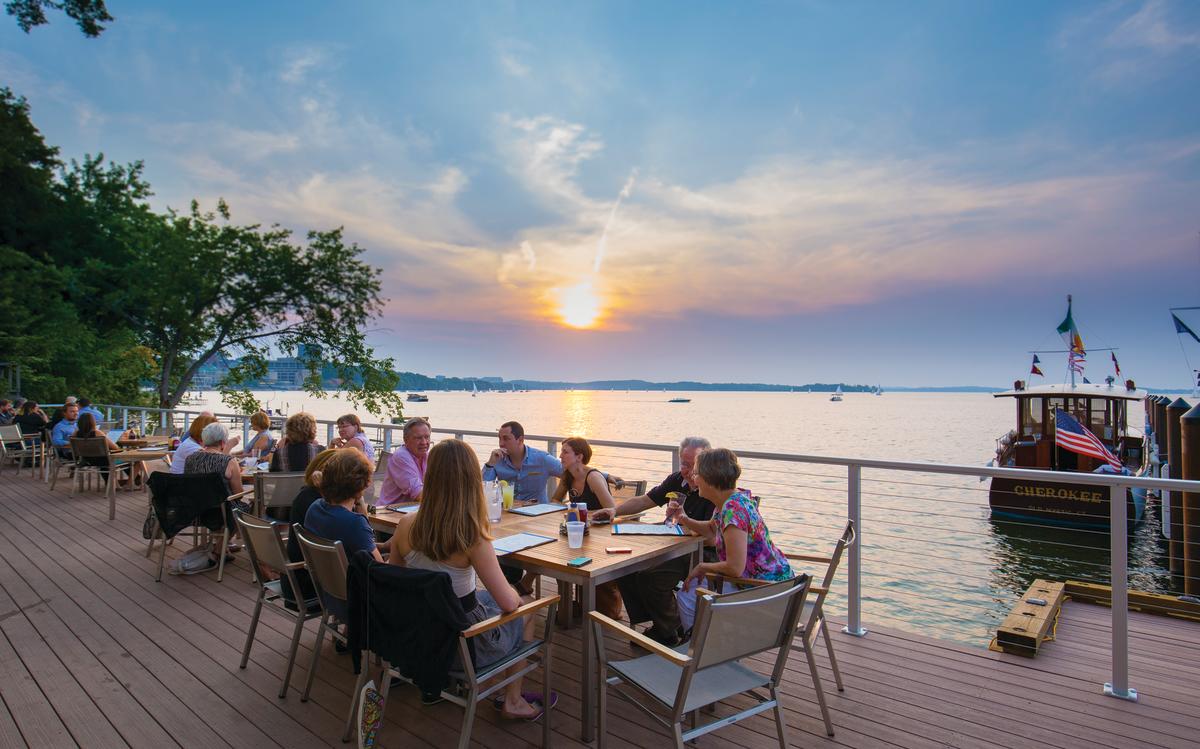 The Edgewater on the shores of Lake Mendota is a Madison mainstay with many safety precautions in place. From cleaning and disinfecting, careful practices at The Edgewater Spa, and in-room and to-go options from their on-site restaurants The Statehouse and The Boathouse, they have their bases covered.
There's plenty to do at the hotel between luxe spa appointments and appreciating lakeside views, but you can always venture to nearby activities as well. James Madison Park is close, providing ample room for social distancing and pleasant diversions for the whole family like a beach and playground.
For a Stylish Experience: Graduate Madison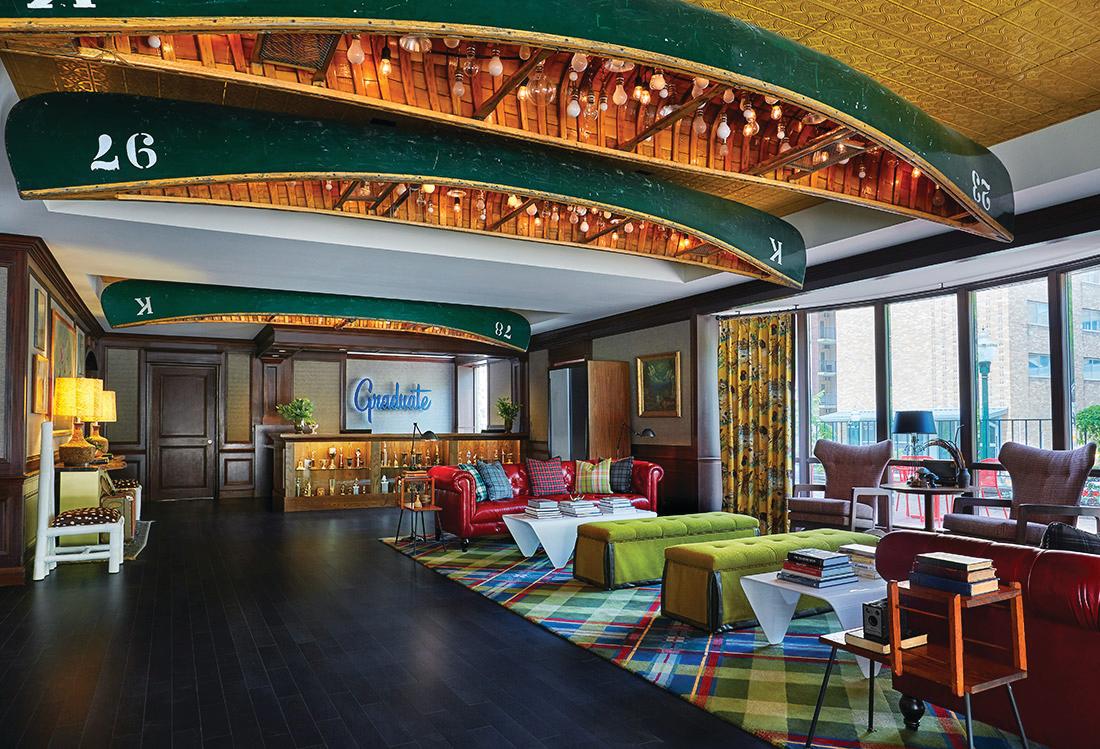 If you're a fan of stylish spaces, book a stay at Graduate Madison, located right off State Street. It has an ambiance that would make Wes Anderson feel right at home, with vintage finds in the lobby, its eateries Poindexter and Camp Trippalindee and the rooms. They've created a Graduate Cares pledge alongside Cleveland Clinic, Procter & Gamble and the American Hotel & Lodging Association to insure top-notch safety measures.
Nearby, you'll find lots to do on State Street. Samba Brazilian Grill is a short walk away, serving carved meats and vegetarian options (don't miss the grilled pineapple coated in cinnamon and sugar). Need a midnight snack? We recommend ordering from Insomnia Cookies which delivers cookies and milk to the surrounding area. To go with the pamper-yourself feel of your staycation, head over to Little Luxuries, a boutique brimming with jewelry, books and the cutest kitchen essentials around.
For Downtown Vibes: AC Hotel Madison Downtown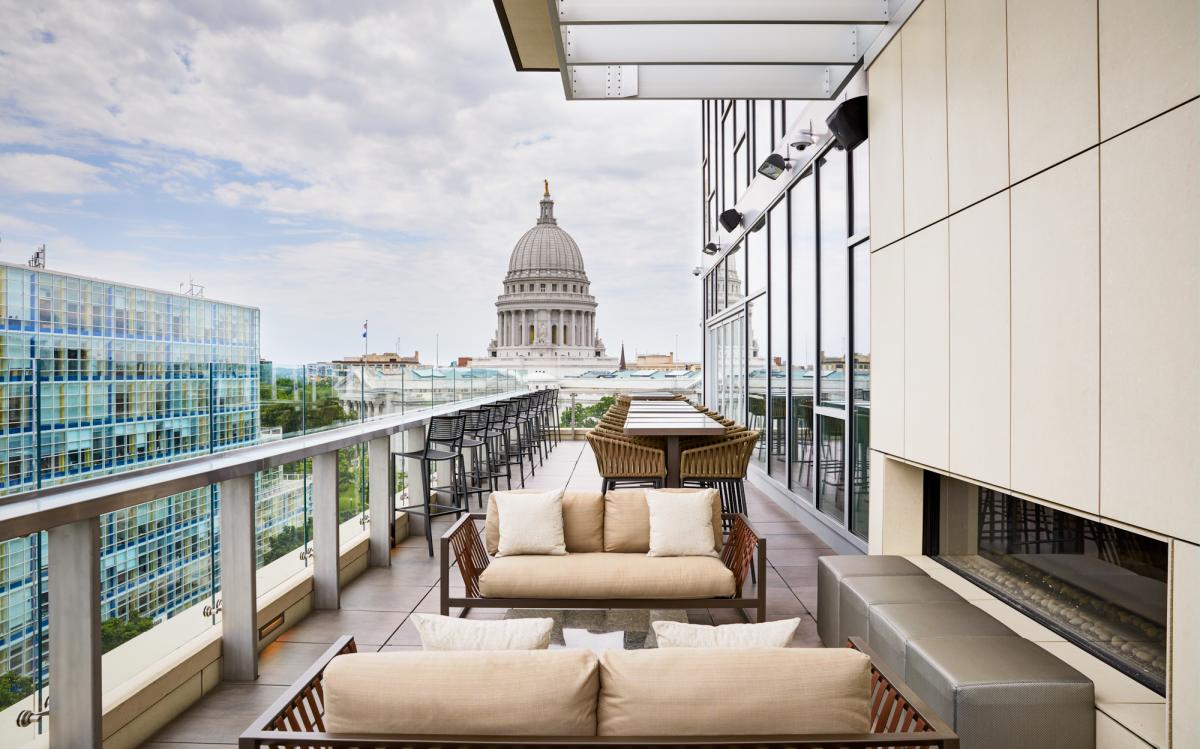 Haven't felt like you've spent time downtown in a while? In this case, we'll suggest a stay at the AC Hotel by Marriott, right off the Capitol Square. With its urban-chic feel, you'll love Eno Vino, the rooftop restaurant (mmm…tapas…), and the can't-be-beat skyline scenery. They've also taken safety seriously with extensive cleaning regimens and social-distancing reminders throughout.
The Old Fashioned, Madison's classic supper-club experience, is just a hop, skip and a jump away, where you can enjoy Wisconsin eats like cheese curds and a fish fry via curbside pick-up, delivery or the outdoor patio. Also on the Square, cheese shop Fromagination handcrafts grab-and-go sandwiches ideal for picnic-ing. And if you need retail therapy, Bungalow608, stocked with global, artisan-made home décor, is down the street.
For the Great Outdoors: Avid Hotels Madison — Monona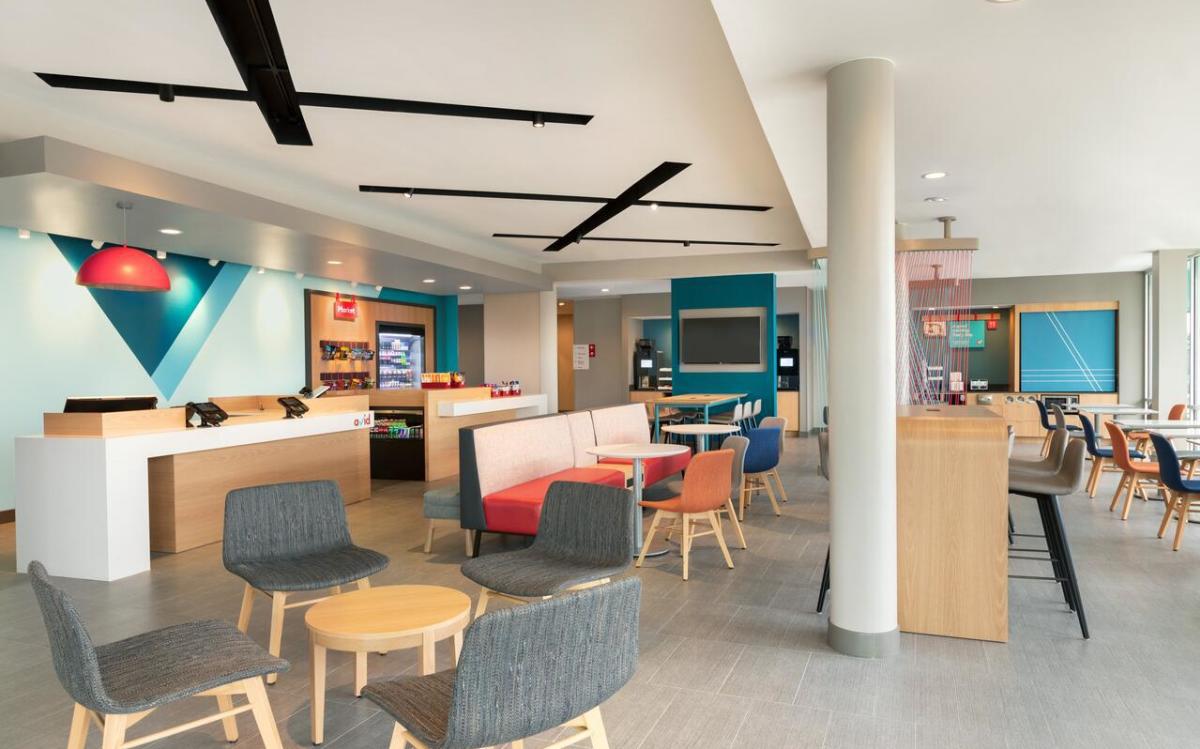 Avid Hotels Madison – Monona happens to be located in the midst of a nature-filled paradise. The nationwide chain, with an affordable price point and science-directed cleaning measures, rests next to Capital Springs State Recreation Area. You and your family can soak up the outdoors throughout 2,500 acres perfect for hiking and disc golf.
Rutabaga Paddlesports is also close-by, specializing in kayak, stand-up paddleboard and canoe rentals, all with good cleaning measures. To continue the outdoorsy theme with Yahara River views, stop by Buck and Honey's where you'll eat safely indoors or out or, if you prefer, pick up a curbside or dockside meal.
For a Little Bit of Everything: Tru by Hilton Madison West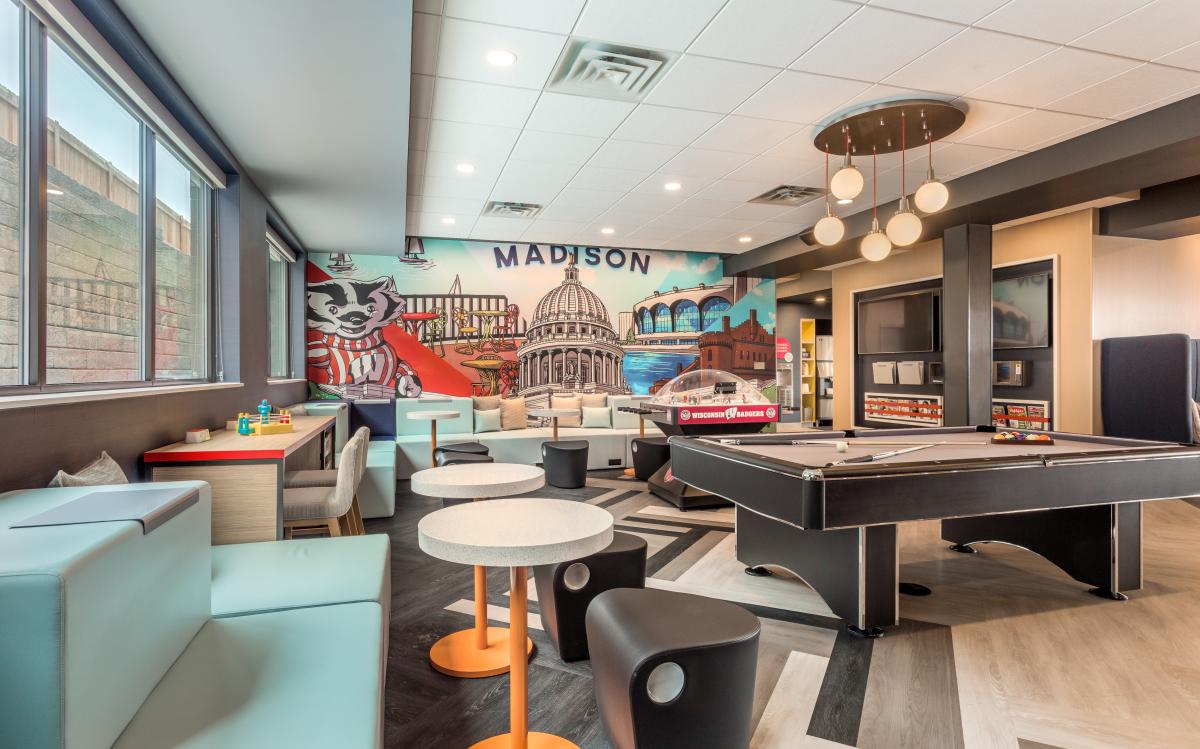 If you're seeking comfort food, loads of shopping and a dose of nature, you can have it all with a staycation at Tru by Hilton Madison West. With a modern atmosphere and amenities, the hotel adheres to Hilton's CleanStay program that focuses on high levels of sanitization and contactless food delivery.
Down the street from the hotel, you'll find what might be the best waffles in the state. Yola's Café offers dine-in, takeout, curbside to-go and no-contact delivery of their sweet breakfast treats and more — you need to try the Nutty Banana waffles, a creation of bananas, caramel and walnuts. West Towne Mall also isn't far, as they take safety measures amid 120 shops and restaurants that include Athleta, Williams-Sonoma and The Cheesecake Factory.
Lastly, if you need some peace, quiet and a lot of flowers, a visit to a Madison hidden gem is a must — UW Madison's West Madison Agricultural Research Station. Based next to Mineral Point Road, this horticultural wonderland is open to the public, packed with flower beds, seasonal vegetables and fruit trees.
For more information and guidelines on visiting Madison during COVID-19, head here.