What if you could get the frozen fun of an Up North getaway, with all the comforts and convenience of the city? Enter Madison — city of five lakes, where outdoorsy is the vibe and wintertime is no exception. 
Time for ice skating, skiing, ice fishing and, perhaps the most easy-to-do one, scenic walks across our vast-and-picturesque frozen lakes.
Best of all, these activities are free or low cost – and available to do all over the greater Madison area on Lake Monona, Lake Mendota, Lake Wingra and beyond. 
Safety first: Before heading onto the ice, always check the weather and ice conditions. 
1. Stop! Shanty time
Go ice fishing, or simply take the time to check out the quaint ice fisher shanties that dot the lakes, with the unique vantage point of having the cityscape in the background.
Rent ice fishing gear at Warner Park on Madison's north side. Note: Fishing licenses are required in Wisconsin for everyone age 16 and over. License options are available for purchase online through the Wisconsin DNR.
---
2. We love a lake view
Get a totally different view of iconic Madison spots. Picnic Point? Monona Terrace? It all feels magical on ice.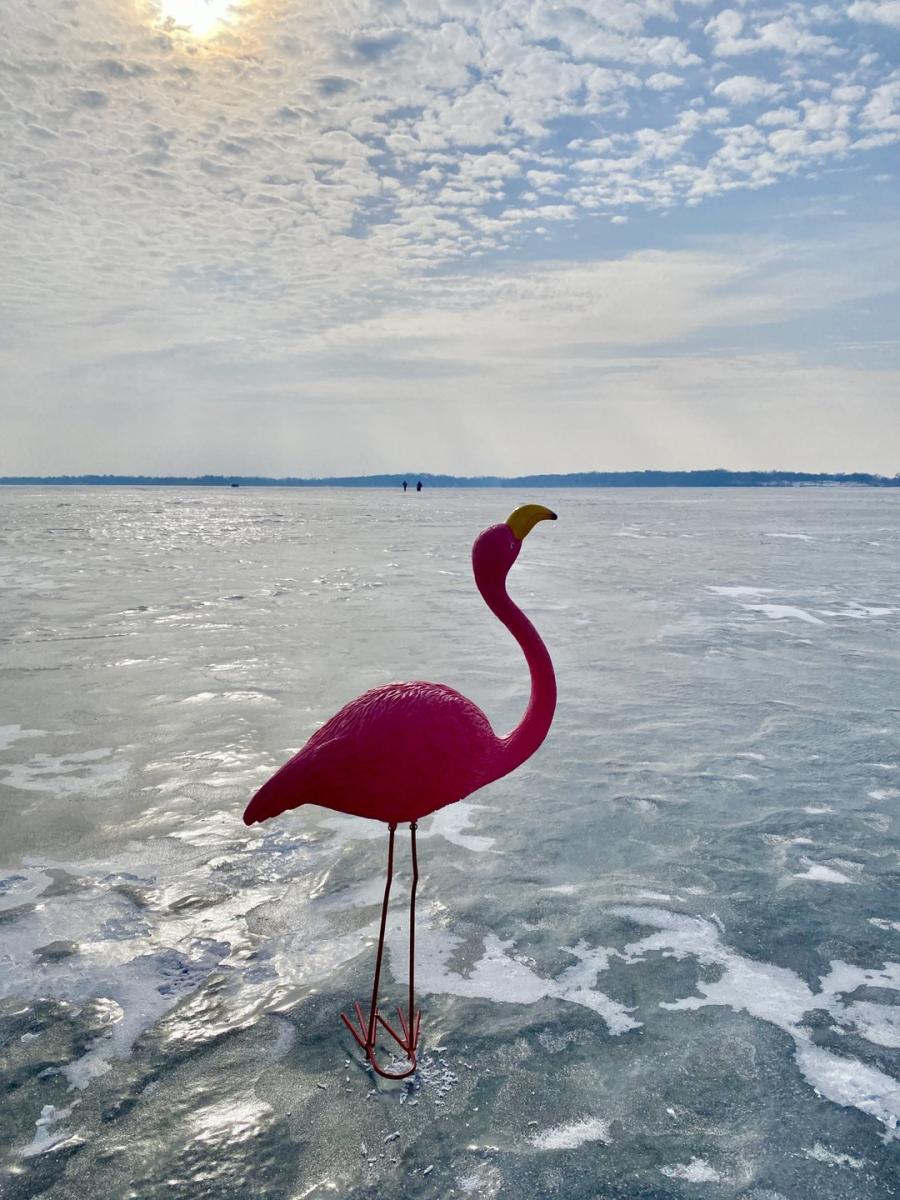 ---
3. Ice boating... is a thing
In winter of 2021-22, the right conditions produced crystal-clear, placid ice across the lakes. Ice boaters from all over the country came to set sail. This is just one example of how Madison lakes get activated in unexpected and captivating ways!
This winter, watch out for ice boats, wind sailors, and even fan-propelled parachuters (I've seen it, and it's awesome!) gracefully sailing across the frozen lakes. Of course, you don't just have to watch... find all types of winter activities with Hoofer Sailing Club.
---
4. Really, really good for the 'gram
Take some ridiculously beautiful winter photography and/or TikToks! Bonus points if you spot Madison's resident Snowy Owl.
---
5. A frozen playground for the whole family
Let the kids enjoy a playground made of ice. After some icecapades, take the little ones to warm up at the Madison Children's Museum, which now features Little John's Lunchbox, a pay-as-you-can, self-serve cafe. 

Or, take your fur baby out to discover a whole new world.
---
6. Bike like never before
Bike on ice! Fat-tire bike rentals are available at Machinery Row, right on the shores of Lake Monona in downtown Madison. 
Rent a fat-tire bike (which is perfect for slippery terrain) for $75 a day.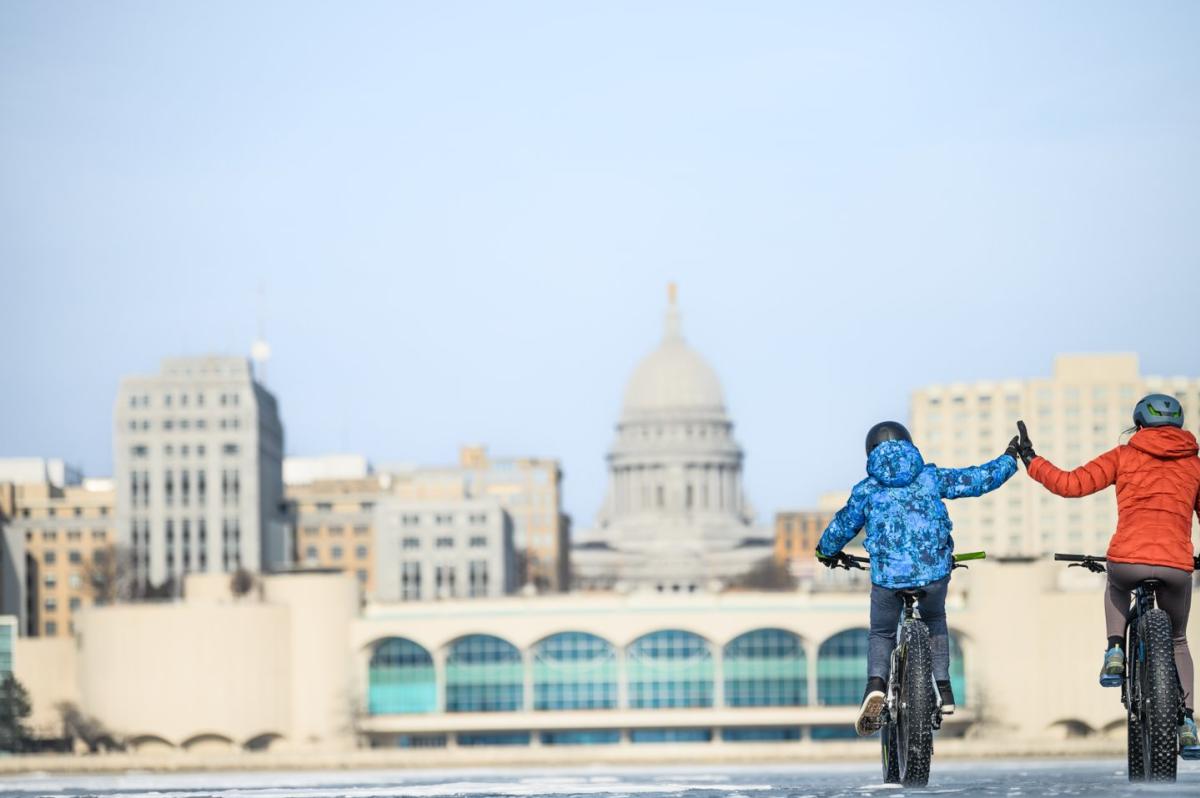 ---
7. Make it a Getaway
Stay indoors and get cozy. Book a stay at a hotel or B&B on the lake for incredible views and easy-ice access.
Read our guide to a Winter Getaway on Madison's Frozen Lakes for more hotels and activities to do this year! 
---
8. Festivals... on ice
Make it a weekend and head out to the fantastic frozen festivals on Lake Mendota.
In February, there's Frozen Assets and the Wisconsin Union's Winter Carnival with ice activities, kites, a frozen lake 5K and more.
Read more on the details in our Festivals on Frozen Lakes blog.
---
9. Icy & Artsy 
Keep an eye out for art installations and surprises. Past years have brought sculptures and a forest of trees to the middle of the lake. Plus, art installations like the How Lovely Labyrinth, that took over Olbrich Park.
---
10. Walk on (frozen) water
Make a journey across Lake Mendota or Lake Monona for an epic day of ice hiking. Popular entrance points include the Olin Park boat launch, Olbrich Park, Warner Park, Memorial Union Terrace and Morrison Park.
---
11. Grab skates and go
Go ice skating on the lakes. Plus, check out nearby ice rinks with skate rentals at The Edgewater Hotel, Monona Bank RiverRink and at Tenney Park Lagoon rink.
See a full list of ice rinks in the Madison area!
---
Rather stay on solid ground?
Take in the frozen lake views from popular parks and nature spots including: